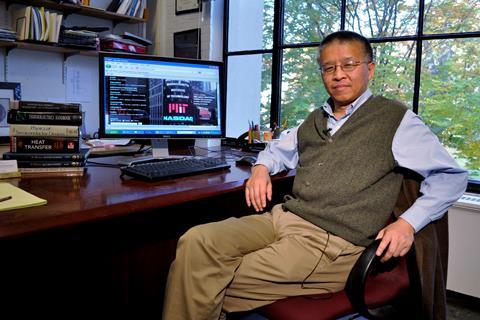 The US government's case against Gang Chen, director of the Massachusetts Institute of Technology (MIT) nanoengineering laboratory, who was arrested a year ago for not reporting ties to and funding from the Chinese government, has collapsed. On 20 January, federal prosecutors dropped charges against Chen because his alleged omissions in the context of the grant review process could not be substantiated. 'Our office has concluded that we can no longer meet our burden of proof at trial,' stated US attorney Rachael Rollins.
Chen, who was born in China and became a US citizen in 2000, has had significant support from colleagues and MIT. The university has covered his legal fees, and shortly after his arrest more than 200 faculty rallied around him and signed an open letter to their university's president attacking Chen's arrest and picking apart the Department of Justice's allegations against him.
'It's a big day for Gang and his family, it's a big day for MIT and I hope it's a big day for the country,' said Yoel Fink, a materials scientist at MIT who organised his university's letter in support of Chen. 'I hope that the message here is that this modern form of McCarthyism should never have gotten started – it was predominantly targeting people of a certain ethnicity and had nothing to do with intellectual property theft by China.'
Talking about the dismissal of the charges against Chen, Fink said: 'The big gaping holes that my colleagues at MIT all saw in the case from the get-go apparently did the case in – the whole thing was done in great haste, and they made quite a few obvious mistakes.'
The dramatic development in the case comes just a month after Charles Lieber, the former chair of Harvard University's chemistry department, was convicted of all six criminal charges related to his receipt of millions of dollars in research funding from China. Lieber now awaits sentencing and faces up to 26 years in prison and fines of as much as $1.2 million (£900,000).
Earlier this month the White House issued new 'guidance' for US researchers to report their scientific collaboration with China and other nations accused of spying. On 4 January, President Biden's science adviser directed research agencies to develop interchangeable grant applications in the next four months.
The goal, according to White House Office of Science and Technology Policy director Eric Lander, is for the US government to clearly describe what it needs to know and for researchers to be able to report the same information in the same way, regardless of which agency that they are applying to for funding.
'Clearly laying out the required information will ease administrative burdens on the research community, and it will also enable software developers to make tools to enable researchers to populate digital CVs from which they can readily export relevant information,' Lander added.

Rebecca became the US Correspondent for Chemistry World in September 2014, based out of Washington, DC, after writing for the magazine on a freelance basis since 2007.
View full profile