Postdoc's death in university chemistry department reflects wider safety problems in academic research
The lab blast that killed one postdoc researcher at Tsinghua University in late December has raised widespread safety concerns among Chinese chemists. They say a systematic reshuffle on lab safety is needed at Chinese research institutions. 'The bloody accident reflects a systematic negligence of safety in our labs,' says Luo Min, a chemistry professor at Ningxia University located in the north-western Chinese city of Yinchuan.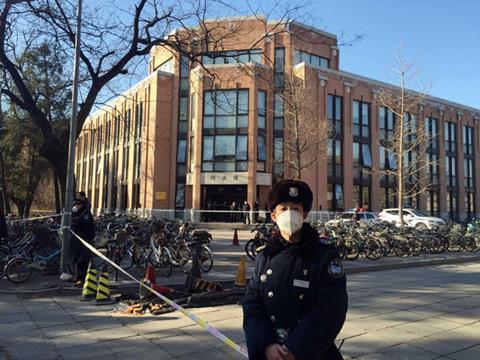 Lab deaths
On 18 December, a fire broke out at a lab at Tsinghua's chemistry department. Fire fighters investigating the incident found Meng Xiangjian, 32, who just joined Tsinghua for a postdoc in June 2014, dead.
Six days later, Tsinghua published the results of its investigation. The accident was caused by the explosion of a hydrogen tank in the lab, which seriously injured Meng's leg and eventually led to his death in the fire. He was the only person working in the lab.
The Tsinghua accident is not an isolated incident. On 5 April 2015, a gas explosion killed one graduate student and injured four others in a chemistry lab at the China University of Mining and Technology located in the eastern Chinese city of Xuzhou. On 22 September 2015, a Peking University chemistry building caught fire after a hydrogen tank leaked. The fire did not result in any injuries. A fire that broke out at a lab at the Beijing University of Chemical Technology last Monday was blamed on ageing equipment.
Poor management
The fact that Meng was working alone points to a poor safety culture at the lab. There should be at least two people working in a lab in case of an accident, Luo tells Chemistry World.
Meng obtained his PhD at Nanyang Technology University (NTU) in Singapore in 2014. 'I had a chance to use NTU labs recently and learned it has very strong safety training among its students and faculties,' says Luo, who is currently a visiting scholar at the Singapore University of Technology and Design. Luo suggests that the accident shouldn't be blamed on Meng. Rather, the biggest culprit is likely to be poor lab safety management, and the accident could likely have been avoided by more frequent equipment inspections.
Yin Yanzi, a postdoc researcher at Cornell University and formerly an associate professor of materials chemistry at Hubei University of Technology in central China, says that, compared with labs in the US, Chinese labs generally have poor safety and less sophisticated safety equipment. Yin cites the simple example of tap water for cleaning equipment. Most US labs have faucets which can be directed as needed to clean glassware, but in most Chinese labs the taps are similar to those found in the home. Yin says that the inconvenience of something small like this can result in researchers removing gloves and other protective equipment. 'Is it too expensive to install? Not at all.'
The problem is lab safety has never been prioritised
Both Yin and Luo complain that with surging research funding, many Chinese labs have installed more advanced and costly instruments than their counterparts in the west, but investment in safety training is far from adequate. 'For example, few Chinese universities offer professional services to process waste discharges from labs,' Yin tells Chemistry World. Luo agrees and says that while services are available for larger, uniform waste from industry, for instance, it is very difficult for academic labs to find firms to dispose of the smaller amounts of highly varied waste they create. Presently, most academic labs simply dilute their waste and flush it into the sewers, he says.
Yin says that awareness of lab safety and training is very weak among Chinese researchers. She notes that researchers are sometimes reluctant to wear gloves and safety glasses to allow them to work without hindrance. As to whether similar accidents could happen in countries such as the US or UK, Luo says it is certainly possible. But he adds that the chance of such a death occurring is much less likely as safety receives more regular attention. Li Jian, general manager of Lanxum Safety Tech in Anshan, Liaoning Province, says that when it comes to lab safety part of the difference between Chinese and western labs is the way they investigate an accident. In China the focus is on preventing the same accident happening again by, for example, replacing a problematic piece equipment. In the west more attention would be paid to identifying systemic safety failings, Li adds.
Integrating safety
Wang Xiaojun, a professor of environmental chemistry at Guangzhou-based South China University of Technology, says that the lack of funding for lab infrastructure has hampered some lab heads' efforts to make their workplaces safer. Researchers are left sometimes having to use their own funding to install safety equipment. This can leave some lab heads having to choose between safety and their own research. 'Although a gas detector is not prohibitively expensive, installing a detector to identify a wide range of gases will cost a lot of money,' says Wang, adding that if all relevant labs across China were obliged to install detectors, it would be a huge outlay.
But Luo says, besides research grants, most universities in China were allotted flexible budgets for infrastructure. 'The problem is lab safety has never been prioritised.'
One day before the Tsinghua accident, the education ministry urged universities and schools to carry out safety inspections. After the accident, the ministry launched a nationwide lab safety examination. But Luo says that campaign-style safety examinations do no good for lab safety. 'The most likely action during nationwide [safety] inspections is to ensure the reliability of instruments, without considering the dynamic and flexible demands of research,' Luo says. He suggests integrating safety training with experimental demands and lab safety management.
Luo's recommendations are echoed by Li. 'The inspections are always focused on identifying accident causes, rather than thinking about how to prevent them in the context of real research,' Li notes.