Concern over human and environmental cost of reforms aimed at ease of doing business
A spate of chemical accidents and emerging environmental controversies have caused concern over the consequences of India relaxing environmental and labour laws.
On 1 July a boiler explosion at Neyveli Lignite's thermal power plant at Cuddalore, Tamil Nadu, killed 13 people and injured 17 others. This is after five were killed and three injured in another incident at the same plant in May. Five similar incidents have occurred there between 2014 and July 2020.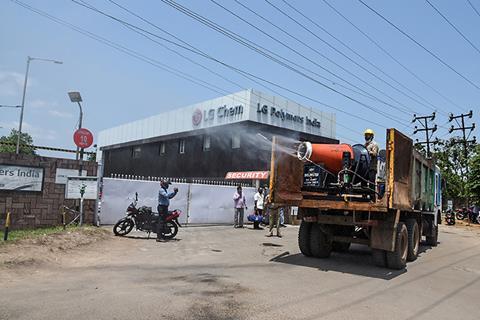 On 30 June, two people died and several were injured after hydrogen sulfide gas leaked at the pharmaceutical manufacturing company Sainor Life Sciences at Visakhapatnam. On 3 June, eight men died and 50 were injured in an explosion at a pesticide factory in Dahej, Gujarat. And on 7 May, a styrene gas leak from a plant run by South Korean firm L G Polymers, also in Visakhapatnam, claimed the lives of at least 12 people while hundreds suffered injuries.
'Accidents happen because of routine non-compliance with general and specific conditions with impunity,' says Gopal Krishna, director of Toxicswatch Alliance, an environmental non-profit. 'In the name of "ease of doing business" driven by donors of ruling parties, those scientific conditions are being removed – ignoring lessons from disasters,' he says.
Modi has been a singular disaster for environment as well as the economy

Leo Saldanha, Environment Support Group
Many of these incidents happened when the factories were being opened after the coronavirus lockdown. Experts believe that shortage of skilled staff and poor maintenance practices are contributing factors. 'New government moves to dilute labour laws and increase working hours, as well as "hire and fire" provisions will promote accidents in critical industries,' says Krishna.
In the aftermath of the horrific Bhopal methyl isocyanate leak in 1984, India enacted many environmental laws, covering handling and storage of chemicals, and incident preparedness. Despite this, incidents, fatalities and injuries have been rising.
India currently has 128 contaminated hazardous sites – where hazardous waste has been dumped illegally. There are a further 196 probable contaminated hazardous sites and over 1400 hazardous chemical storage units, according to the Centre for Science and Environment based in New Delhi. The National Disaster Management Authority says that nearly 130 significant chemical accidents have been reported in the country in the last decade, resulting in 259 deaths and causing major injuries to 560 people.
Ecologists and political observers claim that prime minister Narendra Modi's government has pursued an agenda of promoting business at any cost, with little regard for safety and the environment. 'Modi has been a singular disaster for environment as well as the economy' says environmentalist Leo Saldanha, coordinator of the Bengaluru-based Environment Support Group.
New Delhi-based environmental lawyer Ritwick Dutta agrees: 'In the last six years, there has not been a single proactive initiative to strengthen environmental laws,' he says.
'There have actually been a spate of environmental dilutions since 2014,' complains Mumbai based environmental lawyer Lara Jesani. 'Instead of amending laws via parliament they have resorted to executive action via office memoranda, notifications and circulars – nearly 85 of them,' she says. Forests have been opened up in the name of 'ease of doing business', as have the coastal zones and other ecologically sensitive areas. Within six months of coming into power, Modi approved 230 environmental applications that had previously been held up owing to ecological concerns, Jesani adds.
Earth scientist Sreedhar Ramamurthi, managing trustee of Environics Trust in New Delhi, says dilution of environmental regulations has accelerated under Modi. 'Government now wants to leave everything to the "utmost good faith" of the promoters and feverishly favours self-certification for labour and environmental regulations, while established norms are being thrown to the winds,' he says.
In 2016, through an environment ministry notification, Modi's government exempted construction projects up to 150,000m2 in area from requiring environmental impact assessments (EIAs) and environmental clearance. They were also exempted from provisions of the air and the water pollution laws. Construction is the largest contributor to greenhouse gases in India, and this order was overturned after a court challenge in December 2017.
Infrastructure projects such as roads below 100km have also become exempt from EIAs. 'This has led to the widespread destruction the highways are causing to the environment and also generating pollution, dumping muck into reservoirs and wetlands, haphazardly quarrying for road materials', says Ramamurthi.
Forests have been opened up in the name of 'ease of doing business', as have the coastal zones and other ecologically sensitive areas

Lara Jesani, environmental lawyer
In March, as India grappled with Covid-19, the environment ministry issued a draft notification seeking to completely overturn the environmental impact regulation process. This has sparked significant objection, but there is no facility for public consultation. If passed, chemical, pharmaceutical and cement plants, inland waterways and others will require only perfunctory environmental scrutiny, experts say. Many violating industries will get retrospective clearance and public consultations will largely be abolished.
Saldanha points out that while India was in lockdown, environment minister Prakash Javdekar approved several large projects involving massive felling of forests and irreversible destruction of ecologically sensitive areas in the Western Ghats and the Himalayas. These were done via virtual meetings, he adds, without provision for proper scrutiny of the documents. The approved projects include railways and roads through pristine jungles, as well as huge hydroelectric dams that will destroy some of the country's richest forests.
Public debate and protest around the amendments to EIA regulations appears to be being suppressed, as various online platforms including LetIndiaBreathe.in, ThereIsNoEarthB.com and Greta Thunberg affiliate FridaysForFuture.in were temporarily blocked in late June, until public outcry led to the sites being restored
While these and other reforms improved India's ranking on the World Bank 'ease of doing business' index from 130th in 2016 to 63rd in 2019. 'All this has happened at the cost of environment', says Jesani. 'It raises fundamental questions' she adds. 'What kind of business do you want to do? Do you want to leave anything for future generations?'
Editor's Note: This story was updated on 25/08/2020 to correct the identity of the gas leaking during the Sainor Life Sciences incident. The article originally stated it was benzimidazole. In fact it was hydrogen sulfide released during a reaction involving benzimidazole