Little hope that billions of euros in new loans from the EU will improve the situation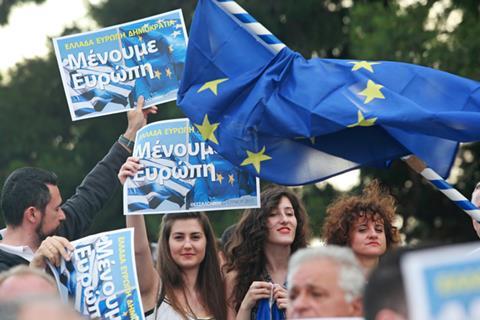 Billions of euros in EU loans are flowing into financially troubled Greece once more after the nation's parliament approved a highly controversial economic reform package. But the mood among Greek scientists, who in recent years have endured sharp budget cuts, remains mostly sombre, angry and hopeless.
'One way or another, the end result is going to be austerity, misery and brain drain,' says Ioannis Zabetakis, assistant professor of food chemistry at the University of Athens.
The roots of the current crisis stem from the Eurozone debt crisis that began in 2009 and rattled several nations, including Greece, Portugal, Ireland, Spain and Cyprus. But Greece has been hardest hit and by 2012 the crisis had worsened and was having a devastating impact on Greek universities and research.
The shaky government of Alexis Tsipras, Greece's prime minister, took power in January on a mandate to oppose the austerity measures of the previous government and pressure from the EU for further cuts. But when EU loans were halted and banks closed, pushing the economy into free fall once more, Tsipras reversed course at a tense summit meeting in Brussels and accepted further austerity measures in return for billions in fresh loans.
The economic reform package was approved on 16 July while angry street protests raged outside. Austerity measures include higher value added tax, an increase in corporation tax and increasing the retirement age to 67. Perhaps the most controversial element of the reform package is Greece's agreement to transfer state-owned assets to a fund whose goal would be to generate €50 billion (£35 billion) principally to pay off EU loans and cut government debt.
Little hope
Many scientists are sceptical that the new loans will improve the battered academic and research environment anytime soon. 'It will definitely get worse,' says Zabetakis.
George Fytas, a physical chemistry professor at the institute of electronic structure and laser at the University of Crete, describes the current situation as 'uncertain with minimal hope'. He adds: 'The successful scientists and the best students are trying to leave the country and this obviously will have a negative impact on Greece's development.'
Any graduate who has any opportunity to leave the country does so
Fytas is highly critical of Tsipras, indicating that his half a year in power has been a disaster. 'I could not imagine such damage within less than six months,' Fytas says.
As an example, Fytas says that research funding from an 'excellence' programme awarded to his institute last year by the previous government stopped on 1 July. 'Postdocs now have to leave because their positions cannot be renewed,' he says.
Katerina Galanaki, secretary general of the Greek Rectors' Conference, says: 'In general, from the beginning of 2015, Greek universities have not received one euro from public funding. They try to do their best with previous remaining funding and research resources.' She says that despite limited financing universities are managing to maintain quality in the classroom and in research.
'It is not easy, obviously, but they insist on making extreme efforts,' she says. 'Undoubtedly research was much more developed prior to the financial crisis which began in 2009. However, researchers are insisting on going on, aiming at making progress with the limited means they have.'
Cut to the bone
Thomas Estermann, director for governance, funding and public policy development at the European University Association (EUA) in Belgium, says that up-to-date data from Greece is limited, making it difficult to evaluate things in universities. But he adds: 'Already in 2014 the situation in Greece was very difficult with some of the highest cuts in public funding.'
The EUA's online interactive public funding observatory shows that government spending on higher education in Greece plunged 52% from nearly €280 million in 2009 to €133 million in 2014. Meanwhile, the number of university students rose from 369,219 in 2009 to 409,932 in 2013.
Dimitrios Pantazis, a Greek national and research group leader at the Max Planck Institute for Chemical Energy Conversion in Germany, says that while Greek universities have historically suffered 'chronic underfunding', the debt crisis has hit at a more fundamental level with hiring freezes and even cuts in salary. 'Any graduate who has any opportunity to leave the country does so,' he says. 'Thousands of young Greek scientists are now pursuing careers in academia or industry abroad. They will not be coming back any time soon.'
But while Fytas describes the general mood of his colleagues in Greece as 'depressive', a sentiment expressed by others, Pantazis sees reason for hope. 'In my view these are short to medium-term problems that will be smoothed out eventually if things improve and stabilise on the economy front,' he says. 'Disruption in funding is not an irreparable damage.'
Galanaki, of the Greek Rectors' Conference, agrees. 'I am optimistic,' she says. 'I believe that, provided we stay in the European Union and the Eurozone, little by little we will overcome the difficult obstacles we face.'