DuPont and spinoff Chemours will pay more than $670m to settle around 3500 personal injury claims relating to PFOA exposure
DuPont and its spinoff Chemours will together pay more than $670 million (£540 million) to settle thousands of personal injury lawsuits related to exposure to perfluorooctanoic acid (PFOA) released from a former DuPont plant in Parkersburg, US, into local water supplies.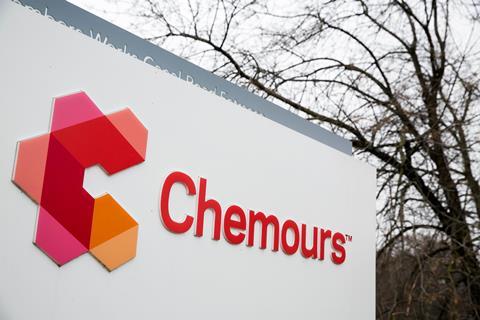 'This agreement provides a sound resolution for area residents, Chemours, and the public,' said David Shelton, Chemours' senior vice-president and general counsel. 'It settles all indemnification obligations between Chemours and DuPont for all of the approximately 3500 claims in the Ohio multi-district litigation and allows us to move forward with a renewed focus on our customers, product innovation and application development,' he added.
DuPont and Chemours have also each agreed to pay up to $25 million a year for the next five years to address further PFOA liabilities that might arise.
DuPont has so far faced three legal defeats during trials of the initial crop of the 3500-plus cases in the class action lawsuit. Most recently, in December an Ohio jury awarded $2 million in damages to a man who was diagnosed with testicular cancer following apparent exposure to PFOA.
Richard Clapp, an environmental epidemiologist and former chair of US campaign group Greater Boston Physicians for Social Responsibility, calls the DuPont settlement 'a positive milestone for those in the Parkersburg area.' However, he notes that there are many other communities in the US – for example in New York, Vermont, and Minnesota – that are still dealing with the legacy of polyfluoroalkyl and perfluoroalkyl substances, which have been linked to immune suppression as well as cancer, elevated cholesterol, obesity and endocrine disruption.
For example, a federal judge has just rejected an attempt by 3M to dismiss a lawsuit by an environmental group accusing the company of knowingly releasing PFOA and Perfluorooctanesulfonic acid (PFOS) into the Tennessee River, contaminating drinking water.
'The fact that this settlement has occurred may actually lead to settlements in these other similar situations,' adds Clapp. He says better oversight is clearly needed to help chemical companies avoid similarly expensive legal problems involving persistent, bioaccumulative chemicals. 'Be warned that product stewardship is more important than ever,' he says.

Rebecca became the US Correspondent for Chemistry World in September 2014, based out of Washington, DC, after writing for the magazine on a freelance basis since 2007.
View full profile