Under new EU rules member states will have to ban or restrict the use of lightweight plastic bags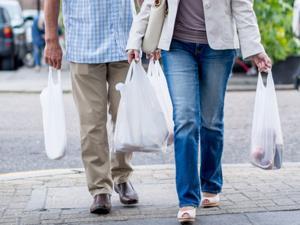 The European parliament has voted to clamp down on the use of thin plastic carrier bags, billions of which end up as litter. Under new rules, EU member states will have either to ensure that by 2018, no more lightweight bags are given out free to shoppers, or to limit the use of bags to 90 per person by the end of 2019 and 40 by the end of 2025.
Lightweight bags – defined as being thinner than 50 microns – are the most commonly used plastic bags across the EU. In 2010 citizens across Europe used, on average, 198 plastic bags each – 90% of which were lightweight – and an estimated 8 billion bags ended up as litter. The EU estimates that €740m (£545m) will be saved each year, as a result of the legally binding targets.
The UK's devolved governments have already introduced charges for plastic bags, and England will follow in October. Both Plastics Europe, and the British Plastics Federation say they fear the new rules will lead to a 'patchwork' of different national regulations. Philip Law, Director General of the BPF is 'concerned that other plastic products might receive the same treatment in future'. The proposal for legislation was 'based on perception and not sound science, and calls into question the quality of decision making in the EU'. http://www.bpf.co.uk
When the legislation was drafted last year, the UK fought against a ban on oxo-biodegradable plastic bags. The debate centres on whether the bags are truly biodegradable. Although they break down into tiny fragments, it's unclear whether the biodegradation process is completed, or indeed how long this takes. A study for Defra concluded that they can't be composted or recycled, and won't degrade in the anaerobic conditions of landfill. It recommended research to find out what happens to the tiny plastic fragments in the environment. Michael Stephen, commercial director of Symphony Environmental Technologies, which is the leading manufacturer of oxo-biodegradable bags, disputes such concerns. He says a supermarket carrier bag will degrade within six months after what is usually an 18-month lifespan, and that the low molecular weight of the fragments demonstrates that they are biodegradable.
Now the commission is to assess their impact and decide what to do; by 2017 it will also have to come up with proposals for labeling of biodegradable and compostable bags.