Marches across the continent aim to raise the plight of research and emphasise its economic importance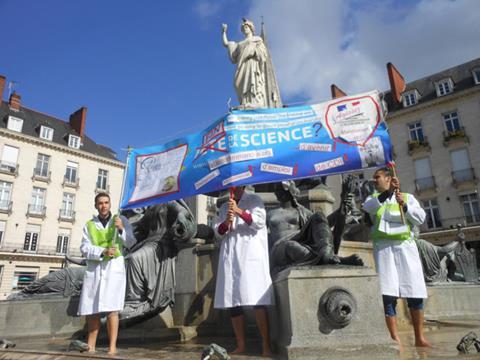 A growing number of scientists throughout Europe, frustrated with inadequate funding for research and a lack of jobs, are banding together to demand that policymakers at national and EU levels take action to make science a long-term funding priority. Some scientists are even taking to the streets to protest their dissatisfaction with the current situation.
An open letter outlining their grievances has been published online accompanied by a petition, which as of Friday had been signed by nearly 12,000 scientists. The letter, drafted by activists from France, Portugal, the UK, Germany, Italy and Greece, states: 'The national policymakers of an increasing number of member states, along with European leaders, have completely lost touch with the reality of research. They have chosen to ignore the crucial contribution of a strong research sector to the economy, particularly needed in the countries more severely hit by the economic crisis. Instead, they have imposed drastic budget cuts in research and development that make these countries more vulnerable in the mid- and long-term to future economic crises.'
Rally for science
In conjunction with the open letter, more than 3000 scientists in France set off in late September on foot and on bicycles in what they describe as a March for Science. The scientists arrived in Paris today, rallying in front of France's National Assembly to demand additional funding of €10 billion (£8 billion) to hire 3000 university research and support staff each year for the next decade and a €20 billion overall budget increase over the same period. Scientists in Madrid, Rome and Athens are also running public protests today.
When asked for the European commission's view on the movement, science spokesman Michael Jennings points out that the new EU budget includes a 30% increase in research spending, with the new Horizon 2020 programme valued at €80 billion over seven years. 'The commission has consistently called for public investment in research to be prioritised, protected and even increased where possible,' he says.
The movement has already generated controversy when an article written by Amaya Moro-Martin, a Spanish astrophysicist and an author of the open letter, resulted in legal threats. In the Nature opinion piece, Moro-Martin, who is at the Space Telescope Science Institute in Baltimore, US, wrote that 'Portugal may now have to close half of its research units because of a flawed evaluation process supported by the European Science Foundation'. The foundation reportedly demanded that Moro-Martin retract the statement or face legal action, but has since backed down.
Hoping for reform
One of those who signed the online petition is Roman Jerala, head of the biotechnology department at the National Institute of Chemistry in Slovenia, who tells Chemistry World that he is concerned about the trend of decreased funding for science in Europe. 'I signed the petition because I think science will play a crucial role in the future of the world,' he says. 'Scientific discoveries are the cornerstone of European civilization and of competitiveness in global society. The worst policy is to train young people for 20 years and then deny them the chance to return this investment to society in the form of realising their potential in creative work.'
One early career researcher who has signed the petition is Claire Jahier-Diallo, an organic chemist currently doing postdoctoral research at the University of Rennes in France on a short-term contract. She is hoping that the march on Paris and the open letter will alert European citizens and governments to the importance of science. But she is not optimistic. 'It is hard to believe that things will change quickly,' she says. 'So many things need to be reformed.'
Stefano Iacobucci, a physicist at the Italian National Council of Research in Rome, says that cuts in public research funding in his country have pushed researchers 'to search for money elsewhere, primarily from industry, with the consequence that only applied research has the chance to be funded, because basic research is high risk, hence economically inconvenient'.
Carlos Andradas, professor of mathematics at Complutense University of Madrid, Spain, and president of the Confederation of Spanish Scientific Societies, says that public spending for science in Spain has plummeted nearly 40% since 2009. 'The mood of scientists is one of discouragement and disenchantment after already five years of suffering cuts that in some cases are dismantling research groups and laboratories, and pushing abroad a good portion of our scientists,' he says.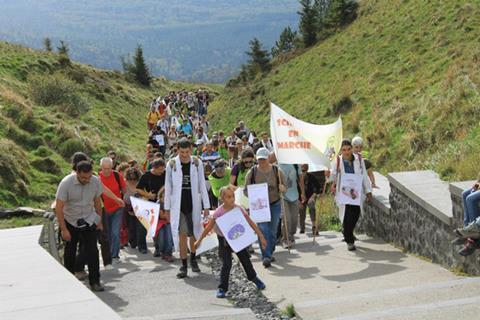 Scientific solidarity
On 26 September, Spanish scientists marched in Madrid demanding reform. Today, scientists are speaking publicly in Madrid in solidarity with the march in Paris and events in Rome and Athens, Andradas says.
'So far the movement comes mainly from southern European scientists, because we share the situation that our governments are forced by the EU to cut public expenses, and that affects especially our research and development budgets,' he says. 'I am sure that scientists from the northern countries will support the initiative.'
Indeed, one of the signatories of the open letter is Jennifer Rohn, a cell biologist at University College London, UK, who chairs Science is Vital, a group that campaigns in the best interests of scientists. 'My colleagues in the UK are very concerned,' she says. 'They should be concerned, scientific research is a global enterprise and a global ecosystem.'
Rohn says the open letter is 'wholly applicable' to the UK. 'Morale is very low and UK scientists are struggling to get grants and jobs in the current climate,' she says. 'In short, the UK has a proud history of scientific excellence, but lack of investment in the past few years will soon start to take its toll.'