Experience teaching chemistry in California has inspired Phil Janowicz to challenge the 25-year incumbent Republican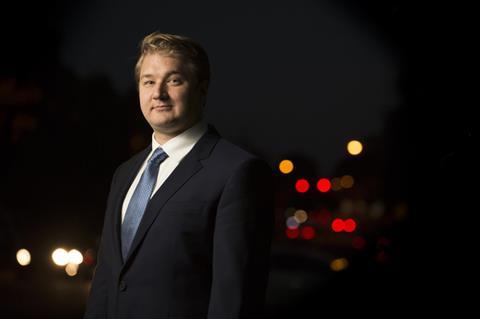 Former chemistry professor Phil Janowicz is running for Congress for the first time in an attempt to unseat Republican Ed Royce, who has been a Californian representative for 25 years. Janowicz says he is running for Congress to oppose Trump's agenda, noting that his opponent has voted in lockstep with the president. The congressional election takes place in November 2018.
'As a chemistry teacher here at California State Fullerton, I was constantly amazed by the grit and determination of my students,' Janowicz said in a speech at the university on 25 April to announce his Democratic candidacy. 'When I learned how many of my students were struggling to meet basic food and housing needs, I decided that I had to do more than teach chemistry.'
Janowicz tells Chemistry World that he was deeply affected by the plight of his students, even beyond the issue of crippling student loan debt. He recounts how many of those he taught were afraid for their parents to attend graduation due to concerns about deportation. The students, themselves US citizens, were fearful that their parents would be put at risk by attending because they lacked proper documentation.
After beginning his teaching at California State Fullerton in 2010, Janowicz left academia shortly after securing tenure to launch an education consultancy in January 2017.
In announcing his candidacy, Janowicz said he is running for Congress 'to resist the Trump agenda', and criticised his opponent's 'record of voting with Trump 96% of the time'. This was an apparent reference to a figure put forward by the polling data analysis website FiveThirtyEight to reflect how often Royce voted in line with the president's positions.
Janowicz is concerned about the lack of scientists and individuals with science, technology, engineering and mathematics backgrounds in Congress. 'We need to tackle the problems of today with data – we need to bring scientists back into public office,' he says. Janowicz points to a proposal from the Trump administration to pull the earth science division out of Nasa, and warns that this will stymie the agency's ability to gather critical data from its satellites. 'If they can't collect the data, we can't even report on what is going on,' he says.
Nevertheless, Janowicz acknowledges that going up against a Washington DC career politician will not be easy. He has raised about $30,000 (£23,000) over the past few days, and the goal is at least $200,000 by late June when the filing period ends. Meanwhile, records indicate that Royce's campaign has raised over $2.8 million.