Rajesh Parishwad speaks to H N Ananth Kumar, India's minister for chemicals and fertilisers
Indian minister for chemicals and fertilisers H N Ananth Kumar is confident that India will be an important global player in the petrochemical sector and is aiming to almost triple the Indian market to $400 billion in five years' time.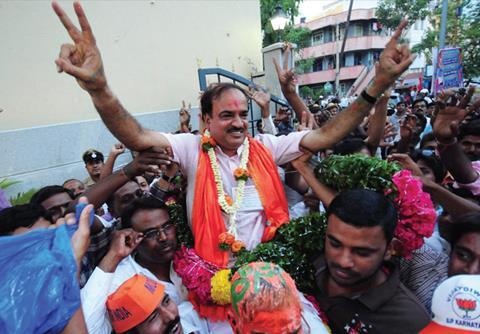 The Petroleum, Chemical and Petrochemical Investment Region (PCPIR) policy was launched seven years ago, but it seems to have made little headway. How does the new government plan to take it forward?
Our prime minister Narendra Modi understands the chemical industry like back of his hand as he was chief minister of Gujarat – India's hub for petrochemicals – and knows that development of that sector will be the game-changer for the Indian economy. There is a paradigm shift in the approach of our government for developing PCPIRs. We want to derive more value from fuel sources, especially crude oil, and crack other materials for downstream industries like plastic processing, polymers and pharma.
By building cracker units at our refineries and downstream facilities through PCPIRs, we are addressing the challenges presented by lack of feedstock. Presently, we are only making use of 2.7% of our refinery output for petrochemical industries. We aim to increase it to 7%, thereby increasing our market from $150 billion to close to $400 billion. This will generate 3.7 million jobs. It will revolutionise and metamorphose the entire industry and it will be a reality in the next five years.
We will bring the entire chemical industry under one administrative roof
How are you implementing this policy?
First of all, we are reviewing the PCPIR policy and bringing out many changes. Currently, PCPIRs need to have anchor tenants and access to port infrastructure. We have now launched a landlocked PCPIR at Bina in the state of Madhya Pradesh, while we are planning another one in Rajasthan. There is an effort to add a cracker unit and downstream industries for every refinery, involving ministries for chemicals and petroleum. It is a huge change in India's energy map and this will also reflect in the country's petrochemical industry.
So far, multinational corporations have not shown much interest in the PCPIRs. What will the government do to attract big international investments?
The government has already opened up the entire sector for foreign direct investment and hence, they are welcome to invest in PCPIRs. As India is one of the biggest markets, there are several opportunities for foreign companies. Moreover, foreign players don't need to come in at anchor level or set up cracker units; they can invest in a variety of downstream industries.
The small pool of potential skilled employees is a big issue. How do you plan to address this?
Creating good human resources is high on our agenda. Although we have already set up the Central Institute of Plastic Engineering and Technology (CIPET), we are planning set up a central institute for chemical engineering and technology, and petroleum engineering and technology. We are also coming up with a national centre for chemical research.
Currently, we are graduating 41,000 engineers in the field of plastics, and we aim to produce 400,000 engineers and technicians every year. We will expand our CIPET vocational learning centre from 23 places to 100, as well as developing a programme for graduate industry exposure under a public–private partnership model. All these initiatives will create a good talent pool and promote research and development in this sector.
India will be announcing a new policy on chemicals soon. What will the thrust areas of the policy be?
The new chemical policy is almost ready and will be unveiled soon. We will bring the entire chemical industry under one administrative roof. For example, the refinery part of petrochemicals is with the ministry of petroleum and natural gas; agrochemicals with the agriculture ministry, and different aspects of chemicals are fragmented. We need to establish links so that there can be a win–win situation for the chemical industry as a whole. The main thrust of the chemical policy will hinge on the 'Make in India' initiative (this is aimed at developing India as a manufacturing hub) launched recently. We want to become self-reliant, and an exporter over the next five years.
---
This article is part of our Focus on India. You can find see more comment and insightful analysis on Indian chemistry here.