RxAll's handheld scanner assesses drug quality in real time via a smartphone
One in 10 medicines sold in developing countries is counterfeit, leading to tens of thousands of deaths, as well as antimicrobial resistance. In recent years the number of counterfeits has increased worldwide. According to the World Health Organization (WHO), the global fake medicine market is worth around $200 billion annually, making it the most lucrative trade of illegally copied goods.
Adebayo Alonge, chief executive and co-founder of Nigerian start-up company RxAll, was 15 when his father bought salbutamol tablets from a chemist to treat his severe asthma. But instead of helping, the medicine almost ended his life. 'I was in a 21-day coma 15 years ago, while I was growing up in Nigeria, from a fake drug,' says Alonge. 'That experience essentially made me decide to solve the problem of fake drugs in the world.' RxAll has built a scanner that combines spectroscopy and artificial intelligence to fight drug counterfeiting.
Alonge's journey started by studying pharmacy at the University of Ibadan in Nigeria, where his final year project was on using handheld spectroscopy in households to identify medicines. He went on to work in the pharmaceutical industry, before attending Yale University in the US to study business, where he met his co-founders. 'I decided then [at Yale] to turn that thesis into an actual business,' says Alonge.
RxAll was set up in May 2016 by Alonge, with American pharmaceutical strategy expert Amy Kao, and Chinese chemist Wei Liu, backed by the Yale Entrepreneurial Institute and Innovate Health Yale. In 2018, the team joined the Merck Accelerator programme in Nairobi, Kenya, where they opened their second African office. The same year they also received funding through Norway's Katapult Accelerator programme.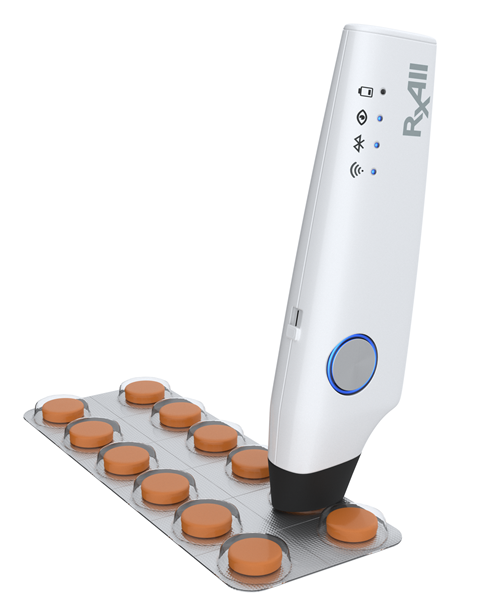 RxAll's patented handheld spectrometer (called RxScanner), and the associated artificial intelligence (AI) platform, was launched in October 2017 and has generated sales orders of over $2 million so far. 'We are also making social impact,' says Alonge. 'We have removed from the supply chain more than 100,000 [doses of] substandard drugs in Africa and Southeast Asia, and by doing so, we have protected the lives of more than 10,000 people in these two regions.'
Fake medicines can be harmful either through contamination, containing the wrong or no active ingredient, or having the correct active ingredient at the wrong dose. 'Up to 50% of drugs in some markets are substandard and people have no way of knowing the quality of the drugs before they use them,' says Alonge.
RxAll's platform allows medicines to be tested anywhere, without destroying the sample, using a portable spectrometer and a mobile app. The proprietary machine-learning algorithm reads the spectrum generated when a tablet is removed from its packaging and placed onto the spectrometer. By comparing it to RxAll's online database of drugs' spectral signatures, it identifies the medicine and assesses its quality level, records the test result against a blockchain ledger, and sends a quality report to the mobile app in 30 seconds. 'If the pill has different excipients or different actives or has contaminants in it that is different from the reference, the fingerprint will be different,' says Alonge. 'It's not going to be anywhere close to small batch-to-batch variances from an original manufacturer.'
The scanner uses near-infrared spectroscopy (NIRS) over wavelengths from 750 to 1500nm. 'Molecules absorb, reflect, and refract light in a manner that is indicative of their molecular structure,' explains Alonge. NIRS technology is cheap, but also applicable to identifying a broad range of substances in a tablet, despite some limitations with high fluorescence and deflection.
Up to 50% of drugs in some markets are substandard and people have no way of knowing the quality before they use them
Although NIRS has been applied in industry since the 1950s, applying machine learning and sensor programming is relatively new. And as more people use RxAll's platform, its accuracy also increases. 'When we started out we were at 88.7% accuracy; now we've got about 200,000 scans and are at 96.7%', says Alonge. The results are permanent, geolocalised and timestamped, so anyone with the mobile app can see data maps of who is selling bad drugs or what bad batches are showing up in specific cities.
'We have found fake malaria drugs from our suppliers in Yangon and have had the chance to eliminate them from the market,' says Win Min Oo, founder of the WeCare Pharmacy franchise in Yangon, Myanmar, who has been using RxAll's technology since November 2018 to secure safe medicines within his network of pharmacies. 'This is really a game-changing approach.' He mentions that previously they had no viable and reliable system for checking medicines, and is looking forward to building a drug database for Myanmar.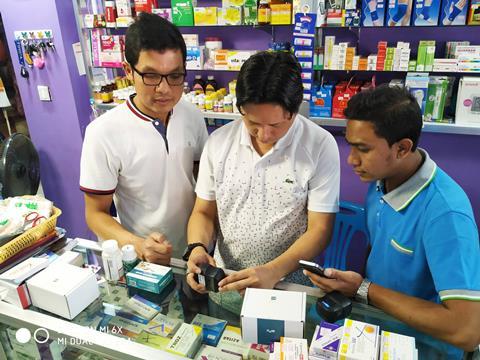 Alonge hopes to bring the technology to consumers, although he says this will take some time as spectral sensors would have to be included in mobile phones. 'The final goal is that we have our platform available for use across any household, where we become the Google of the physical world with a focus on medicines,' says Alonge.
In March, RxAll was the overall winner of the Hello Tomorrow Global Challenge in Paris, France, as well as winning the digital health category.