Moisture seeping into the photoluminescent strips dampens their illumination
Glow in the dark road markings have hit a spot of bother in an outdoor trial in the Netherlands. The paint contains a photoluminescent powder that charges up during daytime and emits a green glow at night, taking the place of streetlights and so saving energy. Unfortunately, the paint is getting washed away in the rain.
The idea is the result of collaboration between Daan Roosegaarde, a celebrated interactive artist, and the Dutch civil engineering firm Heijmans. After road testing the glowing paint on a stretch of road outside Oss, 20 miles north of Eindhoven, the company encountered problems after heavy rain. As a result, Heijmans says it has temporarily faded out the lines, so as not to confuse road users.
The glowing road lines rely on crystals of strontium aluminate doped with europium or other materials, says Hans Goris, innovation manager at Heijmans. The crystals have been altered to extend their illumination time, he adds. 'We are doing a demonstration project and we expect setbacks,' Goris says. 'This was the first experiment in a real life situation.' The company is currently working on a fix and say it may take 'a couple of weeks'.
The firm is also working on a road lining that can receive a tiny amount of power, via the integration of a power cord from a solar panel for example. Heijmans said in a statement that this 'maintains the intensity and lighting duration of the lines irrespective of the weather and season, or the quantity of sunlight and the length of the day or night'.
Goris says that the strontium aluminate crystals are sealed in 40–100µm particles to protect them from water. 'We have the crystals sealed in a package so the material is more stable. It is the way we reactivate them that gave us some problems with the water ingress in the electronics,' he explains.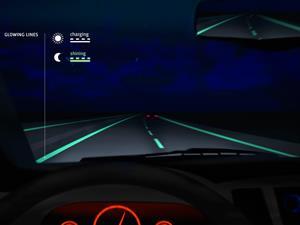 The collaboration aims to make roads sustainable and interactive though means of smart lighting, micro energy harvesting technologies and traffic signs that adapt to road situations. This also includes the use of thermochromic paints that change colour when roads become icy to warn drivers of slippery conditions. 'The idea works fine indoors, but outdoors they are very sensitive to ultraviolent light,' says Goris, but adds that Heijmans is working hard on a solution.
The company plans to roll out its smart markings in the Netherlands and then internationally. Goris says they are working to make luminescent road paint with a five to seven year lifecycle.
In a statement, the UK Highways Agency said previous studies showed luminescent paint was unsuitable for UK roads, but 'we note these latest developments and will watch this trial in Holland with interest'. Some of the issues the agency would take into account would be brightness, skid resistance, durability and whether they caused any problems for colour blind drivers.