An apparent upsurge in malpractice at forensics crime labs has prompted calls for tighter oversight and controls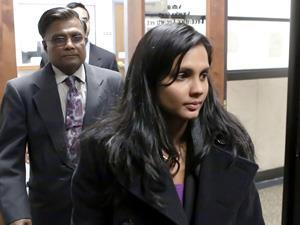 At least five high profile cases of serious malpractice at US forensic crime labs have come to light in the last two years, most resulting in the arrest of chemists working there. These scandals have called into question key evidence used in criminal cases, and have resulted in hundreds convictions being overturned. And this malpractice had led critics to ask a bigger question. Is something rotten at the heart of US forensic science?
In September 2012, it was discovered that a forensic chemist named Annie Dookhan, who worked at a Massachusetts state lab's drug analysis unit, had falsified thousands of drug tests. She was arrested and later admitted to mixing up evidence samples, fabricating results and lying about having a master's degree in chemistry from the University of Massachusetts.
Well over 1000 requests for new trials have been filed as a direct result of Dookhan's criminal behaviour and around 500 defendants have been released – some of whom have reoffended – according to the Massachusetts Office of Inspector General (OIG).
A few bad apples?
Josh Lee, a US criminal defence attorney and founding partner of law firm Ward, Lee and Coats, says the problem is much larger than just a few rogue chemists. Too often when somebody in a forensic crime lab gets caught producing questionable work or fabricating results, they are made into a scapegoat, he says.
There seems to be a systemic failure in forensics labs in the US
US criminal defence attorney for The McShane Firm Justin McShane echoes Lee. 'It is very convenient to point to the boogeyman, but the reality is that there is a failure of a quality management and assurance system,' he says. 'There seems to be a systemic failure in forensics labs in the US.'
Dookhan was sentenced in November 2013 to three to five years in state prison for tampering with evidence and obstructing justice. Earlier this year, the Massachusetts OIG concluded that Dookhan was the 'sole bad actor' at her former workplace, the William Hinton drug lab. Nevertheless, the OIG also uncovered poor management practices at the lab, raising questions over thousands of additional criminal cases.
It is understood that Dookhan was simply trying to impress her superiors by appearing to be as productive as possible. Evidence at her trial showed that her throughput in 2010 was nearly three times that of the next most-productive chemist.
Not an anomaly
As it turned out, the Dookhan case wasn't an isolated incident. Just months after her arrest, another scientist working at a different Massachusetts state crime lab, Sonja Farak, was also arrested and later convicted of tampering with evidence. She mixed up drug sample evidence with counterfeit drugs to hide her theft and addiction. In January, she received an 18-month jail sentence.
In the aftermath of these scandals, many began to wonder whether the problem went beyond a couple of bad apples, or weaknesses within the Massachusetts forensic lab system. Since those events, several forensic lab workers in different states have faced legal or other repercussions for misconduct.
What happened to institutional controls that should have caught these cases
For example, Brenda Frazier, a chemist at the police drug lab in Columbia, South Carolina, was forced to resign in August after an audit raised questions about her training and the quality of her work. In total, she was involved with the testing of 746 drug cases and, of those, 190 were sent for retesting. Frazier has now filed a $3 million (£1.9 million) lawsuit against the city claiming that she was discriminated against as an African American and wasn't provided with the same equipment and training as her white counterparts.
Last year, a forensic scientist working for the Texas Department of Public Safety lab, Jonathan Salvador, was also found to be producing shoddy work. He was accused of 'dry labbing' – recording results without performing any tests.
Convictions jeopardised
A grand jury in Harris County considered whether Salvador's actions were illegal, but he was never charged, according to David Weeks, the district attorney from Walker County, Texas. In June, a Texas appeals court overturned a prior ruling that would jeopardised convictions in any case that Salvador had worked on.
At the time, the Texas District and County Attorneys Association, a prosecutors' group, expressed relief. 'With this decision, the state now clearly has hope when confronted with a case in which the conduct of a bad scientist has threatened to ruin a conviction,' the group said. 'Back in January in this case, the court gave us a new set of rules to follow in "bad scientist" cases that backed away from a "defendant always wins" approach.' Nevertheless, Weeks says says roughly 100 cases – mostly criminal cases – were dismissed as a result of Salvador's actions.
Bob Wicoff, with the public defender's office in Harris County, Texas, says Salvador was 'clumsy and lazy', but did not set out to change results. 'I am surprised that the state would give that many cases up in Walker County,' he states. 'Just because a forensic scientist has been shown to have dry labbed or made a mistake in a few cases, does that mean that all of the cases they were involved with are suspect?'
But the examples of questionable crime lab chemists keep coming. In February, Joseph Graves, a former chemist and supervisor at the Pensacola, Florida crime lab, was arrested on charges of theft, tampering with or fabricating evidence and drug trafficking. While processing drug cases, Graves allegedly replaced prescription pain pills with over-the-counter medications. He was eventually charged with an additional 41 counts of illegal drug trafficking.
Meanwhile, another forensic lab scandal could be brewing. The New York State Commission on Forensic Science – an independent body that accredits public laboratories – recently announced that an analyst at the crime lab in Suffolk County, New York, made an error with regard to weighing evidence in a criminal drug case.
The lab has apparently contacted several defence attorneys announcing that it is now reweighing the substances processed by the same analyst for use as evidence in other criminal cases.
Forensic burden
'In the thousands of cases in which evidence was or may have been compromised are defendants – people – who have been pushed through our criminal justice system at a volume that creates a burden on the forensic system,' says Sarah Chu, senior forensic policy advocate at the Innocence Project. 'Some defendants may have even pled guilty despite their innocence in order to mitigate harsh prison sentences that probably looked very possible after they were confronted with what appeared to be indisputable scientific evidence.'
What does not come to light is all of the information that these labs provide
Chu says that in these malpractice cases the Innocence Project recommends independent investigations of the lab involved. More importantly, she adds, the root cause of the problem has to found and action taken to make sure that this never happens again.
There is now widespread acknowledgment of the significant increase in the number of forensic malpractice cases in recent years. And there is also a growing consensus about a lack of oversight at these crime labs or, at the very least, insufficient checks.
'What happened to institutional controls that should have caught these [cases]?' Lee asks. 'It is definitely time for stricter controls over forensic laboratories,' he says. Lee calls the field a 'wild, wild west', and says there is no true oversight such as in the pharmaceutical industry or the US Environmental Protection Agency's laboratories.
But the executive director of the American Society of Crime Laboratory Directors, Jean Stover, says there are bad apples in any institution. 'What comes to light are all the people making errors, but what does not come to light is all of the information that these labs provide and all of the times that we provide good information in courts,' she says.
In fact, Stover suggests that the recent revelations of problematic forensic crime lab chemists might be indicative of the fact that the system is improving and becoming more transparent. This could explain why more malpractice is being rooted out.
Proof of improvement?
Even Lee agrees that these scandalous cases might offer proof that the problem is being addressed. He says attorneys are now more aware of the science and becoming more expert in techniques such as mass spectrometry and gas chromatography, helping to expose lab malpractice.
David Harris, a professor of law at the University of Pittsburgh, US, agrees. 'These things are getting discovered more readily, in the past they've been discovered at a slow pace,' he says. 'What we are seeing here is just more attorneys being more alert.'
When it comes to further reforms, many, including the American Chemical Society (ACS), advocate the development of a new quality control framework to strengthen and supplement existing requirements for accreditation, regular inspections and enforcement.
In fact, an ACS policy document identifies a need to strengthen scientific rigour within forensics and to quantitatively assess and then improve the accuracy of analytical methods. Specifically, the ACS wants to research and quantify the sources and effects of human error, as well as to automate forensic tests where appropriate.
McShane says the role of a forensic scientist in a courtroom is that of a neutral scientist, not as part of the prosecution team. He emphasises that lives hang in the balance, and argues that it's the duty of a toxicologist to focus on the chemistry and the pharmacology, not to concentrate on the conviction.
Others are calling for the separation of forensic crime labs from the police to ensure the independence of the chemists and the integrity of their results. 'If you don't do that, you are kind of courting disaster because you have got them on the same team,' warns Harris.