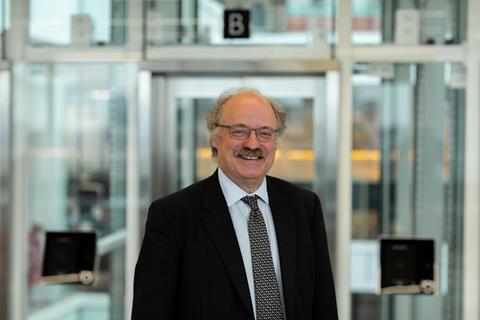 The chief executive of UK Research and Innovation (UKRI) – the umbrella organisation that oversees the country's seven research councils – will retire from the post in 2020. Mark Walport, an immunologist by training, was appointed head of UKRI in 2017 and guided the successful transition from the country's previous research funding structures to UKRI in April 2018. Beyond establishing a single operational organisation, he also helped to secure a significant increase in public funding for research.
Prior to leading UKRI, Walport held the job of chief scientific adviser for the UK government from April 2013 to September 2017, and also previously served as director of the Wellcome Trust, as well as professor of medicine and head of the medicine division at Imperial College London. In 2009, Walport was knighted for his contribution to medical research.
'I am delighted that UK Research and Innovation is now very much firing on all cylinders and is extremely well placed for its enormously important role as a key element supporting the future of the UK in a fast-changing world,' Walport said in announcing his retirement on 12 September. As word of his impending departure spread, Walport received widespread praise.
'Sir Mark has skilfully navigated the tremendous challenge of bringing together our esteemed research councils under the single banner of UKRI,' said Sir Robert Lechleri, president of the Academy of Medical Sciences. 'In doing so, he has overseen one of the most radical changes of the research funding landscape in the UK in recent times.' UKRI chairman John Kingman called Walport 'an extraordinary first leader' of the organisation, saying he has laid 'great foundations for UKRI's future' and will be 'a formidable act to follow'.
A 2015 report by Paul Nurse, the former president of the Royal Society and current director of the Francis Crick Institute in London, led to the formation of the UKRI as it recommended the creation of an overarching body to sit above the research councils and oversee their strategy, as well as managing cross-council funding and collaboration.
In reaction to Walport's impending retirement, Nurse said he has done a 'formidable job' bringing together the UK research endeavour and guiding UKRI's development. 'Under his leadership, UKRI has been established from scratch and has been forged into a unified body for research,' Nurse said. 'Throughout his career he has advocated powerfully on behalf of science, ensuring ongoing government commitment to investment in research.'

Rebecca became the US Correspondent for Chemistry World in September 2014, based out of Washington, DC, after writing for the magazine on a freelance basis since 2007.
View full profile