Chief scientific adviser will lead UK's new research organisation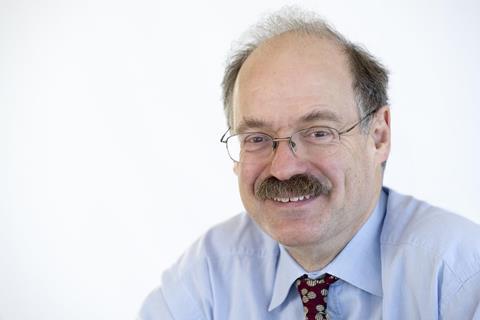 The government's chief scientific adviser Mark Walport has been appointed chief executive of UK Research and Innovation – the new umbrella organisation that will oversee the country's seven research councils.
Walport has been the UK government's chief scientific adviser since 2013, and was director of the Wellcome Trust for 10 years prior to this appointment. He will begin working with UKRI's chair, John Kingman, immediately to establish the organisation, which will be created following the passage of the Higher Education and Research Bill through parliament.
'I am delighted that Mark has agreed to take on this pivotal role,' universities and science minister Jo Johnson said in a statement. 'With his experience of running a large scale research organisation, collaboration with businesses in all sectors and his work at the heart of government, Mark is uniquely placed to lead the establishment of UKRI and ensure the organisation becomes a major voice for UK research and innovation.'
Walport said he was 'honoured' to be appointed to lead the organisation. 'My ambition is to make UKRI the world's leading research and innovation public funding agency,' he said. Writing in the Times Higher Education he explained that UKRI would create 'a research funding system greater than the sum of its parts'. 'It will achieve this by working closely with all of the communities for whom it is vital that UK research and innovation continues to be an outstanding success.'
Venki Ramakrishnan, president of the Royal Society, said the appointment was 'excellent news' and that Walport's experience would serve him well. 'Mark should be well placed to address the concerns of the science community about ensuring that establishing UKRI causes minimal disruption to an already highly efficient research ecosystem,' he said in a statement.
Creating flexibility
Bringing together the country's research councils, higher education funding and innovation agency Innovate UK under UKRI has attracted criticism. But Kevin Baughan, Innovate UK's chief development officer, says bringing together the different funders has the potential to encourage greater collaboration between academics and industry.
Speaking at a Westminster Higher Education Forum seminar on 2 February, he told researchers and policymakers that the formation of UKRI was 'a unique opportunity to create flexibility across the system […] and harness our research base for commercial opportunities in the UK'.
Innovate UK has just announced it will award £15 million in grants to 125 R&D projects that aim to provide innovative solutions to challenges in infrastructure systems. These include new 3D printing technologies and rapid charging for electric vehicles. 'It's clear that we live, work and play now in an innovation economy, so we must become more innovative as a country if we're going to continue to prosper,' Baughan said.
Whether UKRI will help to achieve this will depend in part on Walport's leadership. Responding to the news of his appointment, Naomi Weir, assistant director of the Campaign for Science and Engineering, pointed out that 'with great power comes great responsibility'.
'As well as strong leadership and acute political nous, a firm commitment to listening to the science and innovation community, working collaboratively and nurturing the autonomy of UKRI's constituent councils will be essential,' she said. 'We wish Sir Mark well.'