The Labor party has won the Australian 2022 federal elections, which has led to cautious optimism amongst researchers about science funding and changes in climate policy.
The Liberals, the conservative party that led a coalition government for the last nine years had their worst election in decades. They recorded around 24% of the votes, with the Australian Labor party winning around 33%. This could hand the party, led by new prime minister Anthony Albanese, a slim majority. The election also saw the rise of 'teal' independents, the name given to a group of mostly female centrist candidates.
The economy and inflation featured strongly in the election campaign, but so too did climate policy, driven by a spate of destructive floods and forest fires in recent years. 'Climate policy was one of the most significant factors in the election results,' comments Elizabeth New, interim head of the school of chemistry at the University of Sydney. 'The Greens gained two coalition-held seats in Queensland, and the teal independents – who had strong climate policies – unseated a further six coalition MPs in New South Wales, Victoria and Western Australia.'
There is cagey optimism among many researchers about the new government's attitude to basic science. Public funding of research has been stagnant in Australia, and the government's focus has leaned toward applied, industrially led research. 'While the previous government maintained its broad support for Australian research, it deprioritised fundamental research and was in some cases hostile, such as for climate science,' notes Gwilym Croucher, a higher education policy expert at the University of Melbourne.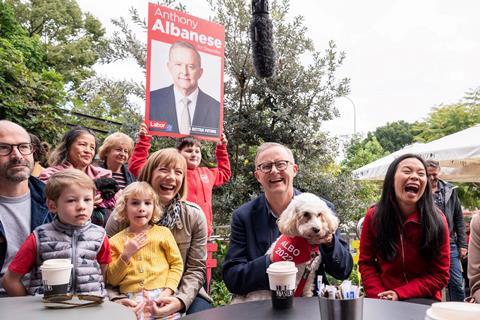 Research Australia congratulated the new government on their election win and reiterated its calls for an urgent injection of funding into the National Health and Medical Research Council to keep pace with inflation. In 2019/20, the government investment in R&D was 0.48%, the lowest in four decades. 'The Australian Research Council (ARC), the primary non-medical research funding agency, has had a relatively steady funding allocation – about A$800 million (£452 million) – compared to consistent increases seen throughout the previous Labor government ,' notes New. Moreover, Croucher adds, Labor has made it clear that it does not believe it was appropriate for the previous government to directly intervene with funding decision by vetoing the award of ARC grants.
Universities perform around 90% of the fundamental research and 43% of applied research. They rely heavily on fees from international students, but this income largely dried up after Australia closed its borders during the Covid-19 pandemic. The coalition government injected A$1 billion in emergency funding, but with the students and fees slow to return, 'there are questions over how Australia's research can be sustained into the future', observes Croucher. Universities Australia estimated last year that there was a A$1.8 billion reduction in universities' operating revenues in 2020 and projected A$2 billion revenue reduction for 2021.
Still, the elections have brought a sense of hope. 'It is always refreshing to see a new government established, with a new agenda and new energy,' comments New. 'We are all waiting on tenterhooks to see who the new science minister will be.'
It is expected that the government will need to negotiate with the Greens or teal independents to pass legislation, especially as it won't have a majority in the Senate, which must sign off on legislation.
Labor promised to create jobs, cut power bills and reduce emission by boosting renewable energy. 'There is broad expectation that the new government will be significantly more supportive of Australian climate scientists,' says Croucher. Australia is viewed as especially vulnerable to climate change, yet the country is a major exporter of coal.
However, it remains uncertain whether the new government will deliver a funding boost to research.

I am a freelance science journalist based in Dublin, Ireland. I cover a variety of topics in chemical and biological sciences, as well as science policy, health and innovation.
View full profile