Uniting Huntsman's bulk materials with Clariant's additives gives a more integrated speciality chemicals offering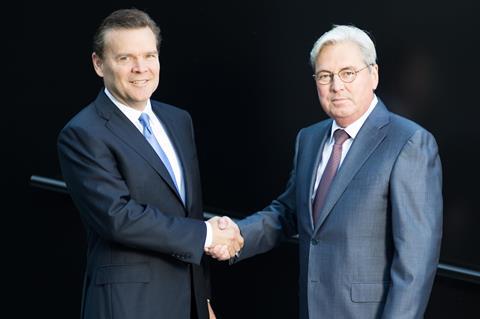 Clariant and Huntsman have agreed a 'merger of equals', creating a speciality chemicals giant with annual sales of about $13 billion (£10 billion).
HuntsmanClariant's headquarters will be in Clariant's Swiss home near Basel, while Huntsman's base in The Woodlands, north of Houston, US, will become its operational HQ. Clariant's chief executive, Hariolf Kottmann, is to be the new entity's chairman. Huntsman president and chief executive Peter Huntsman will be the chief executive.
The companies claim annual cost savings of at least $400 million will lead to more than $3.5 billion in value creation, and they will benefit from each others' skills in sustainability and innovation. They hope the deal will be closed by the end of the year. The spin-off of Huntsman's pigments and additives business, Venator, will still occur as planned in the summer.
'This is the perfect deal at the right time. Clariant and Huntsman are joining forces to gain much broader global reach, create more sustained innovation power and achieve new growth opportunities,' said Kottmann.
Both companies have been involved in multiple mergers and acquisitions in recent years. Clariant was born in 1995, when Sandoz spun off its speciality chemicals business during the merger with Ciba–Geigy that formed Novartis. Two years later, it acquired Hoechst's speciality chemicals business, and since then has also bought BTP, Süd-Chemie and part of Ciba. It also sold off its textile, leather and detergent chemicals businesses.
Huntsman, meanwhile, over the years acquired Texaco Chemicals, and in 1999 bought various ICI chemicals operations. Its purchase of Rockwood in 2014 made it one of the largest manufacturers of pigments for paints, including titanium dioxide.
According to Rob Outram, chemicals director at Business Research Group, Huntsman and Clariant are in very different parts of the market. This contrasts with PPG's ongoing pursuit of AkzoNobel, which is essentially about growing the size of the company.
'Huntsman is more of an upstream chemicals supplier, for example supplying polyols and isocyanates for the polyurethane market,' he says. 'Clariant is an additives company and plays in a very different part of the market, with synergistic products.'
There is no big margin in bulk commodity chemicals any more, Outram explains, so they are looking to add value. One way to do that is to make products further down the chain, for example polyols instead of propylene. 'Huntsman's bulk chemicals make component chemicals of a material, and a Clariant masterbatch [additive] or stabiliser will add value to the basic product,' he says.
Outram adds that even the big plastics manufacturers are looking to diversify away from commodity polymers and get into compounding, since branded, formulated, finished products have much more value.
'After 10 years of very little growth in the chemicals market since the financial crisis, companies want to see growth, but even now nothing is growing quickly,' he says. 'Acquisition is an opportunity, if they get it right, to get the growth they are struggling to achieve elsewhere.'