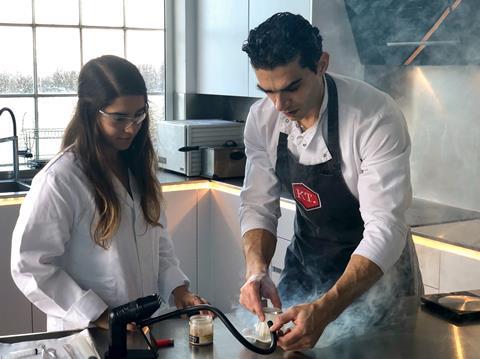 First year chemistry students at Imperial College London in the UK are to receive lessons in high-end gastronomy in a 'chemical kitchen' to help them develop practical skills they can take into the lab.
Students beginning courses in 2019 will trial a module called 'Introduction to Culinary Practice' that Imperial has developed in collaboration with chef and molecular gastronomer Jozef Youssef. The classes will form part of a techniques 'bootcamp' that will 'encourage students to develop an orderly, planned approach to working in a complex and potentially hazardous environment', the university says.
In a specially designed chemical kitchen, budding scientists will learn basic culinary skills such as following a recipe, creating new dishes and plating them up, as well as experiencing how lab apparatus such as rotary evaporators and centrifuges are used in molecular gastronomy. The idea is to enable them to get to grips with some of the fundamentals of lab work – such as following instructions, evaluating and documenting work at each step, and responding to constructive criticism – in a non-threatening, non-competitive setting.
'The chemical kitchen will offer an amazing experience for all first year chemistry students at Imperial to kick-start their practical training in an unconventional and provocative way,' said Alan Spivey, a professor in the department of chemistry who is assistant provost of learning and teaching. 'The plan is to encourage safe experimental practice, practical reproducibility and appreciation of the often overlooked parallels between the practice of chemistry and myriad other activities.'