Northwestern University has opened the largest biomedical academic research facility in the US, and the new 12-story building will add more than 58,000m2 of research space to the university's academic medical campus in Chicago. The school currently receives more than $700 million (£554 million) in external research funding annually, and it is estimated that the additional space and investigators will increase Northwestern's grant awards $1.5 billion over the next decade.
The Biomedical Research Center officially opened on 17 June, and its top floor is dedicated to chemistry. The new building will also house a synthetic biology centre.
Also on the top floor will be the Simpson Querrey Institute, led by chemistry professor Samuel Stupp, which focuses on bioinspired science and technology. This institute, which has existed for more than 10 years and will be expanding into this new building, conducts research on new materials for regenerative medicine. A good manufacturing practice facility also been built into the new space to allow the synthesis of candidate drugs for clinical trials. 'We are going to be expanding our chemical efforts in the new building,' Stupp tells Chemistry World. 'There will be an NMR facility, which is not common in medical schools.'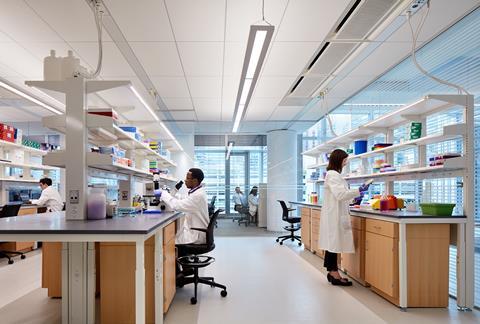 The labs on each floor of the new building are designed as three flexible 'research neighbourhoods'. Each floor also has a centrally-located space to encourage an exchange of ideas between scientists with different areas of expertise.
The new facility was constructed in such a way that future expansion can more than double its size, with the possibility of adding another 16 new floors. The institute says that this is important considering the speed at which Northwestern's research programme has expanded in recent years. Between 2002 and 2018 Northwestern has jumped from 39th to 15th place in the National Institutes of Health funding league table.

Rebecca became the US Correspondent for Chemistry World in September 2014, based out of Washington, DC, after writing for the magazine on a freelance basis since 2007.
View full profile