Move exemplifies a wave of manufacturing cuts as pharma moves to more high-value, specialised medicines
Novartis is to cut over 2000 positions at its Swiss operations by 2022. The Basel-headquartered company has around 12,800 staff in Switzerland, roughly 10% of its global workforce. The move is typical of a wider shift underway in big pharma, as it moves to try focus on higher value medicines and increase profit margins.
Novartis said the job cuts are part of a strategic shift. 'On the manufacturing side, our medicine portfolio is evolving from high-volume products to more specialised and personalised innovative medicines. We now need to adapt our manufacturing network to better suit this changing portfolio,' chief executive Vas Narasimhan said during a press briefing.
Around 1450 positions will be removed from manufacturing operations in Basel, Schweizerhalle, Stein and Locarno before 2022. Concurrently, the firm will build a cell and gene therapy manufacturing unit in Stein, where it is expected that the newly approved CAR-T cancer drug Kymriah will be made. This will add 260 jobs, potentially expanding to 450 by 2021.
Countries like Britain are going to have to do sophisticated, high-value manufacturing, because that is where a competitive advantage can lie
'By 2020 we want to generate one billion dollars of savings in our production network through rationalisation and improving the efficiency of our operations. This is in line with those overall goals,' said Narasimhan. Novartis had announced the closure of a pill factory in Colorado, US, and redundancies in Japan earlier this year. Its network of 66 global factories operates below capacity, following decreased demand after patent expiry on high-volume pills such as Diovan (valsartan) for heart disease, noted Narasimham.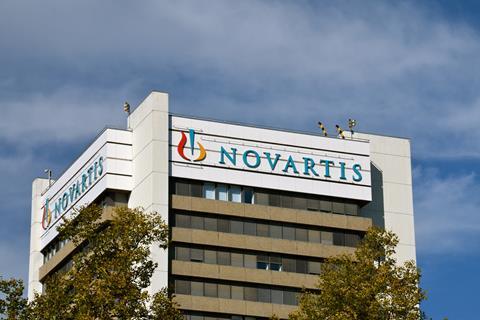 'The advent of immunotherapy, Crispr [gene editing] and CAR-T is revolutionising the management of disease,' says Stephen Munk of the Biodesign Institute of Arizona State University. 'The manufacturing techniques are quite different for these. Almost everything is done in sterile water using disposable plastics. Everything must be sterile.' He contrasts this with traditional small molecule manufacturing, using organic solvents and glass lined reaction vessels for high temperature and low temperature reactions.
The shift for big pharma companies will be disruptive, but Munk stresses that for patients these new medicines are an amazing boon. Some workers in high-cost countries will have to retrain, as generic drugs move to lower-cost locations such as India and China. 'But a lot of these newer medicines, like CAR-T, must be produced relatively near the patients.'
Around 700 business services jobs, mostly in Basel, will move to five new global service centres, in Ireland, India, Malaysia, Mexico and Czech Republic by 2022. Separately, 400 small molecule manufacturing jobs will be cut in Grimsby, UK.
Manufacturing techniques are quite different [for new immunotherapies] - almost everything is done in sterile water using disposable plastics
Elsewhere, GlaxoSmithKline (GSK) said it is to close its pharmaceutical manufacturing unit in Bangladesh by the end of 2018, affecting around 1000 staff. A spokesperson said: 'All of our medicines are substitutable with generics and therefore, patients should be able to access a range of suitable alternatives.' The company recently unveiled a restructuring program to deliver annual cost savings of £400 million by 2021.
'At GSK, it's sales, back office and a few R&D jobs that are going and, as at Novartis, this follows several years of shedding non-core assets. But again, the aim is to cut costs that can be reinvested in more advanced R&D,' says Ana Nicholls, healthcare analyst at the Economist Intelligence Unit, UK.
Other big drug companies continue a retreat from less-profitable manufacturing and seek cost savings, especially after mergers and acquisitions. Takeda Pharmaceuticals agreed to buy Shire Pharmaceuticals earlier this year for £46 billion. Japanese-headquartered Takeda is set to close its US headquarters in Deerfield, Chicago, where it has around 1000 employees. The work in Chicago will be progressively moved to the greater Boston area.
Takeda earmarked a $600 million (462 million) cut in annual R&D costs following its Shire purchase, and said it would trim overall expenses by $1.4 billion. 'Shire is also in Boston, so it is natural for Takeda to integrate their offices in Chicago and Boston and close Deerfield,' says Atsushi Saki, an analyst for UBS in Toyko, Japan, who says a reduction in headcount was expected. 'For Takeda, the Shire deal is important for its innovative medicines. After the deal, Takeda can save money by reducing overlapping operational costs.'
The shift is part of Takeda's move away from traditional drugs and towards biologicals and gene-based treatment. Hence choosing to move towards the blooming research hub of Boston. 'Takeda will be able to reinvest savings into innovative medicine such as rare diseases, oncology, gastrointestinal and neuroscience,' says Saki.
The pharmaceutical industry, unlike cars or electronics, cannot do serial remodelling, says David Taylor, professor emeritus of public health policy at University College London, UK. 'It has to do real innovation, so must constantly change itself. Some factories will close, some facilities reduced and others expanded. The concentration in western Europe and North American will shift to become more global.'
He adds that 'bulk manufacture of ordinary chemicals isn't a high-yield business and doesn't contribute much [funding] to R&D. It is more like a commodity business.' Novartis wants to increase its margins by a few percentage points, to be more competitive with its peers. 'Europe also has high labour costs and high line costs,' says Taylor. 'If it is to maintain its high standard of living, countries like Britain are going to have to do sophisticated, high-value manufacturing, because that is where a competitive advantage can lie.'
'The pharma industry has been through several rounds of job cuts over the past decade,' notes Nicholls. While a drop in new drug approvals and some high-profile trial failures triggered some decisions, now 'it seems to be attempts to move up the value chain and focus on higher margin products that's driving lay-offs. So the cuts are split between conventional drug discovery and manufacturing,' she explains.
She predicts that 'job cuts are going to continue at research-based companies, reflecting the increasing price competition for generics and less specialised medicine.'