Chemistry students come to defence of latest project's safety but government and industry are failing to talk to the public about risk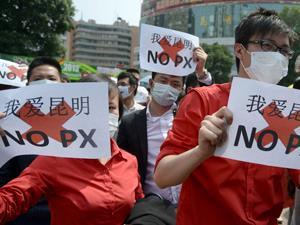 Amid the Chinese public's increasingly fierce resistance to the construction of chemical plants, young chemists are coming to the defence of the industry. However, experts on public engagement say that a more systematic approach will be needed if the reputation of China's chemical industry is to be rescued from the gutter.
Lin Zhanglin, a professor of chemistry at Tsinghua, says now is the time for government and industry to start taking their responsibility for making a rational case for chemical plants much more seriously. Lin made his remarks after the latest public protests opposing a proposed para-xylene (PX) project peaked on 30 March. Thousands of residents in Maoming, Guangdong Province – a city with a thriving petrochemical industry – took to the streets, burning cars, in protest at the plans. After the protest, Maoming government announced that the Yuan3.5 billion (£336 million) PX project was not finalised, and maintained that it was safe and important for the local economy.
PX puzzle
Para-xylene is a common chemical used to produce terephthalic acid, which in turn is used to manufacture polyester. The chemical has a low toxicity and there are very few reports worldwide of environmental harm from PX. Despite this, PX has become a common target for public protest in China since December 2007 when the government of Xiamen suspended the construction of an £882 million PX factory. Since then, PX projects have been halted in Dalian, Ningbo and Kunming as a result of public discontent.
The move to defend a definition is easy, but it is not so simple to find a real solution
The derailing of the PX plant in Xiamen has made the chemical a highly visible target for protests. 'The accidental selection of PX [as a target] by the public reflects an inevitable resistance to toxic products,' says Chen An, a professor of risk management at the institute of policy and management at the Chinese Academy of Sciences (CAS).
The street protests in Maoming were accompanied by an online campaign that saw environmentalists change the entry on PX's toxicity in Baidu Baike, the Chinese equivalent of Wikipedia, from 'low' to 'highly toxic'. However, on 2 April, while millions of people were still posting supportive tweets for the collective action in Maoming, a group of chemical engineering students at the prestigious Tsinghua University corrected the PX entry. This led to a running battle over the entry until a Baidu Baike employee finalised the PX entry as 'low toxicity'.
Public image
'Facing the huge pressure of online public opinion, our students were brave and highly responsible to defend scientific truth,' Lin tells Chemistry World. When faced with controversial scientific issues most scientists in China keep silent, while China's industrial associations and academic societies often dodge their responsibility to communicate risk to the public, Lin says. As a result, the public has become increasingly wary of the chemical industry in China.
The defence of chemical projects cannot rest with students, however, Lin says. The government and industrial experts must lay out the science and be transparent about the risks of any projects, he adds.
The local government in Maoming was well aware that the PX proposal could be controversial. A month before the latest protest began it launched a large public education campaign on chemical and PX safety. Yet according to local media, petrochemical workers, their family members and public school students were required to sign a letter of support for the PX project. It is thought that this triggered public protests as it was seen as a sign that the PX plant had received the go ahead.
While agreeing that PX is not particularly toxic, Lin Zhongxiang, a professor of fine chemicals at Nanjing Forestry University, says the movement to defend PX has gone to the other extreme. 'It might be true that in accordance with some indicators, PX is no more toxic than alcohol. But you cannot drink PX even though you can drink alcoholic beverages,' says Lin, arguing that PX's low toxicity is touted to support the political goal of clamping down on dissidents. He says that a better way to convince the public of the safety of PX plants is to let chemical industry leaders live next to their factories.
Chen, on the other hand, says that what the public are opposing is not the science or the chemical itself, but the way plants are built and managed. He cites an explosion last year in the only PX plant built in recent years – the plant in Gulei Peninsula that was originally earmarked for Xiamen – as evidence that poor management is what people really fear. 'The move to defend a definition is easy, but it is not so simple to find a real solution,' Chen says.
Environmental awareness
Continued protests against PX coupled with strong domestic demand have pushed its price up in recent years. Ye Yingmin, general manager for Chem1, a leading chemical consulting firm based in Beijing, says the downstream textile industry has been hit hardest.
Although the manufacturers of textile stuffs like polyester have been severely hit by the surging price of PX, for the chemical industry as a whole it hasn't been all bad news. The feedstock used to produce PX, naphtha, can also be used to produce high octane fuels which are in demand owing to the nationwide fight against smog, which cars are a major contributor to.
'Rising environmental awareness reflected in the PX protest is not a bad thing for the chemical industry,' Ye says. 'While pushing the industry to improve its quality, the environmental movement can help curb the expansion of low end industrial outputs, reducing […] overcapacity and oversupplies.'