$160 billion deal allows Pfizer to escape US tax system by re-homing in Ireland
Pharma giant Pfizer is to combine with Allergan in a $160 billion (£106 billion) mega-merger. The deal is being positioned as Irish-based Allergan taking over Pfizer, with the merged entity resident in Ireland for tax purposes. This will save billions of dollars in future tax bills, but do little for new drug discovery.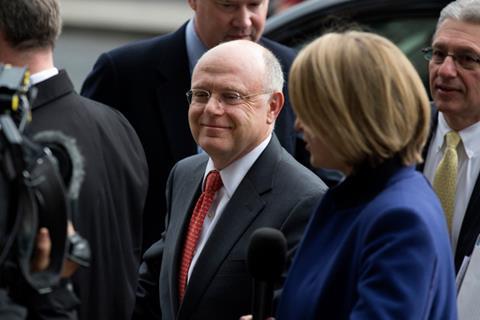 Pfizer, which will retain its operational headquarters in the US, flagged expected savings of $2 billion from operating expenses, with a third coming from R&D. Pfizer today invests $7 billion in R&D, the vast majority of which is in the US.
'Pfizer said last quarter that it was going to reduce all costs. One of the easiest to reduce is the tax liability. That is what it has done,' says Steve Brozak, president of WBB Securities in San Diego, US. The move will bulk up revenue and cut expenses but will do nothing to add to the drug pipeline. The deal sidesteps the US treasury's tightened rules designed to deter companies from pursuing 'inversion' deals to move their bases abroad and reduce their tax rates. It is not technically an inversion, since Allergan is nominally doing the buying, but will massively cut Pfizer's US tax bill – from 25% to 17% by some estimates.
There are other benefits to the deal, according to industry observers. Analyst Alastair McCaig at IG in London, UK, says the $6–8 billion of tax savings is not to be sniffed at, but points to other drivers. 'There is a good fit between the businesses,' he says.
There is not a lot of overlap between the two companies' drug portfolios, which makes them complementary. Allergan is strong in aesthetics – centred around Botox (onabotulinum toxin A); eye care; anti-infectives; gastrointestinal and neurology – areas Pfizer exited or de-prioritised some years ago.
Upsides, but not new drugs
Merger and acquisition activity by Pfizer was not unexpected. 'Pfizer needed to replenish its basket of approved drugs. It needed to buy products that were already available on the market, specifically in the US, where the profit premiums are so much greater,' says McCaig. 'Part of the reason is that in the wake of the financial crisis, many companies effectively battened down the hatches and cut costs. They were reluctant to spend money, reduced head count and cut back on R&D. And now they find themselves with this shortfall or inability to produce new drugs.'
I would like to see the people responsible for drug discovery and innovation to just say no to the accountants and the corporate finance mavens
While Pfizer invests in significant in-house R&D, Allergan has tended to buy potential targets in the drug discovery phase. 'Unlike the AstraZeneca case, this probably won't have a significant impact on R&D operations,' says Aris Angelis from the London School of Economics, UK. 'There might be some reasonable workforce optimisation, but there is not much therapeutic area complementarity between the two companies and Allergan's R&D should not suffer much.'
That said, mergers are not known for driving new drug discovery. 'I would not expect a significant increase in innovative output from the combined new company,' adds Angelis, who criticised last year's proposed AstraZeneca–Pfizer deal, and recently blogged about the proposed Allergan–Pfizer embrace.
He is not alone in his pessimism. 'The question now is: what will Pfizer–Allergan buy next. Or it could start spinning things off, but where is it going to get new drugs from?' asks Brozak. 'I would like to see the people responsible for drug discovery and innovation to just say no to the accountants and the corporate finance mavens that are basically driving these entities,' he says. 'What I care about is the value of the shares tomorrow, and that isn't driven by tax codes. It is driven by discovery of new healthcare products and technologies.'
The hurdles ahead
The new company will have better access to cash to invest in R&D and manufacturing, according to Ian Read, Pfizer's chief executive . 'I want to stress that we are not doing this transaction simply as a tax transaction. We are doing this because of the strategic importance of the franchises, the revenue growth we believe we can get within the US and internationally, and the importance to combine the research approaches,' Read said on Monday in a call with analysts.
The move also gives Allergan access to 70 markets it does not operate in today. Allergan chief executive Brent Saunders said during the call with analysts that the company has almost zero presence in some of the biggest markets, such as Japan, the second biggest pharmaceutical market in the world. 'You have a multi-billion dollar business in Pfizer that already exists there. We're trying to figure out how to bring our product flow into Japan in an efficient way. [That] issue is solved through this transaction,' he said.
The new entity will continue to be called Pfizer, with Pfizer stockholders owning around 56% and Allergan shareholders 44%. The deal must be approved by both sets of shareholders, as well as regulators in the US and the EU.
There is concern among investors that the deal could be stymied by the US government. Some analysts say Allergan and Pfizer are understating potential tax and other savings in the face of US political opposition to tax inversions.
The union will require 9 months gestation, and analysts say this gives time for the US government to undercut it. Already, the leading US presidential candidates have criticised Pfizer's actions. But Pfizer has learned from the experience of trying to merge with AstraZeneca last year and has tried to cover all its bases. It neatly sidestepped new rules to impede tax inversions from the US Treasury, which has admitted it can do little more to prevent the deals without legislation from Congress.