Company will concentrate on generic medicines and clinical and contract research.
India's Piramal Enterprises is exiting its early-stage drug discovery research and focusing on late clinical development, along with its core areas such as generics and contract research services. This is the second new drug discovery unit being shut down in India this year, following AstraZeneca's (AZ) closure of its R&D centre for neglected diseases in Bangalore in January.
Over 200 scientists researching new chemical entities (NCEs) at Piramal's facility in Mumbai will be affected with this decision. They have been given options of moving to contract research units located in other parts of India, or switching to developing generic medicines.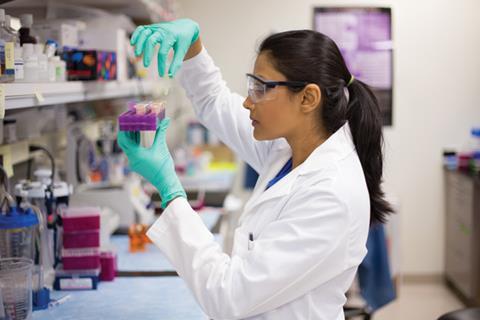 Piramal will stop all drug discovery research, except projects on imaging agents and anaesthetics. 'I am basically a scientist and I love the business of science, but I am also answerable to the investors,' the company's vice-chair Swati Piramal told Indian newspaper Mint. 'So I had to take a decision that is most strategic from the investor point of view, which is to review the high cost and long gestation early-stage discovery business.'
Drug discovery involves building of a culture of innovation and teamwork; success takes many painstaking years of indulgence
This admission reflects the view that Indian drug companies are finding it difficult to develop successful new molecules. Discovering new drugs requires huge investment, and has not been favourably looked upon by risk-averse Indian investors. Several Indian molecules have failed in the clinic, including Piramal's head and neck cancer candidate P276 in 2012. Even the antimalarial Synriam (arterolane and piperaquine), which Ranbaxy hailed as India's first domestically developed drug, was originally discovered elsewhere.
TS Balganesh, head of Open Source Drug Discovery, an initiative of the Indian Government-supported Council for Scientific and Industrial Research, expressed sadness over the closure of AZ R&D in Bangalore and Piramal's exit from the new drug discovery business. 'Drug discovery involves building of a culture of innovation and teamwork; success takes many painstaking years of indulgence', observes Balganesh, who was involved in setting up AZ's Bangalore R&D unit. 'Success is also highly dependent on skilled manpower and experience. A lack of critical mass in this area spells doom for new drug discovery in India. It is time to find ways to pro-actively nurture a revival.'
Piramal sold its domestic formulations business to US-based drug maker Abbott Laboratories in 2010 for over £1.7 billion, but retained the drug discovery unit and other contract research units. It is estimated that Piramal had invested over £200 million in NCE development since the late 1990s. The firm currently has a portfolio of eight molecules related to cancer and metabolic disorders.
Jayant Khandare, who quit Piramal's R&D unit over a year ago and joined an academic institution, is not surprised by the shutdown. 'I don't think that the discovery company has failed,' he says. 'In spite of the world class facility and freedom, the scientists could not deliver the intrinsic objective. We lack the drug discovery culture and ecosystem in India that exists in the West.'