There is limited uptake of Covid-19 treatments targeted at immunocompromised people and those who aren't responsive to Covid-19 vaccines, largely for reasons that remain unclear. Meanwhile, demand for antivirals appears to be slowing, even as manufacturing capacity ramps up.
While AstraZeneca's prophylactic antibody combination Evusheld (tixagevimab and cilgavimab) is available to patients in several countries including the US, Canada, France and Israel, the UK hasn't yet made it available to patients. That's despite the drug being given conditional marketing authorisation by the UK's Medicines and Healthcare products Regulatory Agency (MHRA) on 17 March.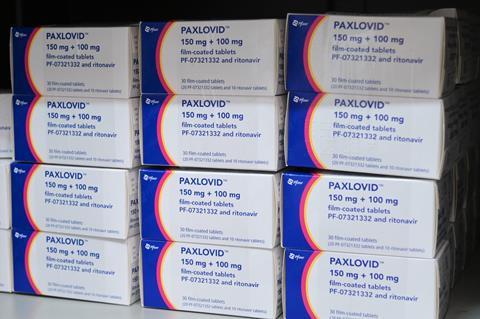 The UK government has said the delay is due to uncertainty at the MHRA over the appropriate dosage of Evusheld for durable protection against the Omicron variant of Sars-CoV-2. The UK Health Security Agency carried out testing of Evusheld against Omicron and provided the data to AstraZeneca but hasn't clarified when a final decision will be made.
'We recognise the strong interest from patients in receiving Evusheld as a preventative therapy prior to exposure of Covid,' a spokesperson for the UK's Department of Health and Social Care told Chemistry World. 'We have been conducting an assessment of Evusheld, which includes asking clinicians to advise on the most appropriate option for the NHS in line with all available data.'
A campaign is underway to make Evusheld available to half a million immunocompromised people in the UK. However, even in countries where the drug is already available, uptake has been slow.
Camille Kotton, a transplant infectious disease physician at Massachusetts General Hospital in Boston, US, says that although Evusheld seems to be less effective against the BA.5 subvariant of Omicron, the drug still has significant efficacy. Specifically, one of the antibodies in Evusheld seems to be working well against the circulating strains, she says.
I don't believe that Evusheld is being rolled out in an equitable way with respect to various ethnic communities and people who may not have as much medical sophistication
Kotton, who is also a voting member of the US Center for Disease Control's advisory committee on immunisation practices, says that intravenous infusions of Evusheld, in addition to vaccines, gives the best protection to immunocompromised people with comorbidities and underlying health conditions. Evusheld's US Emergency Use Authorization recommends that it should be used in addition to vaccines, not instead of them, Kotton notes, unless patients have allergies or adverse reactions to vaccinations.
But despite the US approving Evusheld in December, Kotton says that, of the roughly 3% of the population who would be eligible, only a tiny minority­­ have received it. Around 200,000 doses are available right now in the US. 'I don't believe that Evusheld is being rolled out in an equitable way with respect to various ethnic communities and people who may not have as much medical sophistication,' she adds.
There are some parallels with small-molecule antivirals, where uptake of the drugs is also lower than analysts initially expected. According to health analytics firm Airfinity, sales of Pfizer's Paxlovid (nirmatrelvir and ritonavir) increased from $1.5 billion in the first quarter of 2022 to $9.3 billion in the second quarter, as the company has ramped up its manufacturing capacity. However, that growth has come at the expense of Merck's Lagevrio (molnupiravir), whose sales have decreased sharply. Airfinity is predicting significantly slower sales growth in the second half of the year.
Airfinity's analysis suggests clinicians are more often recommending Paxlovid because of its greater efficacy at preventing severe disease. Both Paxlovid and Lagevrio are aimed at high-risk and/or unvaccinated populations, says Arsalan Azad, lead infectious disease treatments analyst at Airfinity in Cambridge, UK. Neither drug showed superior efficacy in healthy, young, vaccinated individuals, he notes. There are also major questions around when pre-exposure prophylactics and oral antivirals will be easily available to developing countries.
Azad thinks it will also be a race between new treatments and how quickly variants of the virus continue to emerge. That is especially true with monoclonal antibody treatments like Evusheld, which target the spike protein of the virus. This is highly prone to mutate, which can make the virus more transmissible and render antibodies less effective, adds Airfinity analyst Harry Cheeld. One reason for using monoclonal antibody treatments is that the protection they offer is expected to last several months.
Oral antivirals have their challenges – they require early diagnosis (which is becoming harder as testing becomes less widespread in high-income countries) and rapid prescription and dispensing. Some of this may account for the lower than expected uptake, despite readily available supplies. Nevertheless, antivirals are cheaper, easier to administer, and are more widely available than antibody treatments, Cheeld says, with Paxlovid remaining the number one choice for outpatients.