Devastating fungal disease tackled with antimicrobial and anchor peptide combo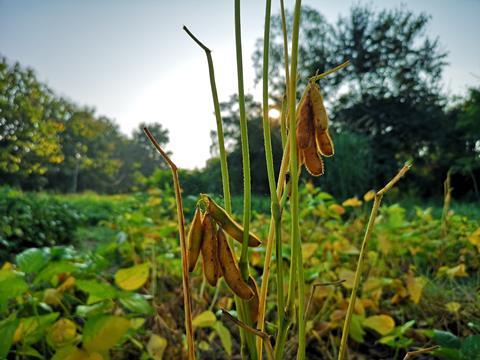 Scientists have fused two peptides to create a pesticide that protects legume crops from Asian soybean rust. One peptide kills the fungus behind the disease, and the other acts as a sticker to bind the system to leaves.
Asian soybean rust has been known to damage as much as 80% of a season's crop. To safeguard against this and other plant pests, farmers rely on pesticides to protect their produce. However, rain can easily wash most pesticides off the surface of plants, meaning farmers need to apply each pesticide multiple times during the growing season. Many pesticides are also toxic to humans and wildlife, so scientists are eager to come up with safer alternatives.
Now, a team of researchers, led by Uwe Conrath and Ulrich Schwaneberg from RWTH Aachen University in Germany, has designed a rainproof pesticide. 'Basically we merged two natural peptides. One ties the other to the plant surface. The other fights the rust fungus before it can penetrate the host plant,' explains Conrath.
The anchoring peptide, called thanatin, buries into the wax layer of the leaf, which prevents the rain from washing it off. Attached to thanatin is dermaseptin, an antimicrobial peptide, which faces outwards from the leaf and stops Phakopsora pachyrhizi, the microorganism responsible Asian soybean rust, from infecting the plant. Antimicrobial peptides, like dermaseptin, degrade naturally and therefore do not pollute water or soil.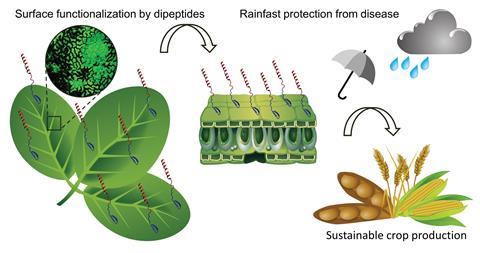 Cláudia Godoy, an expert in Asian soybean rust, from Embrapa, the Brazilian Agricultural Research Corporation, describes it as an interesting technology. 'This bifunctional dermaseptin–thanatin dipeptide seems to work as a natural sticker. The efficiency itself is not high enough for disease control but it could replace synthetic stickers,' she adds.
'It is a remarkable approach, but many aspects, apart from the economical cost that is always relevant when talking about crop protection, have to be studied in more detail to really promote such an approach as a new way to prevent crop diseases,' comments Eduard Bardaji, an expert in antimicrobial peptides, from the University of Girona, Spain. 'Long-term binding studies should be extended and detailed because this could be a major competitive advantage for the success of this new approach.'
The team has only tested the peptides in the lab but is currently negotiating with a peptide production company to manufacture them on a larger scale. They also plan to develop the system to fight even bigger pests. 'We would like to combine the thanatin peptide, the one that mediates the attachment to crops, with a peptide that kills chewing insects,' says Conrath. 'If everything goes right with our technology – approval by authorities etc – we will have a novel, broad-spectrum alternative for use in agriculture.'