Serigen mediproducts is harnessing one of India's biggest industries to help heal wounds and rebuild flesh and bone
For polymer engineer Anuya Nisal, silk has always been a fascinating research material. 'India is the world's second largest producer of silk,' she says. 'The industry employs 8.6 million people.' With her spin-out company Serigen Mediproducts, Nisal aims to develop silk into tissue regeneration products.
India's ancient literature describes using silk sutures to close wounds, Nisal points out, 'and yet we (India) import 80% of our medical devices. We had the concepts to convert the silk proteins into various three-dimensional architectures. And these could then be used potentially to solve various healthcare applications.'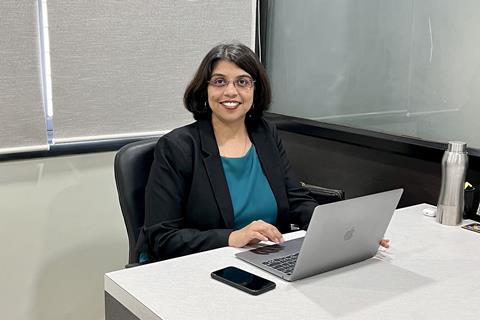 Nisal and her team have extracted fibroin, one of several silk proteins, from cocoons of the mulberry silkworm, Bombyx mori. Silk has proven biocompatibility and exceptional thermo-mechanical stability without causing any toxicity.
Following pioneering efforts by Indian scientists to create processable solutions from silk cocoons, Nisal and her team have developed 3D silk scaffolds with control over various properties including hardness, porosity and rates of degradation.
In 2015, Nisal spun out Serigen Mediproducts from her group at CSIR National Chemical Laboratory in Pune, to develop tissue regeneration products. At the heart of Serigen's technology platform are the innovative silk protein processing protocols that can create scaffolds for tissue regeneration devices.
The team can control the pore sizes in the range of hundreds of micrometres to achieve efficient cell migration and transport of nutrients besides bulk porosities ranging from 30% to 90% in the materials. 'We've been able to achieve some of these right porosities with interconnected architecture in silk that is required for successful tissue regeneration,' says Nisal. The 3D scaffolds showed great promise in bone-void-filling applications.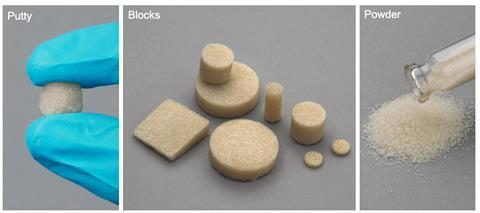 Nisal consulted with several clinicians to develop the scaffolds into useful products. That led to Serioss, a bone void filler for large cavities 3–5cm in size caused by injury, infection or bone cancer. 'None of the synthetic materials today can assist in repair of large bone defects,' explains Nisal. Either the materials degrade very fast in the body, which doesn't give new bone time to form properly, 'or there are other materials that do not degrade at all.' Crystallinity can be controlled in the silk, which in turn helps to manipulate the degradation process from a few months to two years. This range of degradation rates is not possible in other biomaterials such as collagen, according to Nisal.
Serioss provides the appropriate environment for bone cells to thrive and function. In preclinical and in in-vitro studies, Serioss outperformed ceramic-based bone void fillers in supporting new bone deposition. Its performance was comparable to grafting in a section of bone taken from elsewhere in the body. Serioss has been successfully implanted in 10 patients and the team is now preparing a larger clinical trial to fully assess its efficacy.
During her interactions with oncology surgeons, Nisal heard about various complications with breast reconstruction using Acellular Dermal Matrix (ADM) meshes derived from human or animal skin. This led to the development of Serimat, in which the silk properties can be tuned to match different types of soft tissue. Serimat is suture-able, conformable and supports development of new blood vessels better than ADMs.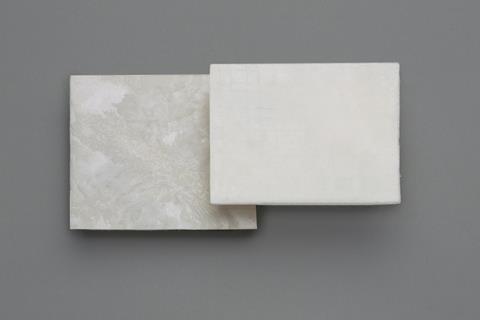 Because of its tunability, Serimat could also be used to reconstruct other organs such as the abdominal and vaginal walls, or the dura that surrounds the spinal cord. 'Serimat is meant especially for the Indian market,' Nisal says. 'We realise that no affordable options are available, and even if options are available, they are not accessible.' While the surgical products are going through regulatory approval, Serigen has also developed Seriderm – a non-adherent absorbent material for wound care, which has now been approved for sale in India.
Nisal plans to raise at least £2.4 million over the next 12 months, to help secure regulatory approval for Serioss and Serimat in India, as well as exploring other global markets. She also plans to scale up manufacturing of the commpany's wound care products across India, most likely with support from licensors and distribution partners.
Despite the Indian government's support in encouraging entrepreneurship, Nisal had to overcome various financial and cultural challenges in the absence of a mature ecosystem for deep science start-ups in India. 'For instance, attracting talent with a passion for entrepreneurship and commitment to work in start-up environments has been a challenge,' she says. 'Although private funding for deep science start-ups has improved over the last few years, we still have a long way to go. Raising angel investment to fund start-ups like us has been tough.'
Serigen mediproducts
Date of Founding: 2015
Location: Pune, India
Origin: Spin-out of CSIR-National Chemical Laboratory
Total employees: 9
Funding to date: Approx. £680,000
Anuya Nisal received the Indian National Academy of Engineering's Young Entrepreneur Award in 2020, as well as a Leaders in Innovation Fellowship from Royal Academy of Engineering, UK, and a BIRAC-TIE-WInER award for Women in Entrepreneurial Research in 2019.
References
1. A Nisal et al, Sci. Rep., 2018, 8:7235 (DOI: 10.1038/s41598-018-25643-x)
2. N Parekh et al; RSC Adv., 2017, 7, 26551 (DOI: 10.1039/C7RA03288A)
3. R Deshpande et al, ACS Biomater. Sci. Eng., 2022, 8, 1226 (DOI: 10.1021/acsbiomaterials.1c01103)