Artificial leaf no longer thwarted by clouds thanks to thrifty real-time control system
Scientists can now produce chemicals using natural sunlight as an energy source under fluctuating light conditions, using a new real-time reaction control system.1
On the average day in June, people in the city of Eindhoven, in the Netherlands, enjoy around seven hours of sunshine. While this might sound good to those of us in rainier climates, that figure still leaves a number of hours free for rainfall or intermittent cloud cover. It might mean an extra jumper or an umbrella for the average Joe, but for scientists developing technology to produce chemicals effectively using sunlight as the energy source, changing weather conditions can cause a wealth of problems. If there is insufficient sunlight to give chemicals the power to react, leftover material can be wasted or form unwanted byproducts, upsetting the system.
Timothy Noël's group at the Eindhoven University of Technology have been working to solve this problem. In 2016, Noël's team developed a chemical production system that concentrated solar energy by mimicking a leaf's natural photosynthetic systems.2 However, mere passing clouds were enough to hold this technology back, as different types of cloud block different amounts of sunlight, constantly changing the amount of energy going into the system. To combat this, the team have now developed a real-time reaction control system capable of adjusting chemical reactions to suit differing light conditions.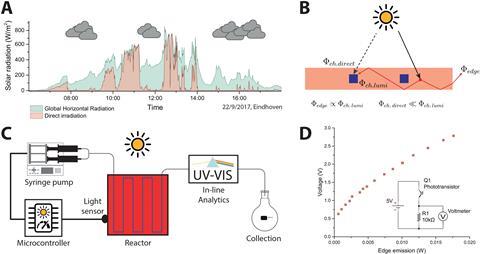 The team added a light sensor – similar to smartphone sensors that dim the backlight when it is dark – to their previous reactor. This measures the amount of light falling on the system and relays it to a microcontroller, which tells the reactor how quickly to run the reaction according to the light conditions. In dimmer conditions, the microcontroller can instruct the reactor to run the reaction at a slower pace to ensure stable and complete conversion. Likewise, in more intense sunlight the reactor can speed up the infusion of the reaction solution, resulting in optimal chemical production. 'Ideally, the reactants should be exposed to the solar light only for the exact time needed for their photochemical conversion, and that's exactly what our reaction system does,' adds Noël.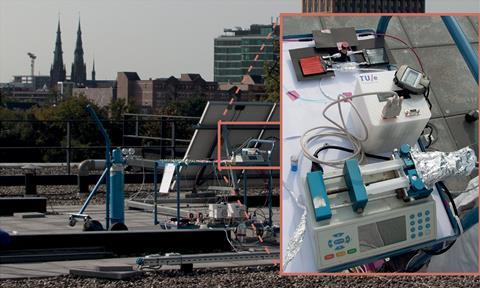 The system is incredibly cheap, costing just €54 (£47) and the team say that by designing a custom printed circuit board they could reduce this to just €10. Previous attempts for real-time solar chemical production adjustment have used chemical analytical techniques, usually costing thousands of euros. Physical sensors, however, are much cheaper and so more feasible for global applications. 'We believe that the combination of our innovative solar-driven photoreactor and this self-optimisation system brings us one step closer to our dream of constructing an entire chemical factory run on renewable energy,' says Noël.
Oliver Kappe, a flow chemistry expert from the University of Graz, Austria, says 'We are now seeing a surge in publications dealing with photoredox catalysis, and so it is only a matter of time until such applications may need to be scaled to large volumes for products of commercial interest. I do believe that the technology described by the Noël group now may be able to do just that in the near future.'
References
2 F Zhao et al, Green Chem., 2018, DOI: 10.1039/c8gc00613j (This article is free to access until 7 June 2018.)
1 D Cambié et al, Angew. Chem., Int. Ed., 2016, 56, 1050 (DOI: 10.1002/anie.201611101)