SGMA's silicate sol-gel is a sustainable alternative for packaging such as coffee cups
In one sense, the origins of Sol-Gel Materials and Applications (SGMA) go back to 2013, when chemist Fanya Ismail found out she was having twins. 'It came as a complete shock, and it put a brake on my career,' she says. After five years away from science and a new career in investment law consultancy, Ismail decided she wanted to return to chemistry, but through starting her own business.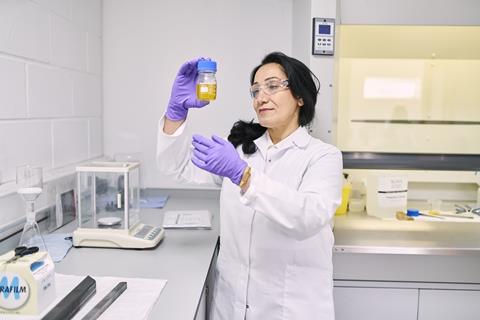 Based on silicate sol-gel chemistry, in 2017 she created SGMA to develop plastic-free coatings for paper products, such as the 16 billion disposable coffee cups used each year. The company is now working with top brands to develop more sustainable coatings.
Ismail came to the UK from Iraq after her first degree. After several years learning English, she embarked on a PhD at the University of Manchester Institute of Science and Technology (UMIST). She became a research scientist at the University of Manchester and a lecturer at Kingston University before leaving academia to care for her three children, as well as working as a legal consultant for foreign investors. When she was ready to return to science, she felt getting an academic role would be virtually impossible. She therefore started thinking of commercial opportunities in her field of sol-gel chemistry. Sol–gel processes use colloidal solutions to produce non-crystalline solid materials. They are widely used for depositing silicon and titanium oxides from acidic or basic solutions at low temperatures. As the solvent evaporates, the materials gelate, leaving a solid coating.
Switching from plastic liners to plastic particles only makes the problem bigger
'I looked at the global landscape of sol-gel technology, and there were gaps in the market,' says Ismail. She was shocked at how many harmful chemicals were still being used in packaging and felt there must be better, plastic free, chemical solutions. While paper cups are now more common than all-plastic versions, even these have a polyethylene lining to make them waterproof and give them structural integrity. More recent technologies use more biodegradable dispersions, 'but all of them have plastic particles', explains Ismail. 'Switching from plastic liners to plastic particles only makes the problem bigger, and industry [has] started to realise this.'
After extensive research, she remembers, 'I designed the molecules just using pen and paper at my kitchen table'. In 2015, she received an Innovate UK grant and rented lab space to start working on her idea. The materials she designed take advantage of the flexibility in the sol-gel process. They combine silicates (extracted from sand) with an organic component. 'Sol-gel technology allows you to make glass-like materials at room temperature,' Ismail explains. 'It gives you the durability of glass, but the flexibility of a polymer. That's why we can apply it to 3D shapes.' The company has 6 patents pending and has not yet disclosed the full details of the process, but Ismail says the coatings contain a class of organic molecule not previously used in sol-gel processes. Spraying the solution onto a fibre surface creates a coating that is completely non-toxic, transparent and waterproof – and unlike plastic, it will degrade along with the cellulose fibres, leaving only a silicate residue.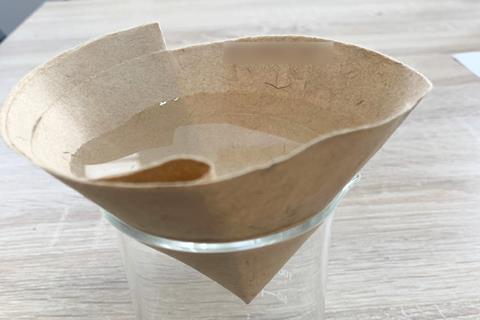 The journey has not been easy so far. Ismail has, at times, relied on financial support from her family. The company's research facilities in Gillingham took two years to set up, and they have encountered problems getting the materials certified for use in food packaging, simply because they are so novel. 'For six decades, everything has been based on plastic: regulations, test methods, analysis, expertise. So for us to get a completely new material, [and] new technology, onto the market has been extremely difficult,' she says.
Being a sole female inventor has also been tough in the manufacturing sector, which is still predominantly male. 'It makes you stronger,' says Ismail, who won one of Innovate UK's 'Women in Innovation' awards in 2019.
The company faced a crisis at the beginning of the pandemic when the overseas investment deal they were about to sign fell through. They instead turned to the Angels Den online platform, which allows companies to pitch for funding. '[Now] it's really moving much faster,' says Ismail. They are in discussions with top brands and hope to license their production process and materials for the first products by next year.
Ismail has ambitions to move into other areas of packaging. There are still massive challenges to removing plastics while maintaining long shelf lives for consumer goods, or functioning in freezer conditions, she explains. The company has also developed coatings with antimicrobial properties for medical-grade materials
As cultural pressure mounts to move away from disposable packaging towards a more sustainable attitude to materials, Ismail argues we desperately need new chemistry to replace plastics and toxic chemicals embedded in manufacturing processes. She hopes that SGMA will play a part in creating new chemical solutions.
Sol-Gel Materials and Applications
Date of founding: February 2017
Location: Gillingham, UK
Number of employees: 3 full-time, 7 part-time
Total investment to date: 2018–2019: £175, 000 from Angel investors; 2020: £500,000 on Angels Den platform