Equipment suppliers unite, bringing Thermo into life sciences and sequencing markets
Thermo Fisher Scientific is to acquire California-based Life Technologies for $15.8 billion (£10.5 billion), which includes taking on $2.2 billion of debt. It represents the company's largest acquisition since the $12.8bn merger of Thermo Electron and Fisher Scientific International in 2006.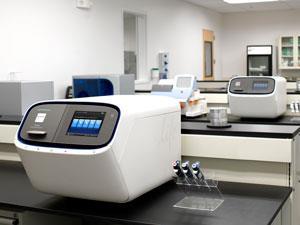 Life Technologies specialises in research products, with a particular focus on genetic sequencing and DNA analysis. As well as analytical equipment, it sells a range of consumables for genomics, molecular and cell biology. The acquisition will enable Thermo Fisher to move into the growing next-generation sequencing market, an area that was lacking from its portfolio before.
Life stated in January that it was open to offers, and had engaged investment banks to assist in the process. This statement hiked its share price by more than 10%. Thermo Fisher's offer, at $76 per share, represents a premium of nearly 40% on Life's share price ahead of that January announcement. It is also significantly higher than the $65 per share rival bid from a consortium of private equity companies. Reuters reports that Sigma–Aldrich also put in an offer.
'This transaction brings together two companies intent on accelerating innovation for our customers and achieving greater success in a highly competitive global industry,' claimed Life's chairman and chief executive Gregory Lucier. 'It represents a successful conclusion to the board's strategic review to enhance stockholder value and develop an even stronger future for Life Technologies.'
Life moved into the next-generation sequencing market in 2010, by acquiring Ion Torrent and its semiconductor sequencing technology, which it has continued to develop. However, it has struggled to gain market share from Illumina, whose portfolio includes the Cambridge University sequencing spin-out Solexa, which it acquired in 2006. Roche's bid to buy Illumina last year illustrates the wider attractiveness of the sequencing market – the bid failed because Illumina believed Roche undervalued the business.
Analysts at Fitch think there is a strong strategic rationale for the transaction, and the sequencing portfolio offers decent growth potential. However, it is still early days for the uptake of sequencing in clinical diagnostics. 'There remains risk related to obtaining the regulatory and government approvals necessary to support wider application of the technology in clinical settings,' they say. 'Thermo Fisher does not currently own sequencing assets and so the acquisition will provide the company entry into this market, which is complementary to the company's portfolio of diagnostics products.