Environmental agency removes remaining exceptions for agricultural use of controversial insecticide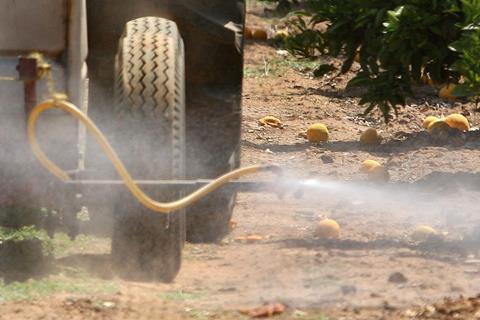 The US Environmental Protection Agency (EPA) has banned organophosphate insecticide chlorpyrifos on all food crops. The decision follows an April appeal of the EPA's previous decision in response to a petition filed by environmental groups in 2007. In 2019, under the Trump administration, the EPA elected to allow chlorpyrifos use in limited agricultural application. The agency's new rule is expected to go into effect around February – six months after its official publication.
Used as a pesticide since 1965, chlorpyrifos has been banned in the UK since 2016, and across the EU and for almost all uses in Canada since 2020. Several US states – including Hawaii, California and New York – had already independently restricted chlorpyrifos use on food. The EPA has now decided that cumulative exposures from the product's use do not meet legally required safety standards.
'Today EPA is taking an overdue step to protect public health,' said agency administrator Michael Regan. As expected, environmental groups like the Natural Resources Defense Council and the Pesticide Action Network North America, which brought the initial petition, are applauding the EPA's action. Meanwhile CropLife America, which represents pesticide manufacturers, opposes its new rule. Chris Novak, CropLife America's chief executive, asserted that 'President Biden campaigned with the slogan of "Science over Fiction", but the EPA's decision does not live up to that standard or to the EPA's commitment to scientific integrity.'

Senior US correspondent, Chemistry World