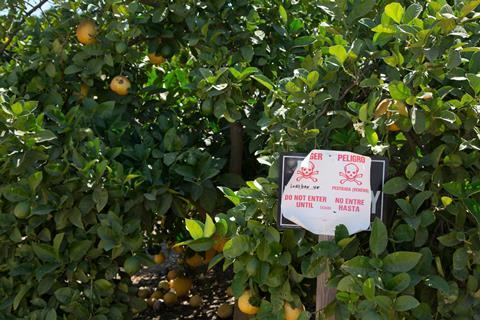 The US Environmental Protection Agency (EPA) has decided to continue allowing the controversial organophosphate pesticide chlorpyrifos to be used on food crops, overturning a ban proposed by the Obama administration in late 2015.
With its 18 July notice, the agency met a court-ordered deadline to make a final determination on a petition filed by environmental groups in 2007 to ban agricultural uses of the pesticide. That petition asserted that the food residue tolerances for chlorpyrifos are unsafe, pointing to studies that have linked the pesticide to neurological and behavioural impairments in children.
'EPA has determined that their objections must be denied because the data available are not sufficiently valid, complete or reliable to [demonstrate] that the tolerances are not safe,' an EPA official explained.
Most household uses of chlorpyrifos, such as cockroach sprays, were banned in the US almost two decades ago, but the EPA has permitted its continued use in agriculture. In 2016, the UK barred almost all uses of the product, and on 2 August, the European Food Safety Authority ruled that there is no safe exposure level for Chlorpyrifos, which means its EU approval is unlikely to be renewed in 2020.
In August 2018, a US federal appeals court directed the EPA to finalise a ban on chlorpyrifos within 60 days, but the Justice Department intervened a month later.
Some states are beginning to make their own decisions. In June 2018, Hawaii completely banned the chemical, effective from 2023. Earlier this year California followed suit, and New York approved a similar bill in April, although it has yet to be signed into law.
Edit: This story was updated on 5 August to add details of the European decision on Chlorpyrifos

Rebecca became the US Correspondent for Chemistry World in September 2014, based out of Washington, DC, after writing for the magazine on a freelance basis since 2007.
View full profile