US fisheries agency concludes that chlorpyrifos, diazinon and malathion are highly toxic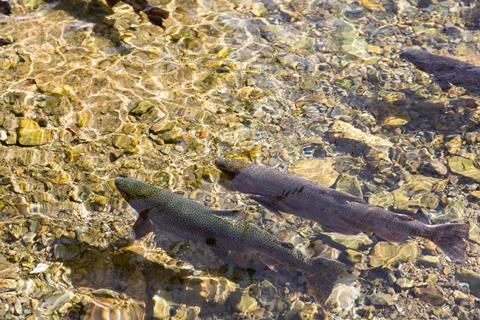 The organophosphate pesticides chlorpyrifos, diazinon and malathion should be restricted to protect aquatic life, according to a lengthy report by US National Oceanic and Atmospheric Administration's National Marine Fisheries Services (NMFS) that was recently made public by the environmental non-profit Earthjustice. The agency described these three pesticides as 'highly toxic to mammals, fish, and aquatic invertebrates', and concluded that they threaten dozens of aquatic species.
To reduce these risks, the report advised the US Environmental Protection Agency (EPA) to use mechanisms like specific label changes, no-spray buffers and spray drift reduction technologies.
The NMFS also pointed out that US product labels for the three pesticides in question presently permit their use on a variety of sites including agricultural, developed, and forested lands. 'Current application rates and application methods are expected to produce aquatic concentrations of all three pesticides that are likely to harm aquatic species as well as contaminate their designated critical habitats,' the NMFS concluded.
EPA must act
The EPA was legally required to seek this consultation in order to ensure endangered species aren't harmed by its activities. It is now the responsibility of the EPA to either follow through with the report's recommendations, or pursue other options deemed equivalent. 'The EPA has a year to figure out how to come into compliance, but in the meantime they are in official violation of the law,' Patti Goldman, managing attorney at Earthjustice, tells Chemistry World.
CropLife America, a trade association representing manufacturers of pesticides and other agricultural chemicals, says it is 'carefully reviewing' the NMFS opinion. The groups point out that the agency has acknowledged the tight deadline imposed on its submission did not allow for appropriate engagement with the public and stakeholders recommended by the US National Academies.
'The denial of a requested extension of time to complete the opinion resulted in a document that has the potential to create exaggerated and unfounded concerns regarding threatened and endangered species and have a negative impact on farmers as well as public health protection,' said Jay Vroom, CropLife America's CEO.
In fact, in November 2017, NMFS requested that the US Department of Justice grant it an extension to complete the review, due to concerns expressed by the agency, the EPA, and stakeholders. However, that request was denied, and NMFS has said the short time frame to produce this assessment meant that the final product 'cannot fully account for the need to coordinate on a different process for developing such opinions or to fully engage the public.'

Rebecca became the US Correspondent for Chemistry World in September 2014, based out of Washington, DC, after writing for the magazine on a freelance basis since 2007.
View full profile