FDA panel recommends Sandoz's copy of Amgen's Neupogen
A key advisory committee of the US Food and Drug Administration (FDA) has voted in favour of licencing a copycat version of a biological drug. If approved, Sandoz's Zarxio (filgrastim) would be the first 'biosimilar' drug available in the US.
'It is a bit of a ceremony,' says Ronny Gal, an analyst with Sanford Bernstein in New York, who focuses on speciality pharmaceuticals.
On 7 January, the FDA's Oncological Drugs Advisory Committee unanimously cleared Sandoz' version of filgrastim – marketed as Neupogen by Amgen – for all five indications approved for the Amgen drug. The medication is used to prevent infection and low white blood cell counts caused by chemotherapy.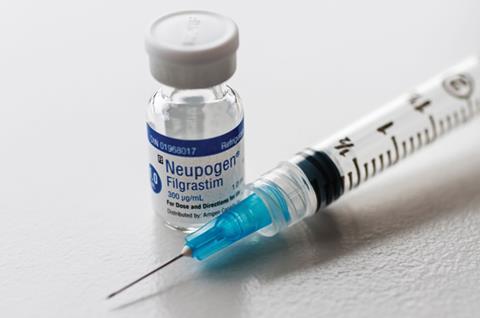 The decision is significant because it makes the FDA's requirements for introducing such drugs clearer. Instead of requiring a copy to be 'interchangeable' with the original drug – as is the case with small-molecule generics, but would be difficult and expensive to prove for more complex biological agents – it is sufficient to be classed as 'biosimilar'.
Ahead of the meeting, FDA technical staff issued briefing documents supporting Zarxio's development because the data showed 'no clinically meaningful differences' between the safety, purity, and potency of the product and Neupogen.
Zarxio is already approved in more than 40 countries outside the US (under the name Zarzio), which Sandoz claims has generated nearly 7.5 million patient-exposure days of experience. The FDA's drug review team will now continue to consider the data submitted by Novartis, before making a final decision about approval.
Stepping closer
Amgen called the FDA development 'an important milestone' in the progression of the US biosimilars approval pathway. However, the company's vice president of global development, Richard Markus, is urging the FDA to adopt policies that ensure data transparency, manufacturer accountability, and product traceability.
For example, Markus wants every biological drug – including biosimilars – to have a different non-proprietary (generic) name, to ensure accurate medical records, manufacturer accountability, and appropriate use. Others in the biotechnology industry agree, and are urging the FDA to clarify the situation. Neupogen and Zarxio currently share the non-proprietary name filgrastim, but doctors would need to prescribe one or other drug specifically, as they are not classed as 'interchangeable'.
When it comes to biosimilar competition, the US lags behind other regulated markets, particularly the EU, where the legal and regulatory framework has been in place since 2005 (with updated guidelines coming into effect this year) and 19 biosimilars have been approved since 2006.
In the US, President Obama's landmark healthcare reform law of 2010 created an abbreviated licensing pathway for biological products shown to be 'biosimilar' to or 'interchangeable' with an FDA-licensed product.
This pathway allows firms to rely on certain existing scientific knowledge about the safety and effectiveness of the original drug, and enables biosimilars to be approved without a full complement of product-specific preclinical and clinical data.
Wait in the lobby
Pressure from the biotech lobby on Congress ultimately delayed the FDA's process of approving biosimilars in the US by five years, according to Gal. However, he says the FDA and the European Medicines Agency have put forward very similar requirements for regulating biosimilar drugs.
'Fundamentally the approval process is the same,' Gal states. Both rely primarily on characterisation and in vitro assays to establish similarity, rather than clinical trials.
Further, Gal suggests that both agencies have rejected a one-size-fits-all approach in favour of case-by-case standards, and chosen to focus on immunogenicity as a risk that could not be addressed by in vitro tests alone.
More biosimilars are in the near-term pipeline in the US, and Gal suggests that the FDA's approval for many of those products will be tougher. 'Neupogen is easy,' he says, noting that the drug has been shown to be safe, with good clinical biomarkers and five years' market experience in Europe. 'There is a big safety margin that will become a lot narrower with future submissions.'
As of October 2014, the FDA had received 78 requests from companies for initial meetings to discuss biosimilar development programmes for 14 different reference products, and held 63 such meetings. Overall, the FDA has received 28 Investigational New Drug Applications for biosimilar development programmes.