Many would prefer to see the Sackler family held personally liable, and the company wound down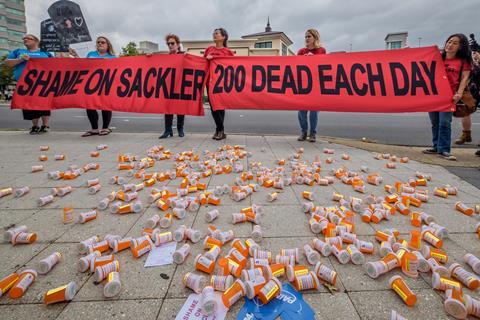 When companies make big payouts in legal cases, where should the money come from? If a firm has sufficient operating profit to cover the fine or settlement, then it's not really an issue. But when a company is forced into bankruptcy, who picks up the bill?
That's the case with Purdue Pharma and the Sackler family's settlement of a slew of legal cases relating to mismarketing of opioid painkillers. The settlement, which does not include any admission of guilt on the company's part, includes cash from the sale of UK sister company Mundipharma, as well as future sales of Purdue's opioid OxyContin (oxycodone). However, the deal largely leaves the personal fortunes of the companies' owners untouched.
Several US states have expressed frustration at this aspect of the settlement, taking the view that the Sacklers should be held personally responsible for Purdue's actions. New York State attorney general Letitia James has rejected the deal, saying it 'cheats Americans out of billions of dollars, allows the Sacklers to evade responsibility, and lets this family continue peddling their drugs to the world'. The state of New York is pursuing its own lawsuit against the Sacklers directly.
This is only possible because Purdue is a privately-owned company, and hence the owning partners retain liability for the company's debts (as well as sharing the profits). For publicly-traded firms, that liability is removed – shareholders could not be pursued to reclaim debts if, for example, Bayer–Monsanto's litigation over glyphosate herbicides, or Johnson & Johnson's talc lawsuits ever got big enough to threaten those companies' continued existence. Investors may lose their stake in the company as their equity is used to service debt to creditors, but that is where their liability generally ends.
It's understandable that the many families, communities and local governments affected by the growing problem of opioid addiction might want to extract some financial recompense from the Sacklers, whose accumulated wealth they perceive as tainted.
It is also understandable that some of those same litigants would prefer to see Purdue stripped of its assets and wound down, rather than continue trading under bankruptcy protection. However, bankruptcy is not a refuge for Purdue while it weathers the storm. More optimistic claimants could look to the case of W R Grace – which spent 12 years under Chapter 11 bankruptcy protection after thousands of personal injury lawsuits relating to asbestos contamination of its vermiculite products threatened it with insolvency. During those 12 years, the company serviced its debts and settled legal claims, as well as establishing trust funds to pay off future asbestos-related lawsuits, emerging on the other side as a thriving business. If Purdue can do the same, it may be the best outcome for all concerned. But that's a big if…

Business editor, Chemistry World