J&J judged responsible for 'public nuisance' in first case to go to trial
Update - this story was updated on 16 September 2019 to reflect developments in Purdue Pharma's settlement and bankruptcy status. The penultimate paragraph of this story includes the new information.
An Oklahoma court has awarded the state $572 million (£475 million) in damages against Johnson & Johnson for the harm caused by its inappropriate marketing of opioid medications for chronic pain. It is the first case against an opioid manufacturer to reach trial rather than be settled out-of-court. The state had been seeking $17 billion to pay for addiction treatment and services. Two other defendants have already settled: Purdue for $270 million and Teva for $85 million.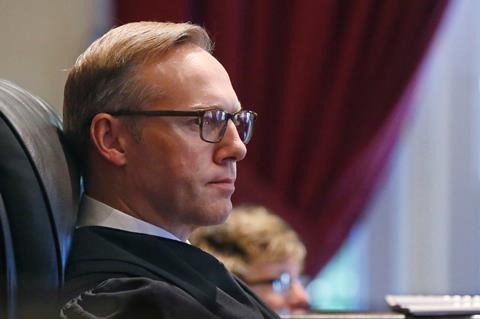 District Judge Thad Balkman ruled that, in the light of Purdue's success selling opioids to chronic pain patients, J&J started to market its Durogesic (fentanyl) pain patches for chronic indications in 1997. Together, Duragesic and its two Nucynta-branded formulations of tapentadol account for less than 1% of total opioid prescriptions in the US.
State prosecutors claimed that, although J&J was directly responsible for just a tiny fraction of opioids sold in Oklahoma, it was also behind more than half of the opioids sold in the US as the former owner of poppy-cultivator Tasmanian Alkaloids. J&J sold Tasmanian Alkaloids – and another company, Delaware-based Noramco, which produces controlled substances – in 2016.
The case is also notable as it is the first time the public nuisance theory has been upheld in a US mass tort case. 'Essentially, it says that J&J is responsible, but not because it engaged in any dishonesty, fraud or conspiracy,' says lawyer Harry Nelson from Nelson Hardiman. '[They are responsible because] they imposed so much harm on the state of Oklahoma in terms of the death toll, the addiction and all the other costs.'
He adds that this decision sets the market for future cases higher than had been expected. 'Although Oklahoma was asking for more than $17 billion, in relative terms it still sets the bar pretty high,' he says. 'If you extrapolate this number out nationally, the numbers get quite staggering.' Nearly 4 million people live in Oklahoma, compared to 327 million in the whole US. Extrapolating the settlement on pure population terms suggests a national sum of about $48 billion – more than triple J&J's net earnings in 2018.
The company, unsurprisingly, is to appeal. 'Janssen did not cause the opioid crisis in Oklahoma, and neither the facts nor the law support this outcome,' claims J&J's general counsel, Michael Ullmann. The company believes the case is flawed as there is no evidence its actions or products caused a public nuisance in Oklahoma. It believes the state's claims 'violate fundamental principles of due process by seeking to hold a company liable for conduct permitted under federal law and regulations'.
'Appeals are always a smart decision in a financial case because it motivates the winning side to compromise, and reduce what it's entitled to in order to get paid immediately,' Nelson says. 'My feeling is Oklahoma will be motivated to give J&J a discount. I think there will also be motivation on J&J's part to settle, as the continued non-resolution will keep the case in the news.'
The judge did not issue this decision lightly, Nelson adds, and it will be enormously unpopular for any judge to undo it. 'It may be an aggressive application of the legal theory, but the judge took 42 pages to articulate, in detail, profound harm imposed on the people in the state of Oklahoma,' he says. 'I believe what is going on is the normal dance on the way to cases getting settled.'
This is far from the end of opioid litigation in the US, however. A large federal multidistrict litigation case is set to start this October in Cleveland, Ohio. It aggregates nearly 2000 lawsuits featuring multiple drug companies, distributors and pharmacies. Ahead of this, the Sackler family, which owns Purdue Pharma, has made an offer to settle all outstanding cases.
According to US media reports, the Sacklers are offering to pay $3 billion as part of a settlement that also involves giving up ownership of Purdue. They plan to sell another Sackler-controlled company, Cambridge, UK-based Mundipharma, to fund this $3 billion; the figure could be up to $1.5 billion higher if the sale raises more. If the offer is accepted, Purdue will become the first company to settle all claims. It would also leave much of the family's personal wealth intact.
The total settlement deal, thought to be more than $10 billion, would involve Purdue being restructured via Chapter 11 bankruptcy. It would become a public beneficiary trust, with all profits from drug sales going to the plaintiffs. The addiction treatment drugs it is developing would be given to patients cost-free.
The offer has been tentatively accepted by many – but not all – of the plaintiffs, and Purdue filed for bankrupty on 15 September. Objections include the fact that much of the settlement money will come from future sales of OxyContin, rather than the Sacklers themselves. Indeed, the New York Attorney General's office claimed in a court filing that about a billion dollars has been wired to offshore bank accounts by the Sackler family. New York is one of the states that has rejected the settlement offer.
'I think the offer is a sign that they are highly motivated to try and reach a broader arrangement before the next case happens,' Nelson says. 'There is nothing in the offer from the family or Purdue Pharma that is going to stop plaintiff lawyers who have much bigger numbers in mind, but it sets the conversation.'