The New Zealand chemist on careers, creativity and why everything just has to be blue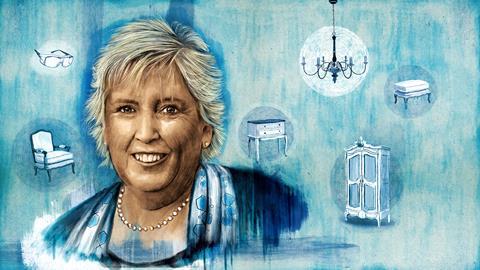 Margaret Brimble is a director of medicinal chemistry at the University of Auckland in New Zealand. Her research focuses on synthesising bioactive natural products and peptides. She discovered trofinetide, a drug for treating the rare neurological disorder Rett Syndrome which will begin Phase III clinical trials later this year . She also co-founded cancer vaccine company SapVax. In 2018 she became the first New Zealand based female scientist to be elected a Fellow of the Royal Society
I love to make intriguing and challenging molecules with unique chemical structures – lots of stereochemistry and spiro-type compounds. To get funding in New Zealand research has to be very applied, so when I moved back to the University of Auckland 20 years ago I had to start using synthetic chemistry to make bioactive compounds for drug discovery. I therefore ventured into the world of peptide chemistry, which I also love.
Spiroketals are my favourite molecules. They're really nice scaffolds with rigid stereochemistry. They've got useful 3D structures that you can attach substituents to in order to generate a library of compounds for medicinal chemistry. I also like making complex peptides, which contain unusual unnatural amino acids, and cyclic peptides with unnatural bridging motifs.
I thought I'd go to university to do Latin, French and maths; I really liked the structure of Latin; everything was right or wrong, there's no grey area. But then I decided there might not be a lot of job opportunities in that area. I ended up doing a science degree with a bit of French and found I really liked organic chemistry – I loved the logic and how you could work things out from first principles. I didn't like biology as much because it was a lot of rote learning – I didn't see the point when I could just look it up in a book. Biology is also very descriptive whereas one structure in organic chemistry can tell the whole story.
I didn't plan my career, it just developed along the way. You need to take opportunities when you see them. As a young academic, I never envisaged that I would co-found a company. And I never thought I'd have a drug in clinical trials that's going to be on the market in two years' time. It was only because the opportunities came along to work in those areas.
I still get a kick out of getting a publication in a top journal. When a paper is finally published I think of the people involved and the years of work that have gone into that publication and it is nice to have the work recorded in history.
In organic chemistry, one structure can tell the whole story
I try to carve out some time to see my husband and my daughter. I really treasure it when we find some time when we're not all going in different directions.
I like home decorating in the French country style. I like having a blank canvas and get a sense of satisfaction putting pretty things in place and getting them all matching. Everything is a shade of blue. My office is blue. My students joke how even the rubber tubing for the vacuum lines and the safety glasses have to be blue. Needless to say, I only wear blue clothes.
I struggle to find time to read the chemistry literature, so if I do go to the beach and read, I'm sorry to admit that it will be a chemistry book. Not a book on an area I work in, but on an area I'm interested in finding out more about, for example green chemistry or synthetic biology.
Living in New Zealand can be a pain in the neck – people don't appreciate how far away it is and that to come to a meeting in London will involve two 12 hour plane rides with a stopover in the middle – that one-day meeting can take up my whole week. But I do always like going to the UK. I think it's really pretty; I love all of the little villages, the country pubs and churches and the history. And I also have to confess – I love the shopping. The UK has the best shops and I really like Marks and Spencer's, we don't have big department stores like that down here.
Fundamental science, certainly where I'm sitting in New Zealand, is under threat. There seems to be an emphasis that you must deliver something and see the outcomes before it's even done. I'm not sure that some of the big things invested in over here have actually delivered much. There's not enough funding for curiosity driven science. Commercial products I've developed from my own work have come out of us doing curiosity driven chemistry.
The problem with research is you're always thinking about it, you can never put it down. But I wish people in New Zealand understood that excellent research doesn't have to bring in money. Even though my research does bring in money, that's not what gets me out of bed every day. For me it is the opportunity to work with talented young scientists and persevere with a problem that eventually our team will solve.