Community monitoring of seismic activity
Erouscilla Joseph is working busily when I reach her via Zoom in late February. As the director of the Seismic Research Centre (SRC) at the University of the West Indies, she is responsible for a centre that currently monitors at least 13 potentially active volcanoes across the region. And one of them is erupting.
La Soufrière on the island of St Vincent has been undergoing an effusive eruption since December and Joseph's team is keeping a very close watch. A new dome of molten lava is currently squeezing out between the crater rim of La Soufrière and an old dome formed in an eruption in the late 1970s.
Monitoring the emerging dome is necessary in case an urgent evacuation is required, which could involve up to 22,000 people. And thanks to a 2018 programme led by the SRC and others, 12 communities in the high-risk zones of La Soufrière have been trained to improve their response capacity as part of the Volcano-Ready Communities in St Vincent and the Grenadines Communities project.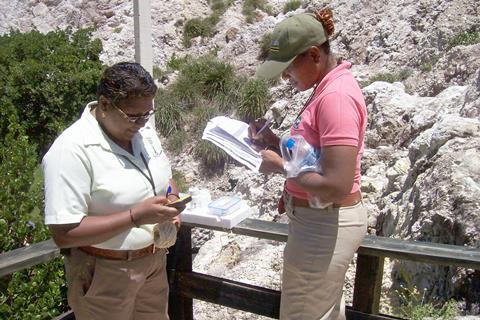 'Because of the type of volcano, it was identified as one of the islands where a programme like that would have been beneficial,' explains Joseph. 'The time really did work well, where it just happened that this eruption started in one of the areas that was most prepared to deal with it.'
Hopefully, evacuation won't be necessary, but the recent activity highlights the importance of scientists working with members of the community to better understand and react to seismic activity in the region.
Public health
Joseph's first foray into partnerships with members of the public came four years ago. 'I kind of fell into it,' she says. While conducting routine monitoring in Sulphur Springs National Park, a geothermal area popular with tourists on the island of Saint Lucia, Joseph was approached by staff members who were curious about the impact of volcanic emissions on their health (sulfur dioxide is a known irritant to the respiratory tract and eyes).
This raised a number of questions for Joseph, whose measurements didn't typically relate to human health. 'I thought to myself, "How can I find a way to help them, and be able to answer some scientific questions about what's getting into the air from the diffuse emissions?"' she says.
With her team based in Trinidad, continuous monitoring of emissions was impossible. The team therefore opted for a citizen science approach. Staff from the National Park were invited to volunteer to monitor sulfur dioxide concentrations using a combination of handmade air samplers and commercially available monitors placed at sites around the park, and also in a local town and within the island's capital, Castries.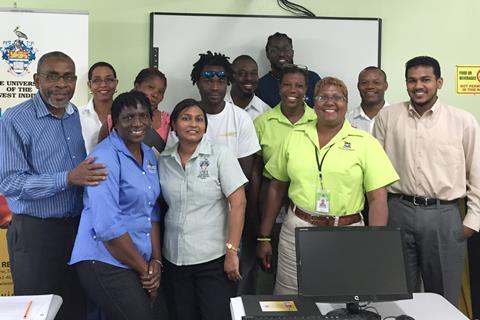 An eye-opening moment came for Joseph when she realised the disparity between the basic scientific equipment available in classrooms or shops on Saint Lucia when compared to her home base of Trinidad. The team was forced to rethink their methods and approach to the project.
'There are certain things that you expect to be found in high schools or hardware shops in terms of local resources [in Trinidad] and I expected those same things to be available on the island,' she explains. 'Simple things like a distiller to help make up a solution or a balance … weren't available locally.'
Titrating teachers
Originally, the volunteers were set to perform the analyses of the samples, but it became clear that time constraints and a lack of skills and training would make this too difficult. So local chemistry teachers came to the rescue, armed with freshly prepared sodium hydroxide solutions, indicators and burettes to carry out sulfur dioxide concentration titrations in their school laboratories. This involvement also served as a learning opportunity for the students in their classrooms, who were exposed to real-life applications of science in their local area.
While Joseph's team determined that the sulfur dioxide concentrations measured with the handmade samplers could 'not be used as absolute values of the ambient concentration', the measurements did indicate which areas have elevated concentrations and therefore have potential to inform public health decisions. Additionally, the programme strengthened opportunities for public communication of science and education about volcanic hazards with the local community – all important goals for the SRC, as highlighted by the current situation in Saint Vincent.
Since the project at Sulphur Springs, the SRC's work with the community has taken a different focus. Current work ranges from planning responses to volcanic eruptions to building teams of 'citizen seismologists' who record their qualitative experiences of seismic activity in the region; contributing to data sets that can be compared to quantitative measurements of earthquakes.