This year's Lab Innovations meeting will bring together the industry's leading professionals, scientists, researchers and more to drive innovation and sustainability. Taking place on 2–3 November 2022 at the NEC, Birmingham, the tenth Lab Innovations show will feature special celebrations, providing visitors with extra networking opportunities. You can register now and secure your tickets for the show on the Lab Innovations website.
Last year's event brought together the entire lab community for the first time in almost two years and this year's event will build on that success, providing an opportunity for the entire industry to come together to do face-to-face business once again. Some of the many exhibitors confirmed for the event are Avantor, Beckman Coulter, Cole-Palmer, IKA, Randox, Shimadzu and Scientific Laboratory Supplies.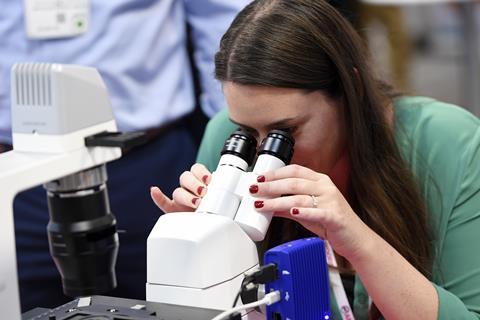 At Lab Innovations 2022, visitors can discover the latest innovations, source a range of products and gain insight into data-driven case studies, such as those from Green Light Laboratories, demonstrating the impact of sustainable initiatives in laboratories.
'Lab Innovations is a great opportunity for end users to see how our equipment works in a real laboratory environment and how the data we've collected can be replicated in their own labs to help them to be more sustainable,' explained Andy Evans, director at Green Light Labs and host of Lab Innovations' Sustainable Laboratory.
This year's Sustainable Laboratory will be bigger than ever, showcasing equipment and processes to improve sustainability and efficiency. With a focus on carbon and carbon equivalent emissions, visitors can learn from case studies and audits from leading UK labs.
Attendees at the show can take advantage of over 40 hours of CPD education and earn CPD points from four free-to-attend theatre programmes – the Royal Society of Chemistry Theatre, the Insights and Innovation Theatre, the Cleanroom Hub and Live Lab. My Green Lab is sponsoring the Insights and Innovations theatre at this year's show, which will have the theme of skill and sustainability.
Exhibitions have been at the forefront of getting out and seeing the right people for your business… It's been an excellent event and I'm glad to be back!
Across the programmes at this year's show, visitors can attend keynote talks by Alok Jha, science correspondent at The Economist, and Steven Rannard, a professor of chemistry at the University of Liverpool, UK. Alok will be presenting on water chemistry (a subject in which he is published and has hosted BBC documentaries), and Rannard will speak about powering humanity with nanomedicine.
Last year's event was particularly special as it marked a successful return for Lab Innovations after the pandemic caused the 2020 show to be postponed. One visitor, Andy Worsick, sales executive at EMS Solutions, commented during last year's show, 'Exhibitions have been at the forefront of getting out and seeing the right people for your business, and Lab Innovations is one of the best I've seen. It's been an excellent event and I'm glad to be back!' This year is the 10th anniversary of Lab Innovations, and with a networking party and even more opportunities to connect than ever before, it is set to build on the excitement of last year.
Lab Innovations 2022 will also feature the Lab Awards event, brought to you on the afternoon of 2 November by Lab Innovations, in partnership with Laboratory News. It will celebrate the key achievements of the laboratory industry, with awards split between four categories: innovation, sustainability, automation and collaboration. With the leading people and brands in the industry set to attend, Lab Awards isn't an event to be missed.
Alana Thompson, website and marketing manager at Anthias Consulting, one of last year's winners, commented, 'We won two Lab Awards at this year's event, so being recognised among the bigger names in the industry feels like a big achievement.'
Once again, the show will be co-located with Advanced Engineering, which is supported by key industry associations such as The Institution of Engineering and Technology (IET), Composites UK, Make UK and the Institution of Mechanical Engineers. This helps to promote cross-sector collaboration and continued innovation by the UK's leading laboratory and engineering industries.
'It's clear that, after all the pain and disruption of the pandemic, the entire laboratory community thrived on the return of in-person meetings at last year's Lab Innovations, whether they were reconnecting with existing customers or meeting new ones,' explained Alison Willis, director at Easyfairs, the organiser of Lab Innovations. 'More than ever, last year's exhibitors and attendees were keen to do business at the show, having missed interacting in-person for nearly two years. Luckily, they could use our digital networking tool, Lab Connect, to facilitate all their meetings and speak to as many people as possible.'
Lab Innovations 2022 is set to be the best show yet as it celebrates its tenth anniversary and it certainly isn't an event to be missed for anyone in the laboratory community. Register to attend Lab Innovations 2022 on 2–3 November on the website.