Children's curious nature makes keeping them safe an onerous task, but intuitive chemical solutions can help to avoid accidental poisoning
It is little known that 90% of a bottle of cleaning product is simply water. Many producers are adapting formulations to reduce the water content and create a more concentrated commodity at a lower cost. This allows manufacturers to condense a product's volume and lower its weight dramatically – reducing the carbon footprint for shipping and packaging. And with climate change awareness continuing to grow, these concentrated formulations meet consumer demands for sustainability.
Although household products are an essential part of our everyday life, items including soap, polish and cosmetic supplies often contain harmful and hazardous compounds. Laundry detergents, for example, can incorporate highly alkaline surfactants such as ethoxylated alcohols and alkylbenzene sulfonates. While highly effective for cleaning, these chemicals cause throat burns and respiratory issues if consumed.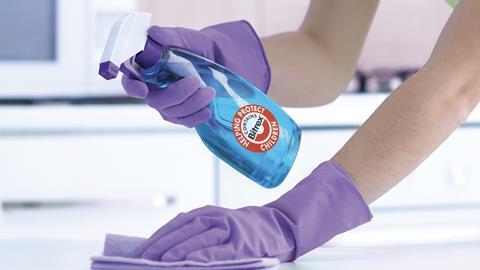 Less is more
As the trend towards undiluted products continues, high concentration solutions will proliferate, which increases the potential for harm when ingested by children or pets. Children's inquisitiveness makes the home, and its surroundings, a dangerous place. They explore the world by playing with new items and mimicking adults – often putting things in their mouth. With their colourful packaging and sweet fragrances, household cleaning items are a huge draw for young children. Consequently, they pose a significant risk to their health and safety.
Governments worldwide are introducing legislation to create safer home environments
NHS figures show that 70 children under five years old are admitted to UK hospitals with suspected accidental poisoning daily. Accidental cosmetics ingestion sees a US child admitted to hospital every two hours on average. Governments worldwide are introducing legislation to create safer home environments in response to increased reports of children consuming household products. EU law requires laundry capsule packaging to include aversive agents. These are chemical agents with a taste that repulses children, which can be added to a product. By promoting the use of robust procedures to ensure child safety, we can make sure every day is safe. This requires a multifaceted prevention strategy that goes beyond warning labels. Speciality chemicals and sustainable technologies company Johnson Matthey (JM) works with some of the world's biggest brands and retailers to integrate safety technology into product formulas to offer better protection from potentially harmful products.
The taste of toxicity
Taste is categorised into five modalities in humans: sweet, bitter, salty, sour and savoury. Of these, humans are most sensitive to bitterness – perceived by many as unpleasant, sharp or disagreeable. A bitter taste can trigger innate rejection behaviours like tongue retraction, yet individual perception of bitter flavours can also change with age. Compared to adults, children tolerate bitter and sour flavours less. That freshly-brewed black coffee loved by an adult can make a child retch. By harnessing this biological reaction to bitter flavours, manufacturers can include unpleasant aversive agents to discourage children and animals from consuming hazardous household products. And the most effective aversive agent known is denatonium benzoate: Bitrex.
Bitrex is used to improve the safety of 5700 products
Recognised by Guinness World Records as the bitterest of substances, an Olympic-sized swimming pool with a mere spoonful of Bitrex added would still taste bitter. It was accidentally discovered by JM scientists experimenting with dental anaesthetic lignocaine derivatives in 1958. Bitrex's first use as an active aversive agent was in the agricultural industry, to stop pigs cannibalising one another's tails. However, due to its inert, odourless and non-toxic properties, Bitrex solutions are easily integrated into the production process for household commodities. A few decades on from its use in farmyards, Bitrex is now widely used by retailers and fast-moving consumer goods companies to prevent the accidental consumption of substances intended for cleaning and other applications.
The science of bitter
Globally recognised, the Bitrex logo is a symbol of safety, quality and value. Recent research by JM shows that 96% of parents will likely favour brands that show commitment to product safety, and pay up to 48% more for products that contain Bitrex. Records of Bitrex's use in a range of 5700 products underpin the dosage recommendations we make to ensure an effective response to ingestion. That means JM customers can use the Bitrex logo on their packaging to demonstrate their commitment to child safety. JM has worked with companies and retailers to devise the programme and only products that pass the Bitrex certification programme can incorporate the logo in its packaging.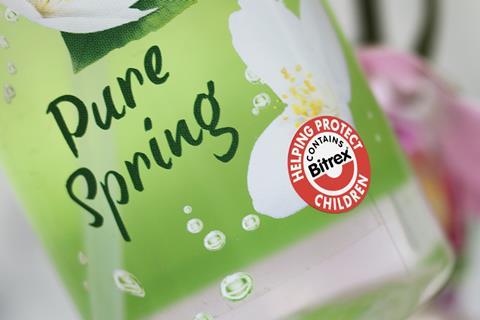 The first stage of the certification programme involves understanding the volumes of Bitrex needed by the production process. To do this, we work closely with customer process chemists and engineers to understand their current manufacturing workflow, and deliver accurate advice. As we have tested an abundance of products in a variety of industries, we can quickly establish what quantity and concentration of Bitrex will be best for them. While discussing quantities, it is also important to understand which form of Bitrex will work best for a customer's manufacturing process. We offer Bitrex as a pure anhydrous product and within a number of different solvents. This allows the customer to integrate the compound into the formulation of products easily. Often, household cleaning products are formulated in polar solvents, including glycols and ethanol. By offering Bitrex in a similar solvent to the product's formula, we can rapidly and effectively add it to the production process. Throughout these steps, we work closely with customers to monitor and resolve any potential production, stability or regulatory problems.
JM remains at the forefront of industry discussions and works with regulatory bodies
Because complex regulatory landscapes can be hard for our customers to navigate, JM remains at the forefront of industry discussions and works with regulatory bodies including the US Environmental Protection Agency and the UK Health and Safety Executive. Our proximity to these organisations helps us support customers as regulations tighten, ensuring only safe products reach markets.
A final step in the certification process is human efficacy testing at an independent lab. It determines the minimum quantity of Bitrex required to render the product unpalatable and, upon completion, JM customers gain certification that allows them to use the Bitrex logo in the product's branding and marketing materials.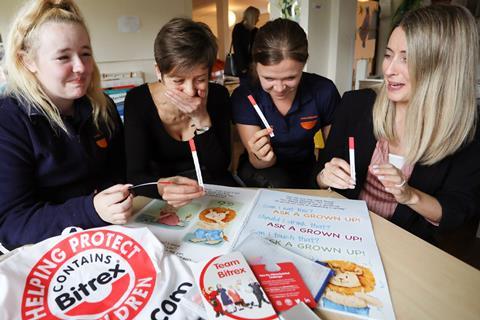 A bittersweet symphony
Globally, green consumerism is ushering in a new era of sustainability. From reusable bamboo straws to clothing made from recycled materials, customers are buying for a greener future. To meet consumer demand, household product manufacturers are beginning to rework traditional product formulations to provide consumers with highly concentrated products in smaller and more convenient packaging. To ensure these new sustainable products remain child safe, Bitrex is committed to providing the industry with its leading expertise and offerings.
As a global leader in science that makes the world cleaner and healthier, JM is actively dedicated to consumer product safety. Moving forward, we will continue to leverage our world class scientific know-how to protect child safety today, tomorrow and every day.

At Johnson Matthey our vision is for a world that's cleaner and healthier. Our scientists work every day developing innovative products that provide cleaner air, improved health and enable more efficient use of natural resources. As a global leader in sustainable technologies we work with our customers across markets from pharmaceutical and medical to automotive, industrial and chemical production, optimising processes and improving efficiency. Our solutions continue to evolve with the changing demands of our time as we tackle new challenges to build a cleaner and healthier future for generations to come.
View full profile
Welcome to our everyday chemistry collection
1

2

3

4

Currently reading

Bitrex turns bitterness into better chemistry

5

6