Tom Brown is our Entrepreneur of the Year. He tells Sarah Houlton the secrets of his success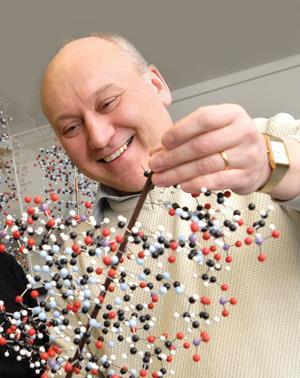 The 2014 Chemistry World Entrepreneur of the Year, Tom Brown, first discovered the delights of nucleic acids during a postdoc with Olga Kennard at the University of Cambridge, UK, in the early 1980s. Having already gained an interest in solid phase synthesis via a previous postdoc spell at the University of Oxford in the UK, working on peptides with John Jones, he married the two together, and has now been responsible for three start-ups that use DNA synthesis.
The first happened almost by chance when he moved from Cambridge to his first academic position at the University of Edinburgh, UK, in 1985. This was at a time when polymerase chain reaction technology was just starting to take off, and with a strong molecular biology group in Edinburgh, there was a lot of interest among his colleagues. But there was no DNA synthesis capacity, and Brown was tasked with setting up a DNA-making service as part of his academic job.
'It was just at the time when automated machines became available to make DNA,' he says. 'They were a little like coffee machines! We got a three-year grant from the Wellcome Trust, bought a DNA synthesiser, hired a technician and set up the service. It also gave me all the equipment I needed to do my own research.'
As there was no guarantee of future funding once the Wellcome Trust grant ran out, it was vital to ensure the service was economically viable. This was achieved remarkably easily – not only did his colleagues pay for DNA synthesis, they told their UK friends and collaborators about the service. So they sold their wares around the country and effectively became the UK universities' centre for DNA synthesis.
By 1990, it became clear they had outgrown the capabilities of a university facility. 'The university asked me if I was interested in taking it on as a private company – they would house it, but would have no responsibility for it otherwise,' Brown says. 'It had grown into a much bigger service, having bought additional equipment using the profits, with a growing number of employees. We had to be able to guarantee that we could pay their salaries, a responsibility the university did not want.'
The idea was that Brown would pay for it from the ongoing profits, enabling the university (and the Wellcome Trust) to more than recoup their investments. While this might be a relatively common strategy now, it was extremely unusual back then – it was one of the first examples of a UK university starting to commercialise its intellectual property, not just in terms of patents but in terms of providing knowledge and infrastructure.
And thus Oswel was created, the name coming from 'oligonucleotide synthesis' and 'Wellcome Trust'. Brown's biochemist wife Dorcas, a PhD biologist, took on the role of managing the company. The couple continued to run the company as it grew to 25 employees and gained numerous high-profile customers, including the UK Forensic Science Service. It moved to the south coast in 1995 when Brown relocated to the University of Southampton, becoming a profitable and sustainable business. But in 1999, Belgian-based biotechnology supplier Eurogentec – itself a spin-off from the University of Liège – made him an offer to buy it.
'By that stage, my university research group had grown to about 20, and while the two were separate, albeit in some ways related, I thought it was time to focus on my research, and we decided to sell,' Brown says. 'We agreed to continue running it for two years after the sale, with a lockout clause preventing us from returning to the field for five years, as is normal in these deals.'
If it works once…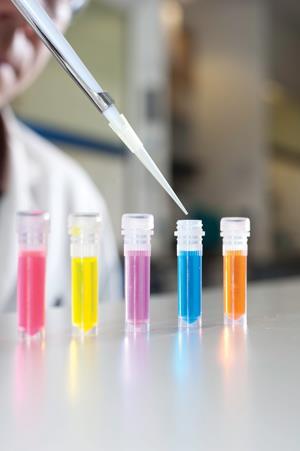 However, once they handed over the reins after those two years, the business started to falter. Eurogentec closed down the Southampton facility, at about the same time that the lockout clause expired, in order to concentrate its oligonucleotide activities at its base in Belgium. This left several customers in a difficult position. Some had to have a UK-based supplier for legal or logistical reasons, and there were no other companies with the chemical expertise to supply highly chemically modified oligonucleotides. They asked Brown for recommendations, but there weren't any. So they decided to set up shop all over again.
'It came at a perfect time, as my wife was getting a little bored!' Brown says. 'We were warned we wouldn't be able to make money as the market was much tighter than it had been. But the sceptics were wrong, and we did.' ATDBio started operations in 2005, funded wholly from Brown's pocket, rather than with the help of the university. The business quickly took off, and it's still going strong today.
It has the same basic model as Oswel, but with a greater focus on chemically modified, highly sophisticated DNA analogues, using automated machines to synthesise and purify DNA. This slight shift of focus has been crucial to its ongoing success – synthesis of unmodified DNA is now a commodity business, whereas the technical know-how to make modified analogues is much rarer.
ATDBio started out life in rented space at the University of Southampton, where it remains today. It opened a second facility in August 2013, focused on R&D, on the Oxford Science Park – and Brown moved to the University of Oxford last October. In total, the company now has about a dozen employees, all of whom have science degrees or PhDs, and the numbers are growing steadily. The customer base is global and ranges from biotech companies to government organisations and university research labs.
So what differentiates ATDBio from the competition? Brown believes it's a good understanding of the underlying chemistry. 'Most of our customers come from a biological or genetic background, and they may not know whether what they want to do with DNA is possible, or whether the modified DNA they want can even be made,' he says. 'We devise the synthesis and develop methodologies to make the analogues they need, provide detailed customer support, and occasionally advise on biology, too. It's not just buying DNA off the shelf – everything is custom-made.'
Back in the 1980s, Oswel's customers largely wanted unmodified DNA. It would make maybe 50,000 oligonucleotides a year, 80% of which would be standard, and the remaining 10,000 or so modified. 'ATDBio makes fewer oligos, but 80% are heavily modified,' he says. 'The business of manufacturing standard, unmodified oligos is now very high throughput and is not scientifically challenging – we have no interest in that area. But as soon as you start tinkering with the chemistry, we are.' About 80% of its sales are now outside the UK, and the company does very little advertising or marketing – new business arrives via word of mouth.
A focus on R&D
The decision to split the R&D and production sites between Southampton and Oxford had more to it than just Brown's move. 'As you might imagine, there is a lot going on in the Oxford Science Park, with more potential partners in the same location,' Brown says. 'Oxford and Southampton are only about an hour apart, but we knew that even though Oxford is more expensive, it would be logical to invest some of our profits renting space to take advantage of the environment there.'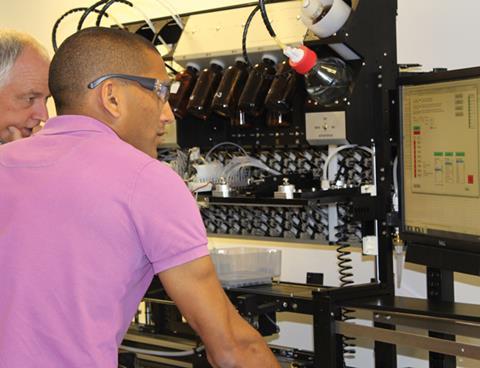 There is a growing focus on R&D, highlighted by the opening of that second facility in Oxford. They've just received a grant from the UK government's Technology Strategy Board to work on aptamers, with the technology to make these target-binding nucleic acid fragments now off patent. 'We are looking to get partial funding from EU and government sources to significantly expand our R&D,' Brown explains. 'Generally, we make things for other people, and now we're looking to develop our own proprietary technologies.'
Importantly, they decided to do everything in Oxford in a different way from how it's done in Southampton. 'The way we make DNA is different, the way we purify it is different, and we wanted there to be no connections between the two in terms of how we do things,' he says. 'We hope this will make it easier to bring in new ideas, and the physical separation between the two sites helps there, too. Of course, there is still a lot of synergy between the two in terms of company philosophy – but we are automating things much more in Oxford, and getting more deeply involved in R&D to find the technologies of the future.'
Brown says it is clear there is now a strong desire in government to help small companies succeed, and there is a lot of support for those involved in R&D. 'We decided to take advantage of this by opening the Oxford lab,' he says. 'It isn't designed to make money directly – it's designed to bring in new ideas that will be profitable in 10 or 20 years' time, backed by the income-generating engine in Southampton. We do things differently, we go into new areas, and wherever possible we take advantage of EU and government initiatives. Of course, it's also good for networking, as you are in contact with other companies and academics.' This networking is essential for bringing in new business.
Diagnostic design
At about the same time ATDBio started up, Brown met another University of Southampton scientist, virologist Rob Powell, who was looking to set up a company to sell PCR-based research and diagnostic kits, but didn't have the funding. 'I thought it was a really good idea, and it had been on our minds for a while,' Brown says. Primer Design was born with Brown as its sole investor, and he also provided 'been there, done that' mentoring to Powell and his PhD student Jim Wicks. 'They had special expertise, a lot of energy and ambition, and did all the donkey work!'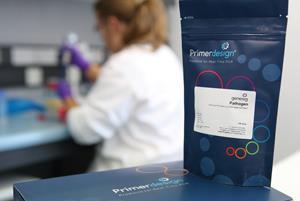 Primer Design now has about 30 employees in Southampton, and sells kits worldwide for a whole host of applications. It was the first company to produce a diagnostic for swine flu – kits were on the ground in Mexico, where the outbreak started, within a few days of it being confirmed. Being so small and nimble, they could develop and produce the kit rapidly, Brown says.
While he may not be involved in the day-to-day running of the businesses, he maintains scientific links with both companies. 'The ATDBio people sometimes run ideas by me, and I pass on contacts,' he says. 'At Primer, my main input is advising on the chemistry, and new areas related to nucleic acid chemistry that might be appropriate to them. For the most part, I just stand back and watch them get on! As an academic, I'm constantly being made aware of recent developments with commercial potential. Nucleic acids have many obvious applications, in areas as diverse as bioterrorism, forensics, genetic and genomic analysis, and epigenetics. Developing a good network of expert contacts is essential to recognising new areas as they emerge.'
The commercial challenge
Start-ups like Oswel, ATDBio and Primer Design can often struggle to get off the ground because of the lack of obvious intellectual property. Yet Brown thinks this can sometimes be an advantage – it costs a biotech company a fortune to maintain a suite of patents. If they are challenged or infringed, the company with the deepest pockets invariably wins out, sometimes regardless of who is 'right', simply because they can drag the process out until no-one else can afford to continue. 'A drug molecule has to be patented, but if your company is process-based, it is different,' he says. 'As soon as you file a patent, you publicise what you are doing, and without a lot of money, it's impossible to police.' He believes it is far more important to focus on optimising the process itself, as well as nurturing the talented people who are able to deliver a service based on technology that is different from the competition.
The environment has moved on dramatically in the 30 years or so since Brown started out on his commercial endeavours. Back then, he says, many senior colleagues were negative about academics becoming involved in commercial activities. 'They came from a different world,' he says. 'When they were students themselves, their supervisors may even have been from a wealthy background and self-funded, and opposed to any interference from commerce in their science. But that culture has now changed.'
A drug molecule has to be patented, but if your company is process-based, it is different

Tom Brown
Of course, Brown says, it should never go too far in the opposite direction, but the UK must be commercially successful and innovative if it is to remain at the forefront of science, technology and medicine. 'This means the connection between research and commerce has to be there, while ensuring that pure research remains,' he believes. 'That's a delicate balancing act – there's always a tension, and of course there need to be checks and balances in place. There also has to be an understanding that not everyone should have to work on "high impact" projects; there must also be significant funding for fundamental chemistry. But I firmly believe it's better to fight with that balance than not connect research with commerce.'
So with three successful spin-outs under his belt already, does Brown have the appetite for a fourth? He claims not – at least at the moment. 'But you never know when an enthusiastic postdoc with a great idea will show up in your office asking for advice,' he says. 'I would always want to support them if they – and their idea – had promise. But with the two companies I'm involved with already, plus my move to Oxford, I think that's enough for now!'
Sarah Houlton is a science writer based in Boston, US