Soaring demand for plant-based foods is a major opportunity for manufacturers, but creating an appealing texture remains a challenge. Here, three senior members of the R&D team at Reading Scientific Services Ltd (RSSL), explain why understanding the physical and microstructural properties of food plays a vital role in successful product development.
More people than ever before are choosing to adopt a flexitarian diet and it seems not even a pandemic can slow the trend's upward trajectory. In fact, a new survey by The Vegan Society found that one-in-five UK consumers reduced their meat consumption during lockdown, while 15% chose to cut down on egg and/or dairy intake. Such is the continued demand, that plant-based food is recognised as one of the fastest growing categories in the food industry today.
But while the move into the mainstream signals exciting opportunities for product development, meeting consumer expectations in terms of taste and texture is not straightforward - particularly when it comes to meat analogue products.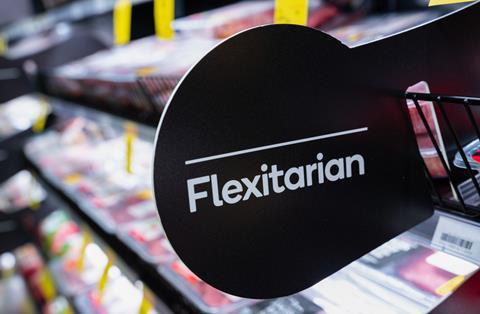 Meaty texture
Replicating the complex textural properties of meat products in plant-based equivalents is the main goal for manufacturers seeking to attract - and retain - the highly influential flexitarian audience. But meat is composed of skeletal muscle, fat and connective tissue, which all form a complex hierarchical structure. So creating similar characteristics in a meat-free option not only requires a detailed understanding of the different parameters associated with meat textures but also the ability to quantify and translate the results into outcomes, which can then be used to create a similar eating experience in meat analogues.
The first step is to establish a standardised vocabulary to describe the texture of meat in a way that enables us to measure each aspect. What exactly do we mean by "tough" or "chewy" for example? This provides a solid foundation that can be used to compare the texture of a meat burger, for example, with that of a vegan alternative; where the mouthfeel at every stage of the eating process is broken down into specific characteristics and given a score by a sensory panel.
If critical textural factors fall below the acceptable threshold, a new product is unlikely to succeed
By creating a graphic interpretation of the results for each product and overlaying the two, it's then possible to see the similarities and - just as important - what is lacking. If the critical textural factors fall below the acceptable threshold, a new product is unlikely to succeed.
It is then possible to use textural analysis techniques to measure the structural properties of the new concept at a micro-level. This helps form an understanding of which elements are likely to affect the first bite, the chew, how it develops in the bolus and so on. These findings can then be linked back to the sensory data, allowing formulators to see what changes need to be made. If a meat analogue product is described as too 'dry' for example, the corresponding microstructure can explain the root cause of the problem - potentially the result of holding less water due to water losses during processing - and prompt action to rectify it.
Wider issues can also be explored, such as what happens when the product is heated and how different processes affect the overall structure. In this context, RSSL's microscopy expertise is a powerful and unqiue selling point, as it gives the team the capacity to characterise, deconstruct and evaluate different formulations. This means RSSL can provide the data manufacturers need to create meat analogue products with the textural properties consumers expect - and so help to fast track product development.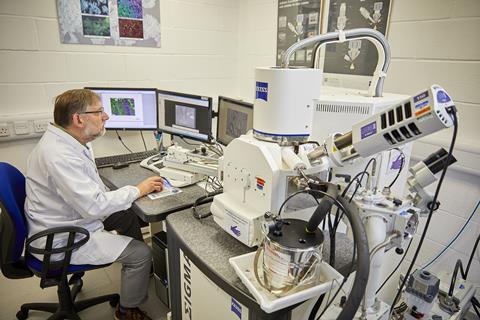 The partnership between RSSL and a UK food producer is a case in point. Crucially, RSSL were involved from the beginning and worked collaboratively to develop the brand's first range of meat-free burger and mince products. Drawing on specialist expertise, RSSL used a blend of carefully-sourced soya and pea protein, together with other ingredients to bind, stabilise and deliver universally acceptable flavour and juiciness to the products. It was an iterative process which saw the formulation and testing of over 140 prototypes. From concept to launch, the project pushed conventional boundaries to complete within an unprecedented 12-month timeframe.
Creating muscle-type meat alternatives demands a total rethink of not just the ingredient formulation but the process itself
Since then, RSSL have continued to support manufacturers keen to capitalise on the booming meat-alternatives category by exploring other opportunities - most recently focusing on meatless jerky or biltong. In this instance, the aim is to create a vegan, dried, meat-like snack which is as close to the regular product as possible. A crucial part of the process is specifying and combining ingredients in a way that delivers the characteristically firm and chewy texture.
There is also a growing appetite to expand this category to include more everyday lean meat dishes, such as salmon, chicken and steak. Widely regarded as the next big challenge, they demand very specific textural characteristics which are a world away from the commuted meat texture of a burger or sausage. Creating these muscle-type meat alternatives demands a total rethink of not just the ingredient formulation but the process itself. Both must be aligned to create the required profile and anticipated meaty bite. That's why analytical techniques, such as microscopy, will be crucial for the development of these types of products.
But this rigorous scientific discipline can also benefit plant-based product development beyond the meat analogue category.
Plant proteins don't behave in the same way as milk proteins
Disrupting dairy
Within the dairy alternatives market, one category that has yet to reach its full potential is vegan cheese and this is largely due to issues associated with texture of hard varieties. Animal-based mozzarella cheese, for example, has a distinct 'stringy-ness' due to the chemical properties of its main protein, casein, and, crucially, how it is arranged. The problem for vegan formulations is that plant proteins don't behave in the same way as milk proteins, so you can't always use the same technology to form the desired network structure.
Creating a non-dairy Cheddar-type cheese is equally challenging. Not only is the flavour profile highly complex, but the inherent microstructure and texture determine the sensory properties, including the distinctive initial bite, chewiness and flavour release. This is because it has a continuous protein network, that acts rather like a sponge and traps the fat to give an elastic initial bite, yet breaks down in the mouth to give the smooth texture and creamy taste consumers enjoy. This is in stark contrast to many of the vegan equivalents which break down in the mouth quickly to create a pasty texture.
With arguably little in the vegan arena that currently comes close to meeting consumer expectations, there is a significant opportunity to recognise the value of food microstructure combined with texture analysis and integrate its principals into successful new product development strategies.
Future growth
The plant-based foods market has already come a long way but in many ways is only just getting started. As consumers continue to demand greater variety, manufacturers are under pressure to create exciting concepts, with new ingredients, which deliver appealing tastes and textures. Developing consumer-winning products in this space requires detailed knowledge of the microstructure and physical properties of the primary ingredients; only then can manufacturers hope to create products that tick every box.
Contributed by Carole Bingley, technical specialist in food product development; Mark Auty, food microstructure leader; and Fred Gates, associate principal scientist; all from RSSL.
About RSSL
Reading Scientific Services Limited (RSSL) is a contract research organisation (CRO). We lead the future of innovation in food and consumer products with our team of more than 300 research scientists and product developers. Our innovation and scientific expertise has helped our partners to develop and manufacture products that consumers love and trust in more than 50 markets across the globe. We take a collaborative, agile approach and work alongside our clients as a trusted partner, helping to bring ideas to life and deliver innovative solutions from product concept to pilot plant and full scale manufacture - whether you require short project-based support or fundamental research to assess and analyse wider market issues, RSSL will work with you to arrive at a consumer-winning solution that will put your brand at the forefront of the food industry. Find out more

Reading Scientific Services Ltd (RSSL) has been providing industry leading scientific and technical solutions for over 30 years to the global food (FMCG), pharmaceutical, healthcare and biopharmaceutical sectors.
View full profile
Welcome to the food science collection
1

2

Currently reading

Plant-based food revolution

3

4

5

6