A plant-based packaging material that can be recycled – or composted at home – makes design for circularity a realistic goal
It is well-known in recycling circles that packaging made from multiple layers of plastic can cause recovery issues at salvage stage. And, it is equally understood that perishable food demands performance from its wrapping that single source plastic solutions rarely provide.
What if packaging washed away or decomposed once its job was done?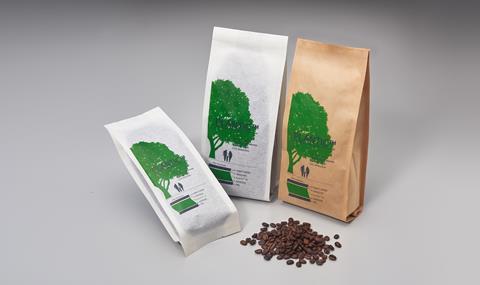 What if there were a barrier material that kept food fresh, kept in aroma and kept oxygen out, but which could also be applied to a broad range of packaging solutions or formats? And, what if that material simply washed away or decomposed once its job was done? What if, when combined with other suitable compostable materials, the packaging or wrapper could be composted at home? Japanese headquartered Kuraray is making this happen globally with its renewable and sustainable starch-based barrier film Plantic.
'This innovative material of ours plays a part in balancing the Earth's carbon footprint,' says Thomas Black, Kuraray's director of international sales for Plantic. Using United States Department of Agriculture crop yield figures, Black calculates that the feedstock for the world's entire annual barrier packaging needs can be produced in less than 100 square miles of farmland. Roughly, that equates to the land mass of Orlando in Florida, or Frankfurt in Germany.
'The starch we use for Plantic can be grown year after year, and crop yields improve. Compare that to an oil feedstock, which you can take from the ground only once,' adds Black.
Plantic is created using 25% less energy and emits 70% less greenhouse gas than its fossil fuel-derived alternatives, resulting in significantly lower carbon emissions. It does this without compromising on the barrier performance crucial to maintaining the quality of packaged food, so it is suitable as a packaging barrier material in a range of applications.
Not magic, just nature
Produced from industrially grown starch, Plantic is a naturally occurring and ubiquitous biomass. Starch has been used as a composite for greeting cards, paper and textiles for generations. It is also used in adhesives, lubricants, soaps and cosmetic products.
Kuraray's plant-based material is used in laminations and extrusion coatings with polyethylene (PE), polyethylene terephthalate (PET), kraft paper and several other materials – including those that biodegrade – for a unique food packaging solution. In the Plantic E solution, for examaple, thin layers of PE are laminated to a core layer of renewably sourced, high barrier Plantic film. 'With barrier multilayer home compostable structures like these, the food industry has truly innovative bio-based packaging redesign options,' says Stefan Corbus, market development engineer at Eval Europe, Kuraray's Belgium-based division.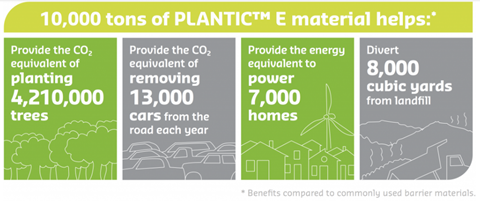 In combination with suitable compostable materials, entire packaging solutions can be home-compostable using Plantic. For example, an award-winning coffee pouch made by South Korean company Soft Pack uses Plantic as its gas barrier, which maintains product freshness and keeps the aroma locked inside. Recognised by WorldStar Packaging as the world's first high barrier biodegradable coffee pouch, it combines a kraft paper outer layer with a Plantic core and a bio-polybutylene succinate sealing layer.
In a world where a third of all food is wasted, barrier material protection for products is critical
The outer – or skin – layers, which seal the packaging and protect Plantic from direct contact with water, could be made from renewable or biodegradeable polymers already in use in packaging solutions. Some of these materials can even be applied to Plantic film in an extrusion coating process – a solution in which a lamination adhesion process is avoided, which helps quicken the multilayer's end of life biodegradation. The overall advantage is that the whole structure meets industrial compostability certification standards, but leaves home compostability as a possibility too – which is a strong USP for Kuraray's Plantic film.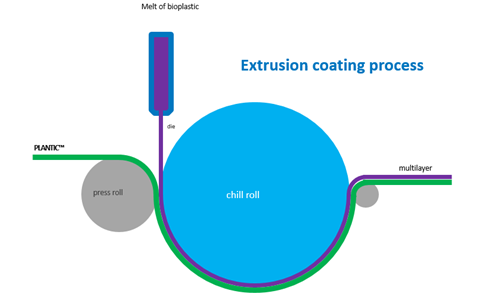 As well as dry goods, Plantic can also be used as a barrier layer to package meat, seafood and poultry products. These typically use vacuum skin packaging (VSP) or modified atmosphere packaging (MAP) solutions. VSP solutions comprise a rigid PET layer with a Plantic core for barrier performance. Designed for either a lock seal or easy peel, they provide a continuous barrier against oxygen and other gases that spoil food. In a world where one third of all produced food is wasted in the supply chain, that's a critical environmental metric.
Recognising that demand drives recycling rates. Kuraray is doing its part by offering a film structure which replaces the rigid PET layer(s) with recycled PET (rPET) – creating an rPET, plant based, high barrier, recyclable film solution.
Meeting global packaging challenges
To meet the increased demand for high barrier packaging in the US, film manufacturer Sealed Air Corporation and Kuraray are set to begin co-producing materials using Plantic this year.
Using Plantic resin from Kuraray America's Pasadena facility, Sealed Air will produce film structures with a Plantic core for North America's fresh red meat, poultry, seafood and pasta markets.
Based in Simpsonville, South Carolina, Sealed Air's Plantic film line will be one of the world's largest packaging plants using plant based, sustainably sourced, high barrier multilayer film made from Plantic resin.
Brand reputation versus regulatory pressure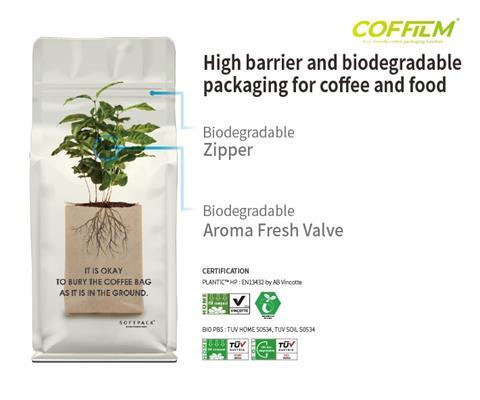 Around the world, brand owners are embracing sustainable practices, and setting goals to reduce packaging waste sent to landfill, as well as increasing recyclability and the use of recycled content. And governments are legislating against single use plastics to encourage circular economic models. The UK's extended producer responsibility tax, for example, will put a significant burden of responsibility on retailers, product brand owners and suppliers.
In this environment, Kuraray's Plantic is uniquely placed to meet the demands of consumers, retailers, brand owners and legislators who want responsible, sustainable, circular economy solutions for packaging. Its high barrier, multilayer packaging formats can reduce carbon footprints, food waste and fossil carbon use. And they are solutions for both beginning of life and end of life packaging needs.
Find out more about Kuraray's products and innovation on its website.

The Kuraray Group is committed to developing new fields of business using pioneering technology that improves the environment and enhances the quality of life throughout the world.
View full profile