The project will bring together the pharmaceutical industry and academia, but some institutes have reservations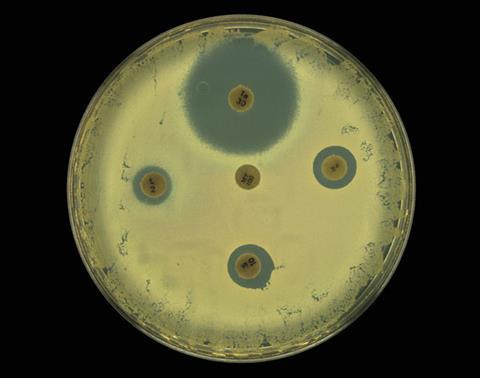 The EU Innovative Medicines Initiative (IMI) has announced a EUR224 million (£180 million) project to develop new antibiotics to fight antibiotic-resistant bacteria. The project will bring together the pharmaceutical industry and academia, but some institutes with antibiotic research groups have reservations about the plans.
The project, representing IMI's sixth call for proposals since its first call in 2008, was announced May 24 with submissions of interest due by July 9. The five participating pharmaceutical companies – GlaxoSmithKline, AstraZeneca, Janssen, Sanofi and Basilea Pharmaceutical – will contribute EUR115 million, with IMI providing the rest.
Michel Goldman, executive director of the Brussels-based IMI, said that in addition to overcoming a major health problem, the project would provide universities, hospitals and smaller firms with 'a unique opportunity to speed up their research in the area of antimicrobial resistance, as the collaboration will give them access to the knowledge and expertise of the pharmaceutical industry.'
Martin Mackay, president of research and development at AstraZeneca, says: 'It is time to tackle this issue in a different way, sharing information and expertise among public and private partners. Collaboration of this type is critical if we are to speed up the discovery of these medicines to improve patient health.'
But demand from researchers to collaborate with the pharmaceutical industry might not match those high expectations. In the past, universities and private institutes have complained that IMI rules favour industry. And despite rule changes announced by IMI in December, many remain unconvinced.
'We are still very reluctant to participate in IMIs,' says Linda Pialek, head of the European team at Oxford University Research Services, adding that the new rules 'have not led to an improvement for us in financial terms nor to a revision of our generally unenthusiastic attitude towards IMIs.'
IMI was founded in 2007 with a EUR2 billion budget, half coming from the EU and the rest from the pharmaceutical industry. From the beginning universities and research institutes criticised the IMI funding model for not providing the same level of reimbursement for researchers as the EU Seventh Framework Programme (FP7). Universities also contended that IMI rules did not protect their intellectual property rights.
The University of Oxford submitted five 'expressions of interest' in IMI's first call for proposals in 2008, but has not participated since. The number of academic teams participating in first call projects totalled 194, falling to 105 for the second call, 101 for the third call and 108 for the fourth call. The number of participants for the fifth call, issued earlier this year, has not yet been determined.
In July 2010, nearly a dozen research organizations, including the European University Association and Helmholtz Association in Germany, issued a joint public statement asking the IMI to revise its rules. In December 2011, IMI announced changes that would allow researchers to be reimbursed for indirect overhead costs. Previously, only a flat rate of 20% was applicable.
Christopher John Hull, secretary general of the European Association of Research and Technology Organisations (EARTO), says his organisation 'welcomed the changes' to IMI funding rules announced in December, adding 'IMI has acknowledged the demands of many stakeholders who have repeatedly criticised a funding model that had proven uneconomic, and therefore unattractive, for many potential participants.'
However, IMI's rule changes 'do not satisfactorily address the most critical IP (intellectual property) issues identified by EARTO,' he says, adding: 'This is still an issue that prevents some research and technology organisations from participating.'