Novartis' asset swaps with GSK and Eli Lilly are the latest steps in an ongoing streamlining process
Three leading pharmaceutical firms are set to exchange business segments valued at over $25 billion (£14.9 billion), in deals affecting at least 14,000 employees. The UK's GSK will buy most of Swiss-headquartered Novartis' vaccine portfolio for up to $7.1 billion, while GSK's cancer drugs will head the other way for up to $16 billion. In addition, the two companies are creating a consumer healthcare joint venture, and US firm Eli Lilly will buy Novartis Animal Health for $5.4 billion.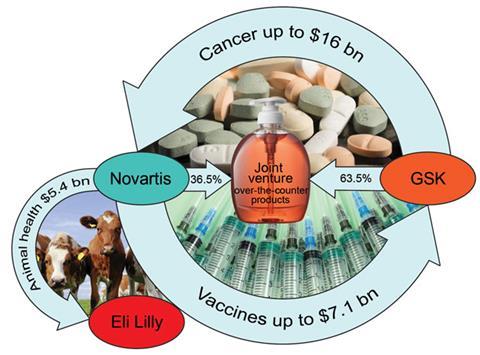 Following on from previousdivestments, each company says the deals further strengthen areas in which they are already market leaders, and will reduce their costs. Bernard Munos, founder of the InnoThink Center for Research in Biomedical Innovation says it will also concentrate their scientific attention. 'The deal's limited scope also means they will largely avoid the massive pipeline consolidation of mega-mergers, during which good projects get thrown away, frustrated scientists leave, and little science gets done,' he tells Chemistry World. 'The companies have worked very hard to foster a culture of innovation. I am confident that they will want to protect that as they swap operations.'
Novartis wants to operate in just four areas – novel drugs, its Alcon eye care products, its Sandoz generic drugs business, and the GSK joint venture. Into this framework it brings oncology products that in 2013 earned £969 million of GSK's £26.5 billion total revenue, with 2,200 employees set to transfer between companies. GSK will continue discovery research on cancer immunotherapy, epigenetics and tumour microenvironment, with Novartis its preferred development partner.
Some investment analysts, such as UBS' Alexandra Hauber, are surprised by how highly Novartis values this portfolio. 'You're paying 36-40 times core operating profits, and overall I've always thought of GSK's oncology assets, other than Votrient (pazopanib), as perhaps "second best",' she told Novartis management in a conference call. Munos is prepared to give Novartis the benefit of the doubt. 'Abbott's purchase of Humira from BASF/Knoll for $6.9 billion in 2000 looked expensive. It turned out to be a steal.'
David Epstein, head of Novartis' pharmaceutical division stressed how the drugs could benefit through from his company's number two position in oncology. 'We believe the GSK products will do much better in our hands,' Epstein said. 'Market leaders have preferential access to investigators who do clinical trials and physicians prescribing the products. In addition, by having a broad set of molecules, now against additional targets, we have a possibility to look at combinations of agents that GSK never could do.'
Jobs and jabs
Four areas will now provide 70% of GSK's revenue – vaccines, novel HIV drugs, novel drugs for respiratory diseases, and the consumer health joint venture. It takes on all of Novartis' vaccine business, including its R&D facilities but excluding its flu products, bringing in 5,120 employees in total. As well as Bexsero, a new meningitis B vaccine, that will give GSK control over 'the supply of a number of key antigens, currently provided to GSK by Novartis'.
Novartis plans to sell its flu vaccine assets, which include factories in Liverpool, UK, and a pioneering cell-culture plant in North Carolina, US, separately. Likewise GSK is accelerating a review of its 'established product portfolio' that provides around half of the remaining 30% of its revenue. 'If we [could dispose] of some of that established product portfolio in the next year or two, then we would,' GSK chief executive Andrew Witty told journalists. 'That is not part of our future.' The remaining portion of GSK's business will continue to provide new products and remains 'absolutely core', Witty added.
The two companies' consumer healthcare joint venture, 63.5% owned by GSK and 36.5% by Novartis, will combine brands like Horlicks and Nicotinell into a £6.5 billion annual revenue business. It will take in 6,000 employees from Novartis, however GSK is not releasing details of how many of its workers will be transferred. The companies say the joint venture will benefit from 'a leadership position', and the complementary product lines and geographical market coverage of its component parts.
Complementarity was also an attraction for Eli Lilly, which has acquired several animal health businesses to help drive its overall growth as its patented drugs for humans expire. Its latest purchase, which will see 3,160 Novartis Animal Health employees join its Elanco division, will help improve its market share outside the US. 'Lilly's pharma division is struggling, but its animal health division has an exceptional leader in Jeff Simmons,' says Munos. 'I have no doubt that he will turn Novartis AH around.'