Restructuring will see all AstraZeneca R&D at new location close to University of Cambridge research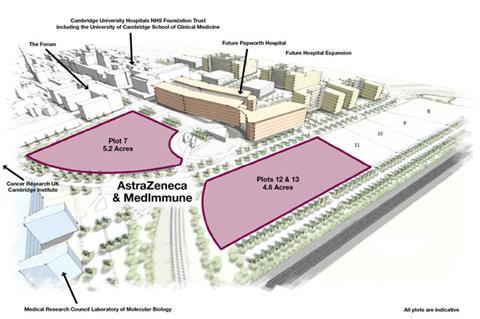 Pharmaceutical firm AstraZeneca (AZ) has now announced the location of its new UK hub. The new buildings, costing £330 million, will consolidate all of AZ's UK activities, including biologics arm MedImmune, at the Cambridge Biomedical Campus on the southern outskirts of the city. In total the new site, which will become AZ's global headquarters, will house a workforce of 2000.
In March of this year, AZ announced a global restructuring to create three hubs, one in Cambridge in the UK, one in Gaithersburg in Maryland, US, and the final one to be in Mölndal in Sweden. The UK site, next to Addenbrooks hospital, already hosts research centres such as the Medical Research Council's Laboratory of Molecular Biology, the Wellcome Trust-MRC Institute of Metabolic Science and the Cancer Research UK Cambridge Institute.
'Cambridge competes on the global stage as a respected innovation hub for life sciences and our choice of site puts us at the heart of this important ecosystem, providing valuable collaboration opportunities,' said AZ's chief executive officer Pascal Soriot in a statement. 'Moving to the Cambridge Biomedical Campus means our people will be able to rub shoulders with some of the world's best scientists and clinicians carrying out some of the world's leading research – that's a really exciting prospect.'