$66bn deal follows agrochemical consolidation trend, but could threaten competition and hit R&D
German conglomerate Bayer has agreed to buy agrochemical giant Monsanto for $66 billion (£51 billion) in cash. However, the deal could yet fall foul of competition regulators, and some analysts are questioning its rationale and flagging it as bad for innovation.
Bayer says the combined company will offer farmers a one-stop shop for a wider selection of seeds and crop protection products. In the longer term, it will sell new integrated products that better combine crop protection chemicals, seed traits and advice. 'We expect stronger growth, better profitability and a more resilient business profile,' Bayer chief executive Werner Baumann said on a conference call for investors, and the R&D pipeline will allow it offer tailor-made solutions across crops.
The deal will push crop science from 30% to near 50% of Bayer's sales – the other half being healthcare (based on 2015 figures). Bayer's CropScience segment is primarily involved in crop protection chemicals ($10 billion in sales) with seeds playing a bit part ($1.5 billion). Monsanto, however, is the number one seed company in the world. Seeds make up around 80% of its revenues ($5.8 billion), with chemicals adding $1.1 billion. Monsanto's chemical sales are predominantly based around the herbicide glyphosate (Roundup), paired with genetically modified (GM) crop varieties that are resistant to it.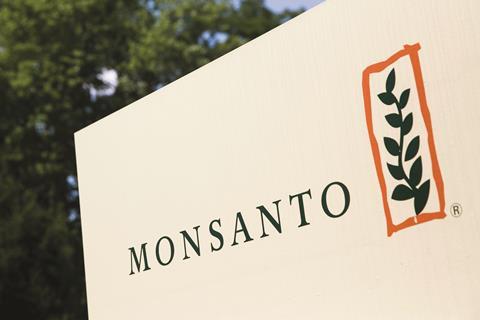 The deal prices Monsanto shares at $128, yet shares traded around $105 the day after the announcement. Analysts attribute the difference to regulatory worries – it is far from clear that the deal will pass competition authorities. Bayer will pay Monsanto a break fee of $2 billion will go from Bayer to Monsanto if the deal falls through. 'Bayer and Monsanto are competitors in the most important kinds of seed technologies' – those combining GM crop seeds with herbicide and pesticide resistance – says competition law expert Peter Carstensen at the University of Wisconsin, US.
The agreement comes during a wave of consolidation in the agrochemical sector, with pending mergers between Dow and DuPont; ChemChina and Syngenta; and Canadian fertiliser firms PotashCorp and Agrium. Carstensen says the loss of competition will hit growers: 'The likely consequence of this is an increase in prices for farmers and maybe increased cost of food for consumers too.' The consolidation is driven by depressed profit margins, owing to weakened crop prices.
Carstensen predicts countries such as Canada, Australia and India will view the Bayer–Monsanto union as problematic. 'I would not be surprised to see both the EU and the US say no,' he says. And if regulators demand the companies sell off too much of Monsanto's business, he believes the deal will become less attractive for Bayer.
There are some overlaps, says Jonas Oxgaard, market analyst at Bernstein, who believes Bayer will need to divest cotton seeds; Monsanto's early research in oilseed rape (canola); possibly some soybean products; plus glufosinate herbicide (Bayer's Liberty) and related resistance traits (LibertyLink). 'There are plenty of companies that would like to get their hands on some of those businesses, particularly BASF, although that might not help competition very much,' says Oxgaard. He adds that Monsanto's early research on some crops might wither away: 'It's doubtful anyone else would have the capability.'
Indeed, the European Commission drew attention to the potential reduction in competitive research in an initial review of the Dow–DuPont deal, 'which I've never seen before in an antitrust investigation,' says Oxgaard. Bernstein described this concern 'as a shot across the bow of Bayer–Monsanto, as Bayer is expecting $1.5 billion of synergies from a potential merger.' Monsanto had already earmarked $300–500 million in savings for 2017, and Oxgaard predicts further cuts to R&D. 'Bayer has already promised not to cut job in Germany, so any money saved on R&D will have to be on Monsanto R&D, yet they are probably the most competent in the industry,' he says.
Baumann noted the companies' combined R&D spend in 2015 was $2.5 billion and spotlighted benefits from integration. 'I don't think it's a selling point,' comments Oxgaard, who is skeptical that mixing seed and chemicals research can deliver results. 'It sounds plausible, but we don't have a single example of it. All these companies say it, but can't point to anything, even in their pipelines.' He believes the pattern of taking an existing chemical and finding a trait that makes the seed resistant to it will continue, rather than a combined strategy.
The deal will take six months to a year to thrash out, and is expected to receive a stormy political reception. A US Senate Judiciary Committee is set to discuss consolidations among seed and chemical companies, led by Senator Grassley of Iowa. The political risks are all on the US side, says Oxgaard, with US politicians and farming organisations likely to object strongly.