US Chemical Safety Board finds BP and others had 'multiple safety management system deficiencies' that led to Deepwater Horizon disaster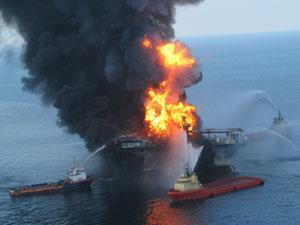 The US Chemical Safety Board (CSB) has concluded that safety lapses by BP and others led to the explosion of the Deepwater Horizon oil rig in April 2010. This finding, which echoes those of previous reports, could lead to more scrutiny of safety on Capitol Hill.
The CSB, which is an independent federal agency that investigates industrial chemical accidents, released its report on 24 July. It determined that the Deepwater Horizon accident, which killed 11 people and caused a devastating oil spill in the Gulf of Mexico, occurred in part because BP focused on personal safety issues like worker injury rates, rather than on broader safety concerns involving drilling for oil with a complex rig.
Overall, the CSB said BP and its contracted drilling rig operator, Transocean, had 'multiple safety management system deficiencies' that contributed to the disaster.
The board also concluded that BP, Transocean, industry associations and the US offshore regulator had not learned critical lessons from previous serious incidents, like the March 2005 explosion at the BP Texas City refinery that killed 15 workers and injured 180 others. At that time, the CSB recommended the expanded use of 'process safety indicators' to improve safety and reduce the likelihood of major accidents.
'A number of past CSB investigations have found companies focusing on personal injury rates while virtually overlooking looming process safety issues – like the effectiveness of barriers against hazardous releases, automatic shutoff system failures, activation of pressure relief devices and loss of containment of liquids and gases,' stated the board's chairman, Rafael Moure-Eraso.
The CSB report reiterated concerns from several other reports that examined the Deepwater Horizon accident. For example, in September 2010 BP released findings from an internal investigation, blaming poor management decisions for the disaster, as well as failing safety equipment and human errors. The company found that several parties involved – BP, Transocean and service contractors Halliburton – were culpable.
Years of complacency
Subsequently, in January 2011, an independent Oil Spill Commission appointed by President Obama concluded that the Deepwater Horizon disaster resulted from years of complacency and lack of attention to safety by BP, Transocean and Halliburton, as well as the government agency that had been charged with regulating offshore drilling.
More recently, the National Academy of Engineering and National Research Council issued a report in December 2011 on the Deepwater Horizon catastrophe, which also found a lack of effective safety management among the companies involved.
For its part, BP says it is applying the lessons learned from April 2010 accident, and is making significant changes to avoid similar incidents in the future.
'After the accident BP alone stepped up and, as the CSB has recognised, has taken concrete steps to further enhance safety and risk management throughout its global operations,' the company said in a statement. These actions include developing a more rigorous process safety programme. In addition, the company said it has created a centralised safety and operational risk organisation, and has adopted new deepwater drilling standards in the Gulf of Mexico that go above and beyond current regulatory requirements.
CSB investigations supervisor Don Holmstrom acknowledged that BP is initiating 'an elaborate safety performance indicators programme' that addresses major accident risk prevention. Holstrom said the company has 'a new organisational focus' to make sure major accident risks have been assessed. Although the CSB doesn't provide endorsements, he called the development a 'positive step'.
But not everyone is pleased. Congressman Ed Markey, the House Natural Resources Committee's top Democrat, said oversight hearings are needed to examine the CSB's findings. 'We need to ensure that BP and the rest of the oil and gas industry are instituting a safety culture that will prevent such disasters from ever recurring,' he said.