Investigation reveals corruption among Brazilian meat inspectors, use of chemicals to hide rotten meat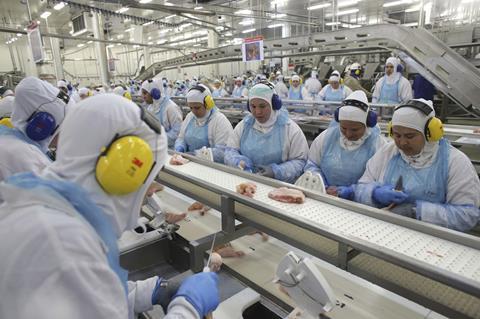 Allegations of corruption at meatpacking plants in Brazil, which involve chemicals being used to enable spoiled meat to be sold and inspectors accepting bribes to issue licenses for companies to sell expired or rotten products, have spurred international concern.
Brazil exports 15% of the total worldwide meat supply, producing and selling its meat to 160 nations, and the country's Ministry of Agriculture, Livestock and Food Supply announced earlier this month the results of its inspection of meat processing facilities that prompted the scandal. The findings led to the suspension of 33 Brazilian government officials, as well as the closure of three meat processing plants in the country, and further review of another 21 such facilities.
Employees at the meat packing plants in question apparently were using sorbic acid and ascorbic acid to disguise the poor quality and rancid smell of its products. Sorbic acid is used as a food preservative, and ascorbic acid – also known as Vitamin C – is an antioxidant.
Brazil, like many other countries, prohibits any chemical substances from being added to raw meat. However, the country allows both sorbic acid and ascorbic acid to be used to produce meat derivatives like salami because they improve the quality and safety of these products. Although the permitted quantities of both substances have been proven safe for human health, in this case sorbic acid and ascorbic acid were supposedly used to mask the colour and odour of raw meat, which constitutes fraud, according to Bernadette de Mello Franco, who coordinates the University of São Paulo's Food Research Center.
'It is less expensive to carry out preventive procedures than to add these chemicals to mask problems,' Mello Franco tells Chemistry World. Nevertheless, she suggests that the media accounts of the Brazilian meat industry's use of these two chemicals generated 'unnecessary panic.'
The scandal has led to more economic turmoil for Brazil, which is in the midst of a severe economic recession. The revelations quickly prompted 25 countries to partially or completely ban the import of Brazilian meat, which is a sector estimated to employ at least six million workers in Brazil. In the first week after the news broke, the country's poultry and porcine meat industry lost an estimated $40 million (£32 million), according to the Brazilian Association of Animal Protein.
Of 11,000 government officials that work for Brazil's agriculture ministry, Brazil's president, Michel Temer, emphasised that only 33 are being investigated, and just 21 of the more than 4800 facilities subject to federal inspection were allegedly involved in the illegal activities. Six of the 21 Brazilian meat processing facilities under review had shipped meat out of the country in the previous 60 days.
Mello Franco calls the controversy resulting from the police investigation a 'pyrotechnical spectacle' with significant global and economic consequences for Brazil.
The case represents fraud that needs to be addressed by law enforcement authorities but cannot be generalised to the entire Brazilian food industry, according to Mello Franco. 'The health standards of the animal protein industry follow a high standard international model, with a very strict surveillance, which is envied by other countries,' she says.
On 25 March, Brazil's agriculture ministry announced that China – which represents biggest global market for Brazilian meat – as well as Egypt and Chile, decided to recommence meat importation from Brazil. In 2016, it is estimated that these three countries imported $1.75 billion, $690 million and $441 million in Brazilian meat, respectively. The US instituted additional checks on beef coming from Brazil.