Royal Institution refused merger despite continuing cash shortage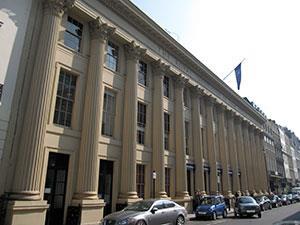 The Royal Institution (RI) has rejected a bail-out proposal from the Royal Society that would see the two organisations merge, according to a report in the magazine Research Fortnight.
The RI's financial struggles sparked a public outcry last year when it revealed plans to sell its London headquarters on Albermarle Street to service its debts. An anonymous donation of £4.4 million gave some short term relief and allowed the RI to pay back a £3 million bank loan without having to sell the Grade 1 listed building. But the charity's financial worries are far from over, with another loan of £2 million due for repayment in 2015.
Research Fortnight reports that in the summer of 2013, the Royal Society offered financial aid that would see the RI become part of the society, with both organisations pooling their public engagement activities. This would rescue the RI from its current cash crisis, but would also force it to give up its Royal Charter and status as a separate legal entity. The RI's trustees rejected this offer, without consulting members, and issued a statement saying it was 'not in the best interests of the organisation'.
The RI will need to increase its income in order to pay off its debts without selling off property or other assets. Its long term future remains uncertain.