Industry news, August 2009
Huntsman saga draws to close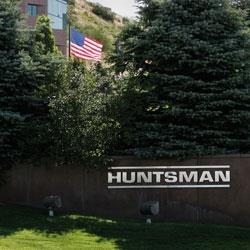 The fallout from Hexion's aborted takeover of rival US chemical company Huntsman finally seems to be over, with the banks that were supposed to fund the deal agreeing to pay Huntsman $1.73 billion (?1.04 billion) to settle a lawsuit that alleged they had interfered to derail the buyout - ending the last legal battle over the failed deal.
The move by Credit Suisse and Deutsche Bank to each pay $316 million in cash, and provide Huntsman with financing of $550 million apiece, follows the $1 billion payment Hexion made in January to back out of the $10.6 billion merger agreement the two companies made in July 2007 - when expectations for a continuing boom in sales of chemicals were still high.
However, since the start of the economic downturn, demand for chemicals has plummeted, with many chemical companies becoming increasingly strapped for cash - Huntsman being no exception. Hexion's owner, private equity firm Apollo Management, tried to get out of the agreement by claiming that Huntsman's increasing levels of debt would have made the merged company insolvent - a claim the Delaware Chancery Court dismissed in September 2008.
But the banks were unhappy with the decision and decided not to fund the merger, maintaining that combining the companies would render the pair insolvent, leaving Apollo no way to fund the deal and giving it no choice but to settle. The settlement included an agreement by Hexion to help Huntsman in its case against the banks, and also resolved Huntsman's pending court case that alleged that Apollo (and the banks) had interfered with the $9.6 billion merger agreement with European chemical company Basell that it gazumped.
Considering the size of the initial $3 billion claim, the banks may feel they have got off lightly. But the payout is large enough to suggest that they may hesitate before funding chemical industry deals in the future.
Matt Wilkinson
CHEMICAL INDUSTRY
EU court upholds Reach rules
Europe's highest court has rejected an appeal on the interpretation of the Reach chemical regulations approach to polymers and monomers. The regulations exempt polymers, but state that the monomers used to make the polymer must be registered (if they make up more than 2 per cent of the polymer and are made in quantities of more than 1 tonne per year) - even if the polymer is synthesised outside the EU.
Several companies, including Germany's C H Erbsloeh and UK-based Lake Chemicals and Minerals, had challenged the regulation, but the European Court of Justice declared the regulation valid.
Teijin pulls out of two joint ventures
Japanese chemical maker Teijin has pulled out of two joint ventures in response to the global downturn. The company has transferred its 50 per cent stake in NatureWorks back to its founder owners Cargill and terminated their joint venture agreement - preferring instead to focus resources on developing and commercialising its heat-resistant Biofront PLA (polylactic acid) plastic.
Meanwhile, Teijin and Asahi Kasei have decided to dissolve their Solotex polytrimethylene terephthalate fibre joint venture by the end of 2010 due to poor profitability.
Dow to reduce PE output
Dow Chemical has said it will shut down a number of ethylene, polyethylene (PE) and ethylene derivative assets in the US - a move that will cut its ethylene demand by 30 per cent and lead to more than $100 million (?60.8 million) of cost savings a year. The move comes as part of its strategy to reduce its costs by $1.3 billion following its acquisition of Rohm & Haas.
'Consistent with Dow's practice of active portfolio management, we continue to take quick and aggressive action to right-size our manufacturing footprint, particularly in our basics portfolio,' said Andrew Liveris, Dow's chief executive. 'These actions are also aligned with our strategic transformation, which focuses on preferentially investing for growth in our performance and advanced materials portfolios.'
Perdaman to invest in urea
Australia-based Perdaman Chemicals and Fertilisers is to spend Aus$3.5 billion (?1.7 billion) to build a 2 million tonne per year ammonia plant. The 'Collie urea' project will transform sub-bituminous coal into urea and is expected to generate Aus$850 million a year in export revenues for Western Australia.
The plant will be based around gasification and gas treatment technology from Shell, with Danish company Haldor Topsoe A/S providing the ammonia synthesis technology, and Dutch Stamicarbon providing its Urea 2000 plus melt technology and fluid bed granulation technology.
EPA's green winners
The US Environmental Protection Agency (EPA) has announced the winners of the Presidential green chemistry challenge awards.
Krzysztof Matyjaszewski of Carnegie Mellon University, Pittsburgh, US, won the academic award for his 'atom transfer radical polymerisation' process for making polymers.
CEM Corporation won the greener reaction conditions award for its development of a fast, automated process for analysing proteins in food, which uses less reagents and energy than the conventional Kjeldahl method.
Virent Energy Systems won the small business award for its water-based catalytic method of producing fuels from plant sugars, starch and cellulose.
Eastman won the greener synthetic pathways awards for its development of a solvent-free biocatalytic process for making cosmetic ingredients.
Procter & Gamble and Cook Composites won the designing greener chemicals award for their development paints that use half the solvent used by normal paints.
Lilly offers free screening to universities
Eli Lilly has decided to take a different approach to the typical acquisitive method of bolstering drug development pipelines, and has set up a new initiative to foster stronger relations with academia. The company has constructed a secure web portal, dubbed PD2, where researchers can upload the structures of drugs to so that Lilly can then test them using their computational screening software. If certain criteria are met, a physical sample can be submitted for biological evaluation against four assay modules: Alzheimer's disease, cancer, diabetes and osteoporosis.
'Each year, researchers throughout the world design and synthesise compounds in university and biotechnology laboratories that are never fully evaluated as potential drug candidates,' said Alan Palkowitz, vice president of discovery chemistry research and technologies at Lilly. In return for testing the products, Lilly is asking for first refusal to negotiate a collaboration or licensing deal for any compounds it chooses to explore further, but if an agreement is not reached then the submitter is granted 'no-strings-attached ownership' of the report.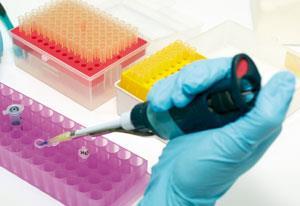 AGROCHEMICALS
Syngenta goes gene shopping
Syngenta has signed two deals to gain access to specific genetic modification technologies. The first is an exclusive worldwide research and commercial licensing agreement with Chromatin for its gene stacking technology in sugar cane.
'This new stacking technology, combined with the advanced plant varieties, crop protection choices, and our revolutionary new Plene technology will ensure our customers will have the best solutions in sugar cane and will give us a leading position especially in the large Brazilian market,' said Ian Jepson, Global R&D sugar cane crop lead.
The firm has also signed a collaboration deal with Evogene to identify plant genes related to soybean nematode resistance. Soybean growers can lose up to 20 per cent of their yield to the soybean nematode parasite - amounting to losses of over $1 billion each year in the US alone.
The crop swapshop
Bayer CropScience has signed cross-licensing deals with both DuPont and Monsanto to gain access to various plant biotechnology traits and technologies. The German firm and Monsanto have agreed to cross-license their respective herbicide tolerance traits in rapeseed and canola. Under the agreement, Monsanto will grant Bayer CropScience access to its Genuity Roundup Ready trait, while Bayer will grant Monsanto access to its LibertyLink tolerance trait in return.
The company has also agreed a cross-licensing deal with DuPont relating to a number of key plant biotechnology traits and technologies that will help to increase agricultural productivity. The announcement only details some of the licenses, but tellingly they are all licenses from Bayer to DuPont. And while the agreements resolve outstanding legal and patent disputes between the two companies, DuPont is still in dispute with both BASF and Monsanto over the use of its Optimum GAT genetic trait.
Meanwhile, DuPont has bought two Indian cotton firms; the cotton seed business of Nandi Seeds and the cotton germplasm business from Nagarjuna Seeds.
PHARMACEUTICALS
Biologics blossom
According to a new report from Evaluate Pharma, seven of the top 10 selling drugs will be biologicals by 2014, with Roche's Avastin expected to hold the top spot with predicted sales of around $9.2 billion. At the turn of the millennium just one of the top ten drugs was biological - last year, half of the top ten selling drugs were biologicals.
Evaluate predicts that five of the top 10 drugs in 2014 will be antibodies, three of which are specifically anti-cancer agents, illustrating the importance of this technology to the industry.
However, its not all bad news for the medicinal chemist as the small molecule drugs will still make up the bulk of the industry's revenues, bringing in $406 billion in 2014 compared to $169 billion for biotech products.
Sanofi-Aventis rejigs R&D
French drug giant Sanofi-Aventis has announced a new R&D strategy that will see it close eight of its 27 facilities in a bid to improve productivity and encourage innovation.
According to Christopher Viehbacher, Sanofi-Aventis' chief executive, 'The objective of this new R&D model is to propose innovative solutions that respond to specific, unmet needs of patients and continue our success in a very competitive international environment. It is centred on the real needs of patients, the development of scientific networks and openness toward outside entities to strengthen creativity, and a flexible and entrepreneurial approach to research.'
Abbott feels the pain
Abbott Laboratories has been ordered to pay Johnson & Johnson (J&J) $1.67 billion by a Texas judge for infringing a patent on J&J's arthritis treatment Remicade with its anti-TNF (tumour necrosis factor) drug Humira. The two companies have been involved in a series of patent disputes over the competing therapies. The news will come as a bitter blow to Abbott as the drug is its biggest seller, bringing in sales of $4.5 billion last year - or 15 per cent of the company's revenues.
But the pain didn't stop there as a US FDA (Food and Drug Administration) panel voted in favour of pulling nine acetaminophen/narcotic combination pain drugs and their generic equivalents - one of which is Abbott's Vicodin. Curiously, the problem lies with the liver problems associated with taking too much paracetamol and the increasing use that the drug is finding in over the counter cold and pain products - increasing the risk of overdose.
J&J gambles on an Irish dream
No sooner than the news that J&J would receive the $1.5 billion payout from Abbott than it announced it was investing $1.5 billion in Irish biopharma firm Elan Pharma. J&J is buying 18.4 per cent of the Irish firm for $1 billion as well as 50.1 per cent of its stake in its Alzheimer's collaboration with Wyeth. Additionally, the US pharma giant will commit up to $500 million towards the development and launch of the lead Alzheimer's treatment bapineuzumab, which is currently in Phase III trials.
The deal reduces Elan's enormous net debt of $1.4 billion by 70 per cent to $400 million - and the City welcomed the news, causing the firm's shares to jump 17 per cent.
Quotient goes nuclear
UK-based Quotient Bioresearch has bought the radiochemical custom synthesis operations of GE Healthcare, its seventh acquisition since its formation in 2007. The radiolabelling service offers custom synthesis of carbon-14 and tritium labelled compounds to the pharmaceutical and biotechnology industries, and all its operations and staff will be combined with Quotient's existing radiochemistry and metabolism activities to form Quotient Chemistry and Metabolism.
Kodachrome's sunny days no more
Kodakhas decided to retire its legendary Kodachrome film after 74 years of production. The company's oldest film has been used to capture family memories and world-changing events like the assassination of President Kennedy in 1963. The film was widely regarded as one of the best films available due its fine grain and vivid colour reproduction - as well as for its longevity when archived.
Steve McCurry's Kodachrome photograph of a 12-year-old Afghan orphan girl who had hiked over the mountains to a refugee camp in Pakistan to escape the Soviet bombings became one of the most iconic photographs of the 1980s. It became a symbol of the refugee situation worldwide after appearing on the front cover of National Geographic in June 1985. The 'Afghan girl' was identified in 2002 as Sharbat Gula who had no idea of the symbolic status her portrait had attained.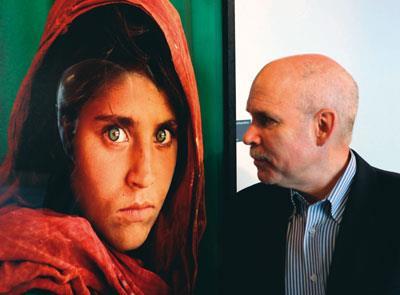 GSK signs up Chroma
GlaxoSmithKline (GSK) has continued its push into the autoimmune-inflammatory area (see ChemistryWorld, March 2009, p13) and has signed up British biotech firm Chroma Therapeutics to identify small molecule drugs for inflammatory disorders. If all four of the programmes are successful Chroma could stand to make more than $1 billion.
Chroma will use its esterase-sensitive motif (ESM) technology to add amino acids to drug compounds with the aim of targeting the compounds to specific cells in the inflammatory disease process.
GSK has also continued its expansion into emerging markets and bought the branded generics business of Bristol-Myers Squibb in the Middle East and Africa for ?23.2 million. The business comprises an $11.8 million-a-year portfolio of drugs sold in Lebanon, Jordan, Syria, Libya and Yemen and follows the company's recent deal with Dr Reddy's.
Chantix, Zyban get black box warning
The US FDA has told Pfizer and GSK that their smoking cessation drugs Chantix and Zyban now require a 'black box warning' highlighting the risk of serious mental health side effects including depression, hostility, and suicidal thoughts.
'The risk of serious adverse events while taking these products must be weighed against the significant health benefits of quitting smoking,' said Janet Woodcock, director of the FDA's Center for Drug Evaluation and Research.
Emergency contraceptive
HRA Pharma has opened a UK subsidiary to support the launch of its new emergency contraceptive, ellaOne. 'Since the UK is Europe's largest market for emergency contraception, we felt it was imperative to create a local entity with skilled management to support ellaOne's upcoming launch,' said Erin Gainer, HRA Pharma's chief executive. 'The UK has the highest unplanned pregnancy rate in Europe and its government has been implementing strategies to address sexual health and teenage pregnancy.'
Bayer seeks US approval
Bayer has filed for approval from the US FDA to sell its oral contraceptive containing 'natural' oestrogen in the US, just a few weeks after the drug - Qlaira - was launched in Europe. Qlaira is the first oral contraceptive that doesn't use ethinylestradiol, instead using estradiol valerate, which is quickly metabolised to estradiol, the oestrogen naturally produced by the ovaries.
Hope for early RA treatment
A clinical trial of Roche's Rituxan (rituximab) in 755 patients has shown that use of the drug at the onset of rheumatoid arthritis (RA) dramatically slows the onset of the disease. Almost 500,000 people are affected by RA, which is estimated to cost the UK economy around ?4 billion a year.
GE ties up with Geron
GE Healthcare has signed an exclusive license with US biotechnology company Geron to enable it to develop and commercialise human embryonic stem cell (hESC)-derived cellular assays for drug discovery, development and toxicity screening. The companies expect that by using GE's Cell Factory technology they should have the first assays on the market by the start of 2010.
Initially, the cells will be used to create mimics of the heart and liver - two organs that are widely studied by pharmaceutical companies, both as targets for drugs, and as areas where potentially toxic side effects can arise.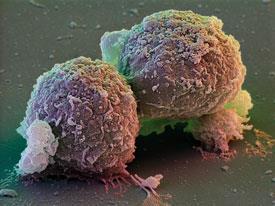 IN BRIEF
Belgian explosion
Two people were injured following an accident at Yara's Tertre plant The production of ammonia has now been halted for a 'prolonged period' while the reason for the accident is established. The plant produces up to 420,000 tonnes of ammonia per year, which is used to make 920,000 tonnes of finished fertiliser products.
Dow Chemical goes biorefining
US chemicals company Dow is planning to team up with Algenol Biofuels to build and operate a pilot-scale biorefinery. Dow plans to pipe some of the carbon dioxide emissions from its Freeport, Texas, plant into bioreactors filled with algae, which will convert the greenhouse gas into ethanol. The companies, along with project partners Georgia Tech, National Renewable Energy Lab (NREL) and Membrane Technology & Research, have applied for US Department of Energy (DOE) funds for the project.
Rhodia bags biogas business
France-based specialty chemicals company Rhodia has paid an undisclosed amount to acquire the EConcern group's share in six pilot biogas production projects taking place in China and Vietnam.
Rhodia say that they are anticipating a growth in the market for biogas - a mixture of methane and carbon dioxide that can be used to produce electricity and heat. 'This new expertise is at the crossroads of our chemical activities and our activities in the energy and carbon markets,' says Philippe Rosier, president of Rhodia Energy Services.
Sasol extends fuels testing
South Africa's Sasol has opened a Rand70 million (?5 million) fuel testing facility in Cape Town. The facility will be used to test the company's synthetic and crude oil derived fuels on vehicle performance and emissions, including fuels developed at its Advanced Fuels lab at the University of Cape Town.
Arkema to cut 239 jobs
French chemical company Arkema is to cut 239 jobs in France as it reorganises its (poly)methylmetacrylate business due to increased competition and falling demand. The company will stop producing methyl methacrylate at Carling site in the Moselle region of France and invest
40 million (?34 million) to boost the site's acrylic acid production.
Air Liquide's Middle East Expansion
French industrial gas company Air Liquide has continued its expansion in the Middle East, buying 75 per cent of Saudi firm Al Khafrah for an undisclosed sum. The firm says the acquisition complements the Saudi activities of its Pure Helium business, which the French company bought last year.
Approvals for Nova takeover
Nova Chemicals has said it has received regulatory approvals from the Chinese Ministry of Commerce and the US Committee on Foreign Investment for its $2.3 billion take over by the Abu Dhabi-owned energy company Ipic (International Petroleum Investment Company).
The companies expect the transaction to close around the end of the second quarter of 2009, subject to remaining approvals being granted.
Life Technologies to divest LIMS
Life Technologies, the company formed through the merger of Invitrogen and Applied Biosystems, has decided to sell its SQL*LIMS laboratory information software business to LabVantage for an undisclosed amount. The business makes software that is used to track, collect data about, and report on raw materials and samples as they are used and analysed in the laboratory.