Industry news, January 2009
EU slams pharma delaying tactics
Pharmaceutical manufacturers have been criticised by the EU competition commission for slowing the entry of generic medicines to the market. It says that such practices cost EU taxpayers
3 billion between 2000 and 2007.
The accusations come in a preliminary report on the Commission's inquiry into the pharmaceutical sector, which was launched in January 2008 to investigate why fewer new medicines are being brought to market, and generic entry delayed.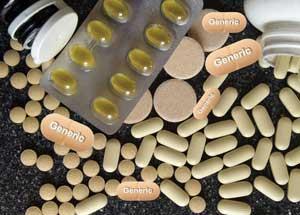 Raids on companies including industry giants such as Pfizer and GSK revealed documents that highlighted how the companies attempted to block the competition of cheaper generic drugs. Strategies included filing clusters of EU-wide patents for a single medicine, entering into long winded patent litigation with generics manufacturers, and intervening in national procedures for the approval of generic medicines.
Despite these practices, the prescription of generic medicines in the EU has saved tax payers
14 billion between 2000 and 2007, the report said. But it noted that generic drugs only account for 40 per cent of the EU's market volume, compared to 60 per cent in the US. Richard Barker, director-general of the Association for the British Pharmaceutical Industry, points out that the problem is not universal across the whole of the EU, with generic medicines accounting for more than eight out of ten UK prescriptions in 2007.
No individual companies were accused of wrongdoing in the report, and the Commission pointed out that it recognised patent law was essential to protect the 17 per cent of revenues that pharmaceutical companies spend on research and development.
Neelie Kroes, the EU's competition commissioner, said competition in the pharmaceuticals market was 'vital' for people to get affordable and innovative medicines. 'The Commission will not hesitate to open antitrust cases against companies where there are indications that the antitrust rules may have been breached,' she said. The full report will be published in spring 2009 after a period of public consultation ending 31 January.
CHEMICAL INDUSTRY
CIA challenges UK government
The UK Chemical Industries Association (CIA) has called on the government to introduce several measures that will 'let industry lead the UK out of recession'. Among other changes, the CIA has asked the government to underwrite credit insurance and the pension protection fund. They are also asking the government to raise the upper limit of the annual investment allowance (which allows companies tobuy machinery tax-free) - currently ?50,000 - to help the capital-intensive chemicals industry.
Carbon trader gets offset
The world's leading carbon-offset project certification and validation company, Det Norske Veritas, has had its accreditation temporarily suspended after a spot check by CDM (the Clean Development Mechanism arm of the UN's Kyoto Protocol) found 'serious flaws' in its project management.
With 2007 revenues of $1.1 billion, Det Norske Veritas is the largest of the 19 companies entitled to approve projects, having dealt with almost half of the 1200 projects approved by the CDM.
Nova cuts spending
Nova Chemicals plans to halve its investment in new buildings and equipment in a bid to weather the economic downturn - which the company fears will cause sales for the fourth quarter to fall by up to 25 per cent.
The company has already had to idle its styrenic polymers plant in Pennsylvania and is now planning to delay its polyethylene projects in Ontario for at least a year.
Johnson Matthey sees profits soar
Precious metals company Johnson Matthey saw profits rise 17 per cent to ?140 million in the six months to September on the back of high platinum prices.
Yet though revenues increased 25 per cent to ?4.36 billion in the first six months of the year, the company has issued a profit warning for the second half of the year as demand for its catalytic converters has slumped due to the global recession.
Meanwhile, rival precious metal producer Zimplats has warned that its short-term survival is seriously under threat.
Q-Cells suffers in downturn
The world's largest solar cell maker, Q-Cells, has cut its financial outlook for the year saying many customers were postponing deliveries until the New Year. It expects to miss its sales target of $1.35 billion by $125 million, causing profits to drop to around$230 million.
While it expects demand to remain weak in the first half of 2009, the company expects the market to pick up in the second half of the year.
K-Dow gets the go ahead
Dow and the Kuwait Petroleum Company's (KPC) new joint venture, K-Dow, has got the
go ahead a year after plans to form the petrochemicals and plastics company were first announced. But the global recession caused a last minute devaluation of the deal, with more than $3 billion being wiped off the market value of the new company.
Dow now stands to receive a total of $9 billion of pre-tax proceeds from the deal, with which it plans to partially fund a large part of the $13 billion debt it will have to shoulder after its acquisition of speciality chemicals company Rohm and Haas.
Rohm and Haas gambles on Russia
Speciality chemical company Rohm and Haas has opened a new polymer emulsions plant in the Ramenskoye region of Moscow. The plant will initially focus on supplying adhesives and additives for paints and coatings, but has been designed to also produce a wider range of chemicals in the future.
Despite the state of the economy, Rohm and Haas says continued investments in high-potential markets like Russia is crucial.
Schering-Plough forecasts seven blockbusters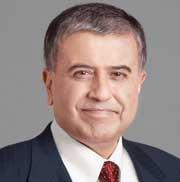 During its annual R&D update to investors, Schering-Plough predicted that seven of its drug candidates could reach sales of at least $1 billion if they survive the regulatory minefield. Fred Hassan, Schering-Plough's CEO, believes the company's strong drug development pipeline and low exposure to patent expiries could set it apart from the rest of the pharmaceutical industry.
'Our scientists have built a pipeline that we believe is the best in our history and one of the best in the industry,' says Hassan.
Schering-Plough reckons it has blockbuster drugs in areas as diverse as blood-clotting, rheumatoid arthritis, hepatitis C and Alzheimer's disease. The news comes a year after the firm's
11 billion purchase of Organon, at a time when its successes have been overshadowed by concerns about the safety and effectiveness of its cholesterol drugs Zetia (ezetimibe) and Vytorin (ezetimibe plus simvastatin).
Elastomer agreement
Saudi petrochemicals company Sabic has signed an outline agreement with Exxon Mobil to develop a multimillion dollar elastomer project at their petrochemical joint venture sites at Yanbu and Jubail in Saudi Arabia. The agreement is subject to positive results from feasibility studies, as well as the usual regulatory approvals.
Meanwhile, as global demand continues to plummet, Sabic has cut output at all its European plants and announced it is cutting 1000 jobs, 10 per cent of its workforce. While no details were announced on the size of the cuts from its European plants, the company is keeping its Saudi Arabian plants running at full capacity.
Asian expansion
Despite laying off 2500 employees, US chemicals company DuPont has opened a new R&D facility in Hyderabad, India. The 180 scientists at the 'Knowledge Centre' will work in biotechnology, materials, and engineering.
Meanwhile, Germany's Bayer says it plans to build a chlorine recycling plant at its Shanghai site. The plant converts HCl - a byproduct of isocyanate production - back into chlorine, which can then be re-used for isocyanate formation.
The plant uses Sumitomo-developed catalyst technology to oxidise the HCl to give chlorine.
Huntsman-Hexion called off
US speciality chemical company Hexion has agreed to pay rival US firm Huntsman $1 billion to avoid having to buy it. The settlement breaks a $10.6 billion merger agreement the companies made in July 2007.
The two companies have been locked in a bitter legal battle ever since Hexion tried to back out of the deal in June, claiming that Huntsman's increasing levels of debt would make a merged company insolvent. In October, a judge in the Delaware Chancery Court ruled that Hexion must make 'all efforts necessary' to complete the deal or face a
$3 billion claim for damages.
The settlement also resolves Huntsman's pending lawsuit, alleging that Hexion had interfered with a prior merger agreement between Huntsman and Basell. But Huntsman is still suing the banks Credit Suisse and Deutsche Bank for conspiring with Hexion's owner, private equity firm Apollo Management, to upset that deal.
PHARMACEUTICALS
New deal for UK drug pricing
A new pricing deal has been agreed between UK government and the pharmaceutical industry on the prices paid for drugs by the National Health Service (NHS). The Office of Fair Trading, the government's anti-monopoly agency, had decided the NHS was paying too much - and the new agreement, whose negotiations have been a source of friction between government and the pharmaceutical industry, will cut ?400-500 million from the NHS's annual bill.
All branded drugs will receive a price cut of 3.9 per cent from February 2009, with a further 1.9 per cent reduction a year later. In return, however, drug manufacturers have been given the ability to raise the price of a drug already on the market, if new evidence emerges of its clinical effectiveness. The new scheme also insists that from January 2010, the NHS will routinely substitute all off-patent branded drugs with cheaper unbranded generics.
Stores of acetonitrile evaporate
The global downturn has much to answer for, but few would have expected it would limit supplies of acetonitrile and push prices to 15 times what they were at the start of the year. The shortage is so severe that laboratory suppliers are warning customers they are unlikely to be able to meet demand.
The compound is made as a byproduct during the production of acrylonitrile, a building block used to make acrylic fibres and resins. As demand for these fibres and resins has dropped, so too has the production of acrylonitrile and acetonitrile.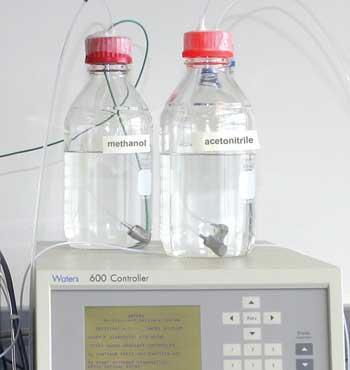 According to Barbara Sesto, an analyst at SRI Consulting who authored a CEH market research report on acetonitrile, the shortage could be a big issue to those working in the pharma industry. She says that the pharma industry consumes 70 per cent of the 60,000 tons of acetonitrile produced each year to isolate antibiotics and insulin, while HPLC analysis accounts for 15 per cent.
While pharmaceutical companies are aware of the problem, none have been willing to discuss the measures they are taking to combat the shortage.
J&J splashes the cash
US-based Johnson & Johnson (J&J) has been making the most of its cash reserves to bolster its surgical goods business unit, Ethicon. The firm has snapped up Israeli bioactive wound dressing company Omrix and US breast implant firm Mentor. The buy-outs continue J&J's long-term strategy of ensuring it has strong businesses throughout the healthcare sector.
The shopping spree started on 25 November with the $438m purchase of long-time collaborator Omrix. Perhaps the most notable of the firm's collaborations is a fibrin pad development project. The pad, currently in Phase II clinical trials, forms an instant clot when its come in contact with blood.
Less than a week later, J&J spent almost $1.1 billion to buy Mentor, whose aesthetic and reconstructive breast implants accounted for nearly 40 per cent of the global implant market - valued at $850 million in 2008.
Lilly's Cymbalta pains
Eli Lilly has withdrawn its application to extend the usage of its blockbuster antidepressant Cymbalta (duloxetine) to chronic pain management. Reviewers at the US Food and Drug Administration (FDA) raised questions about the drug's efficacy and dosing. The drug, Lilly's second-best seller, had third quarter sales of $716 million, has already raised safety concerns after various studies found a possible link between the drug and suicidal behaviour.
The patent for the molecule itself expired in June this year prompting Sun Pharma to file an abbreviated new drug application (ANDA) to bring a generic version of the drug to market. However, Lilly has a patent on the drug formulation which it hopes should protectits income from the drug until 2013.
AZ moves more manufacturing
Anglo-Swedish drug maker AstraZeneca is to close three European sites - and cut a further 1400 jobs - as it continues to move its manufacturing and packaging activities to China. The latest cuts come less than 18 months after the firm announced plans to shed 7600 jobs. The company will stop all operations in Porri?o in Spain, Destelbergen in Belgium and Ume? in Sweden, while facilities in Macclesfield, UK, and S?dert?lje, Sweden, will also be affected.
Meanwhile, the company will further expand its Wuxi formulation and packaging plant, making it the packaging centre for Asia Pacific. This latest restructuring will be completed by 2013, the company says.
Roche snaps up partner Memory
Roche has bulked up its Alzheimer's and schizophrenia pipelines by buying long-term collaborator Memory Pharmaceuticals for $50 million. Roche is offering to pay 61 cents per share for the company, more than three times their value before the offer.
While Roche already has several small molecule and antibody drugs that target the diseases in Phase I or II or development, it doesn't expect to apply for approval for either of its most advanced candidates until 2011.
GSK intimidation claims
A second case has emerged of an Avandia critic who alleges they were intimidated by the firm into keeping quiet over their concerns. Maryland doctor Mary Money says she first noticed the risk of heart problems caused by GSK's diabetes drug in 1999, shortly after it launched, and eight years before the FDA placed a black box warning on the drug. The US Senate is currently investigating whether GSK suppressed concerns about the drug, and last year interviewed University of North Carolina researcher John Bose, who also alleges intimidation by the company following criticisms of the drug.
Bayer made to pay for kickbacks
Bayer Healthcare has reached a $97.5 million (?63.5 million) settlement with the US Department of Justice over allegations that its Diabetes Care division had bribed suppliers to switch customers to their diabetes devices.
The out-of-court settlement amounts to nearly 8 per cent of the
950 million (?800 million) sales the division achieved worldwide in 2007, but will allow Bayer to continue to take part in the lucrative US Medicare programme as long as certain steps that safeguard against fraudulent behaviour are met.
EU rejects stem cell patent application again
The European Patent Office (EPO) has once again ruled that EU law prohibits the patenting of human stem cell cultures that involve the destruction of human embryos during preparation.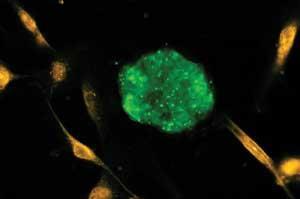 The decision was made after the Wisconsin Alumni Research Foundation (WARF) appealed against the EPO's refusal in June to grant patents that would cover the isolation of all primate and human embryonic stem cells (hESCs). The debate has been ongoing since 1995 when WARF filed the claims to protect the pioneering work of developmental biologist James Thomson (see 'Cells with potential').
While the patent still holds in the US, the EPO ruling could affect nearly 200 pending patent applications, although the agency noted that the decision was not concerned with the general question of human stem cell patentability and as such is regarded as only being damaging to WARF.
Novartis proud of pipeline
Novartis says that restructuring and reprioritising its drug development activities has dramatically improved its pipeline. The Swiss firm says it has 88 candidates in its exploratory pipeline - 40 per cent more than in 2005 - a quarter of which are biologic drugs.
The firm ascribes the improvements to its targeting of therapeutic areas where there is a strong molecular understanding of the disease, from which biomarkers can be identified to monitor the effectiveness of experimental drugs - which also accelerates clinical trials.
King gets its hands on Alpharma
King Pharmaceuticals has finally got its hands on rival drugmaker Alpharma for $1.6 billion, after taking the offer directly to the company's shareholders. Even though King had increased its bid from $1.4 billion, Alpharma's board had urged shareholders to take no action over the revised offer.
The deal will strengthen King's position in the lucrative pain management market, especially after the US FDA
gave Alpharma's anti-abuse opioid candidate, Embeda (extended-release morphine), good reviews.
IN BRIEF
LG Chem to spin off materials unit
South Korea's largest chemical company, LG Chem, has decided to spin off its industrial material operations into a new company in April next year. The unit has been hit hard by the severe drop in demand for housing and construction goods caused by the economic crisis.
Sasol appeals wax cartel fine
Sasol has said it will appeal against the €300 million fine it received from the European Commission for fixing the price of paraffin wax. Sasol was found to be guilty of heading up a nine member cartel which operated between 1992 and 2005.
Teflon lawsuit fails to stick
DuPont has avoided a class action lawsuit in which claimants argued the US chemical giant failed to warn them that heated Teflon may be dangerous. The judge ordered that the trials must be heard separately due to difficulties in determining which of the plaintiffs actually owned non-stick cookware containing DuPont Teflon.
Novozymes expands in China
Biotechnology firm Novozymes has expanded its Taicang, China production plant, making it the world's largest enzyme fermentation facility. It will make enzymes used to convert agricultural products to bioethanol.
PerkinElmer expands GC offering with Arnel buy
US-based laboratory technology firm PerkinElmer has bought its long time collaborator Arnel for an undisclosed amount. For the past 18 years, Arnel has provided PerkinElmer with gas sampling valves used in its range of gas chromatography (GC) instruments.
Waters gets environmental
US analytical instruments maker, Waters has bought Belpere's Analytical Products Group (APG) to create 'the world's most comprehensive environmental proficiency testing' company for an undisclosed amount. APG
had 2007 revenues of around $4 million and will be merged into Waters' environmental research associates group.
Pfizer withdraws Viagra OTC application:
Pfizer has withdrawn its application with the European Medicines Agency (EMEA) to sell erectile dysfunction drug Viagra over the counter, following feedback over safety concerns from the regulator's Committee for Medicinal Products for Human Use (CHMP).
Pfizer says it may resubmit the application after further data is collected.
Merck Serono's blockbuster boost
The European Commission have given Merck Serono a boost by allowing an extension to the use of the anticancer drug Erbitux (cetuximab), to head and neck cancer.
The drug had 2007 sales of $1.3 billion and was developed by ImClone.
Merck goes bio
Merck & Co. has set up a $1.5 billion biologics division, Merck BioVentures, to develop both novel and follow-on biologics in a bid to take advantage of the significant number of upcoming biologic patent expiries.
Biotechs call for aid
The UK's biotechnology sector has joined the throngs clamouring for financial support from the government. A group of industry leaders is asking for a ?1 billion cash injection into the sector to stop it imploding due to the banking crisis.
FDA foreign office
The FDA has opened its first offices on foreign soil, establishing offices in Beijing, Guangzhou and Shanghai, China. The offices will monitor production of Chinese products destined for the US market.
The move follows a series of health scares over products imported into the US from China, including infant formula and the blood thinner heparin.